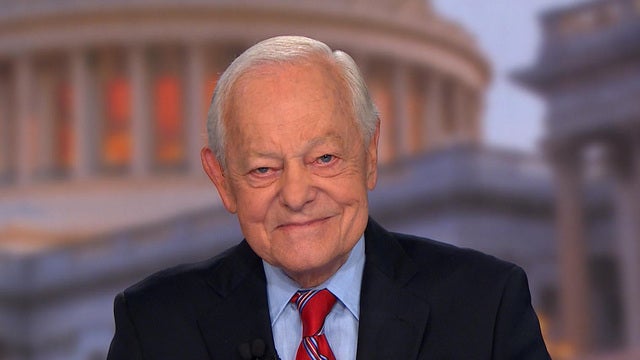 Bob Schieffer: Washington has "turned upside-down"
Since joining CBS News in 1969, chief Washington correspondent and "Face the Nation" host Bob Schieffer has covered the Pentagon, State Department, Capitol Hill and White House. In that time, he said, Washington has been "turned upside-down" because of a "revolution in communications."
He said it has not only changed the epicenter of the political world, but also the journalism industry charged with covering it.
"We now don't know where people get their news. But what we do know is that they're bombarded with information 24 hours a day, seven days a week," he said Friday on "CBS This Morning." "Most of the information is wrong and some of it, wrong on purpose. It is our job, I think, in mainstream journalism to try to cut through this mall of information and tell people what we think is relevant and what they need to know about."
Schieffer also pointed to an "influx of money" for changing the way candidates run their campaigns.
"Our campaigns have become 'I have more billionaires than you do, so I'm a viable candidate.' I don't think that's what the founders had in mind when they started this country," Schieffer said.
He said it's an area of the political front that needs to change.
"What we have now, people have to sign off with so many special interests before they get to Washington, so once they're here they can't compromise, and when you have a government and a legislative body that can't compromise, you have what you have - a legislative body that's in constant and total gridlock," he said.
The veteran news legend is retiring from a journalism career of more than half a century.
As a young newspaper reporter, Schieffer went to Vietnam to cover the war. He worked at the Fort Worth Star-Telegram on the day President Kennedy was gunned down in Dallas and brought Lee Harvey Oswald's mother to the police station.
Of all his historic accomplishments, Schieffer said he'll most miss being in the middle of the action.
"I've had access to the people who make the news, who have an impact with their actions on the rest of us in this country, and I just never got over that. That's the reason I wanted to be a reporter," he said. "I just, I always got a big kick out of being able to go behind police lines where other people couldn't go, talking to these people who made the news."
While his exit Sunday may seem premature -- just as Campaign 2016 is kicking into gear -- he said this is a calculated decision.
"I wanted, number one, to be able to walk away from this job when people still thought I could do it," he said. "I've just seen too many people here in Washington, that they hang around and hang around and then somebody has to come get them by the hand and say, 'C'mon, old fella, it's time to, you know, get back -- to get in your car and go back home.' I just didn't want to do that."
He said he's also leaving CBS News at a time when "Face the Nation" is in "very good shape."
"John Dickerson, who's a great friend of mine, who's going to take my place, I also wanted to give him time to kind of settle into this job over the next three months before the campaign year began," he said.
So what's next for Schieffer?
If success is in the future for his band, Honky Tonk Confidential, you might see a career change.
"They haven't been exactly lining up at the door to offer me recording contracts, but I'll tell you if one came a long I might give a lot thought to that," he said.
But you won't see him on "Dancing with the Stars."
"My wife says no way," he said.
Thanks for reading CBS NEWS.
Create your free account or log in
for more features.