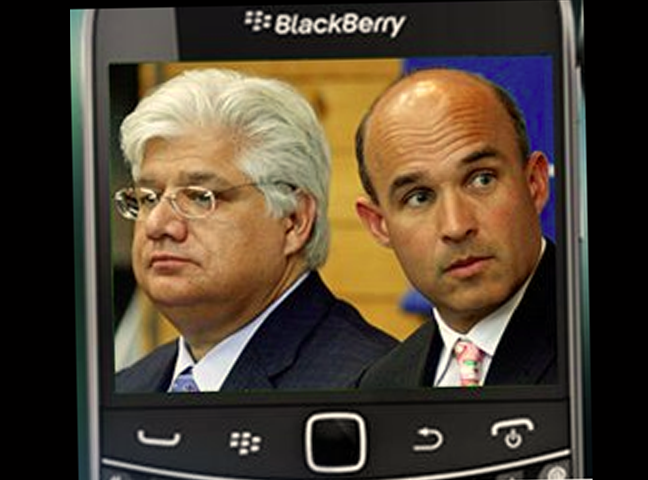 Blackberry -- How RIM destroyed a great brand
COMMENTARY What if the co-CEOs of Research In Motion (RIMM) were given three years to destroy the company, demolish the once venerable BlackBerry brand and wipe out $70 billion in shareholder value? Here's how they'd do it:
Get caught completely by surprise when Apple (AAPL) launches the iPhone and Google (GOOG) rolls out its Android smartphone platform. Respond with disbelief and mockery. Finally develop and launch a feeble competitor, the BlackBerry Storm, nearly two years later.
Realizing you haven't even caught up to where your competitors were two years ago, begrudgingly start working on a serious competitor with a multitouch display and decent web browser, the BlackBerry Torch. Remain completely baffled by the third-party app development phenomenon.

Keep launching refreshes of your out-of-date products for a year until Apple does it to you again by introducing its breakthrough iPad tablet. Finally deliver the underperforming and underwhelming Torch three-and-a-half years after the original iPhone.
Sit back and watch Apple launch iPad 2, then scramble to rush a half-baked PlayBook tablet to market and get slammed by reviewers because it lacks a built-in cellular data connection and basic apps like email, contacts, calendar, memo pad and BlackBerry Messenger.

Send co-CEO Mike Lazaridis to a high-profile conference to demonstrate how completely clueless he is about the smartphone and tablet markets, confuse and baffle hosts Walt Mossberg and Kara Swisher, and "babble on about who knows what" for 30 minutes, according to Gizmodo.
Host an earnings call where co-CEO Jim Balsillie takes no responsibility for the company's meteoric fall (the stock plummeted 60 percent in 6 months), blaming it all on the "natural aging" of the company's smartphone portfolio and claiming the company is well-positioned in the tablet space. A month later, lay off 2,000 people, or 11 percent of your workforce.
Respond to a blistering open letter by an unnamed RIM executive fed up with your incompetence with characteristic tone-deaf defensiveness and myopic optimism.

After a four-day global outage that strands tens of millions of customers on five continents without email, messaging or browsing, offer a late but contrite apology, prompting one crisis communications executive to say RIM's crisis response is like its product design, "outdated, slow and not well-received by their customers."
As the company's stock hits an eight-year low, shedding $70 billion in shareholder value from its peak, and investors openly call for a change in leadership, announce a $485 million charge on unsold PlayBook tablets, promise that you're both going to stick around through a transition to a new operating system for the entire product line, which, by the way, won't be coming for at least a year. Offer consolation to shareholders by cutting your annual salaries to a buck.
Here's the thing. Three years ago, RIM announced that sales and profits had doubled year-over-year. Subscribers were signing up in droves and the company was poised to explode beyond its traditional corporate base into the consumer space. Since then, Balsillie and Lazaridis couldn't have done a better job of driving the company off a cliff if they'd cut their own brake line and floored it.
When you look back on it, it's hard to believe it wasn't all part of a plan. Really.
And thanks to Al Lewis for the original concept in HP's One-Year Plan.

Thanks for reading CBS NEWS.
Create your free account or log in
for more features.