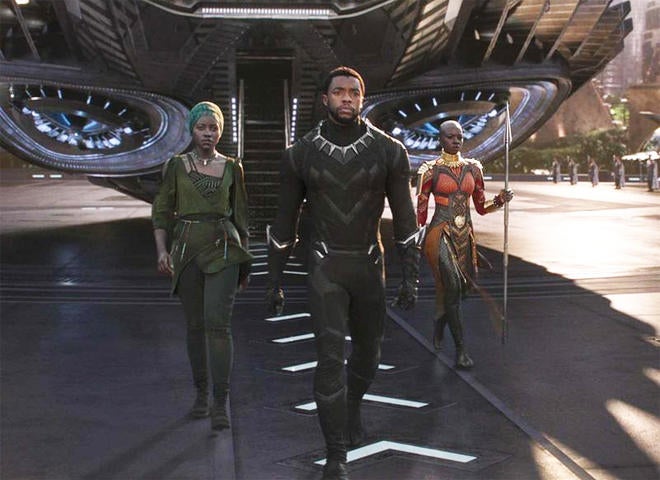 "Black Panther": A ground-breaking superhero movie
The big cat is out of his cage and pouncing on the big screen. "Black Panther" is the latest in a long line of Marvel comic book superheroes-turned-movie stars. And this one has fans in a feline frenzy.
"I was just so looking forward to this movie since the day the trailer came out," said one fan.
"Fan-tastic! Fantastic! Easily the best Marvel movie," was another fan's reaction."
So far, it's raked in an estimated $192 million in the U.S. and Canada. That makes it the fifth highest-grossing opening weekend in Hollywood history, and the second-best Marvel Comics opening ever, according to Box Office Mojo.
Typically movie superheroes, whether men of steel, gods of thunder, or dark knights are white. So, "Black Panther" has appeal to comic book fans as well as a more general black audience. And when those audiences intersect, there's super excitement!
The film holds special meaning for many longtime fans, and particularly for Ariell Johnson: "I feel like I might actually leave this movie comatose. I might need to be carried out!"
Johnson, a self-described "blerd" -- that's a black nerd -- is one of the first black women to open a comic book store on the East Coast. She opened Amalgam Comics and Coffeehouse in Philadelphia a little more than two years ago. She's been waiting for a film like "Black Panther" since she fell in love with comic books as a girl.
"I always liked superheroes," Johnson told CBS News' Jericka Duncan. "But it wasn't until I was about 11 or so that I was actually introduced to the X-Men. And the thing that really grabbed me was Storm, because up until that point I had never seen a black woman superhero.
"I do think something clicks when you start to see yourself reflected back at you."
This isn't the first time a black comic book hero was the lead role in a film. The 3-part "Blade" series, beginning in the late '90s, starred Wesley Snipes as a vampire hunter.
"But when you think about the people who were around Blade in that movie, it wasn't, like, an all-black cast," Johnson said. "I think the thing about 'Black Panther,' it is essentially a black movie, you know, in Hollywood terms. Usually when a movie is a 'black movie,' white audiences don't see it."
But that's not the case with "Black Panther." The box office tells the tale of the film's success. This weekend, it brought in nearly $200 million, and it set the record for a live-action superhero movie on Rotten Tomatoes, with a score of 97%.
"I knew for a fact that it was going to be a huge success," said John Jennings, a professor of media and cultural studies at the University of California, Riverside, and the co-author of "Black Comix Returns."
"The 'Black Panther' film is a cultural phenomenon because images like this have not really been seen in major multiplexes before," Jennings said.
Images like black director Ryan Coogler leading a predominantly-black cast; and black royalty set in a scientifically-advanced African nation, the fictional Wakanda.
"A lot of these films that we've seen before -- you know, '12 Years a Slave' or 'Precious' or something like that -- are dealing with heavy subjects that are positing black suffering as a central mode of existence for black Americans," said Jennings. "I think that 'Black Panther' is a celebration of what's at the end of that trauma, right? This is about black joy."
When asked what is different about this particular film, Ariell Johnson said, "I think people are just excited about it. And because it's a Marvel property, because it's a well-known character, people are gonna be in those seats no matter what color they are!"
Thanks for reading CBS NEWS.
Create your free account or log in
for more features.