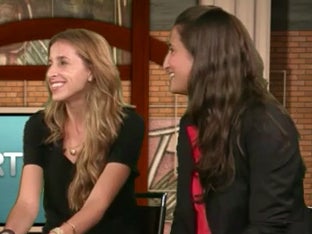 Birchbox: Success in small packages
(MoneyWatch) Love to test new beauty products, but hate the commitment of buying (and frequently wasting) the full-sized bottles? Katia Beauchamp and Hayley Barna were rooming together at Harvard Business School when they decided to solve that very dilemma with their business, Birchbox. For $120 a year, Birchbox subscribers get a box of sample-sized beauty products shipped to their home each month. Beauchamp and Barna entered the idea into a contest for funding in 2009 and came in second place. Two years later, Birchbox has more than 100,000 subscribers, with a presence in Spain, France, and the UK. In the video above, Barna and Beauchamp explain how they did it.
Rebecca Jarvis: What were you doing before you started your company?
Hayley Barna: Katia and I met at Harvard Business School; Katia was constantly asking me about my makeup and beauty products, and I explained that my friend Mollie Chen, who was a beauty editor at Conde Nast Traveler, was my source for learning all about the best, newest products out there.
Katia Beauchamp: This really brought to our attention how difficult it can be to cut through the clutter and discover the best products. Shouldn't every girl have a beauty editor for a best friend to send them the best products and teach them how to use them? From there we eventually came up with the idea for Birchbox.
RJ: How long did it take to turn your idea into a business?
KB: We assembled the first test boxes in our HBS dorm room! There was a lot of trial-and-error, everything from which type of packaging worked best to how to get in front of brands and sell them into this new idea of discovery commerce. We believed personalization, education and giving consumers the opportunity to try new products before they shell out for full-sized products was going to change the way people shop online, and have proven that today.
HB: In less than two years, Birchbox has expanded its footprint and quickly grown its retail business. We've built a monthly subscriber base of more than 100,000. We have launched our Men's vertical, Birchbox Man, and have built relationships with more than 400 brands.
RJ: What's your number one piece of advice to entrepreneurs?
HB: Test your idea in its minimum viable form. You will learn so much from a proof of concept. We learned so much from being hands on with brands and from those early customers -- making mistakes and iterating along the way helped us shape Birchbox.
KB: Trust yourself -- you can do more than you ever imagined. There is no secret success; you start with a vision and then it is about problem solving, getting things done, and remaining tenacious even when the uphill pursuit becomes steeper.
RJ: If you could ask one person for advice, who would it be and what would you ask?
HB: Sheryl Sandberg. My question to her would definitely be: "What is your advice on achieving successful work-life balance?"
KB: Jeff Bezos- "How do you build a company and a culture that disrupts itself and pushes harder even when you are in the lead?"
RJ: Are you hiring? How do you get hired by a start-up?
HB & KB: We are always looking for new great talent! You can apply at www.birchbox.com/about/careers.
Thanks for reading CBS NEWS.
Create your free account or log in
for more features.