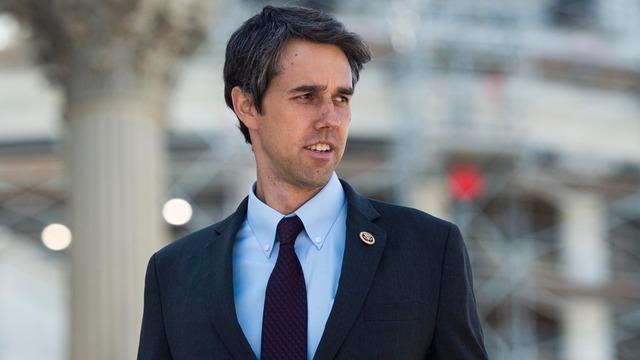 Beto O'Rourke says "nothing more American" than to stand up or take a knee for your rights
Editor's Note: The headline of this story has been changed to more wholly reflect O'Rourke's remarks and correct a previous headline that stated O'Rourke said there was "nothing more American" than NFL players protesting the national anthem. Players who kneel during the national anthem are protesting police brutality and racial inequality. The original tweet to this story, which included the incorrect headline, has been deleted.
Rep. Beto O'Rourke, the Democratic candidate challenging Texas Sen. Ted Cruz, was featured in a viral video posted to Twitter on Tuesday giving an answer at a town hall defending NFL players who kneel during the national anthem before games. Since Tuesday, the video, published by progressive news aggregator NowThis News and credited to Nivien Saleh for the footage, has received over 180,000 retweets and over 380,000 in the days since it was posted.
"Non-violently, peacefully, while the eyes of this country are watching these games, they take a knee to bring our attention and our focus to this problem to ensure that we fix it," O'Rourke said, referring to players who protest police brutality against unarmed African-Americans, a trend started by former San Francisco 49ers quarterback Colin Kaepernick in 2016. "I can think of nothing more American than to peacefully stand up, or take a knee, for your rights, anytime, anywhere, or any place," O'Rourke continued.
O'Rourke's answer garnered attention from celebrities such as basketball star LeBron James and Ellen DeGeneres.
"A Must Watch!!! Salute @BetoORourke for the candid thoughtful words!" tweeted James on Thursday.
DeGeneres tweeted Wednesday that she would "like to meet" O'Rourke.
Protests by NFL players during the national anthem have become a cultural flashpoint in the U.S. since 2016 when San Francisco 49ers quarterback Colin Kaepernick began his practice of not standing for the national anthem, switching after a few games from remaining seated to kneeling, in what he said was a protest against the oppression of black people and people of color. Other players also joined him in kneeling as the season progressed. President Donald Trump has often criticized the players during his rallies and on Twitter for taking a knee during the anthem, believing that it showed disrespect for the country.
Earlier in August, Mr. Trump urged players to "be happy, be cool," and "Stand proudly for your National Anthem or be Suspended Without Pay!"
The NFL announced in May that it would fine players who did not stand for the anthem. It has since walked back that policy.
O'Rourke's opponent, Cruz, tweeted his disagreement with O'Rourke on Thursday, after actor Kevin Bacon showed his support for the statement. "Most Texans stand for the flag, but Hollywood liberals are so excited that Beto is siding with NFL players protesting the national anthem that Kevin Bacon just retweeted it. That means all of us us can now win Six Degrees of Kevin Bacon!" Cruz tweeted.
A recent poll by NBC News/Marist showed O'Rourke only four percentage points behind Cruz.
Thanks for reading CBS NEWS.
Create your free account or log in
for more features.