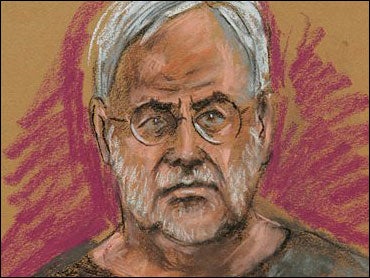 "Best Santa Ever" A Pedophile?
A rare international alert seeking a man shown in dozens of raw child porn images quickly led to the arrest of a small-time actor, who painted faces at children's parties and performed as "the best Santa Claus anyone has ever seen."
Wayne Nelson Corliss told authorities he had sex with three boys in Thailand six years ago, an experience he described as "euphoria," a prosecutor said Thursday at Corliss' first court appearance.
The arrest of the bespectacled, gray-haired 58-year-old at his Union City apartment late Wednesday capped a two-day global manhunt, just the second time Interpol has sought the public's help in tracking down a suspected pedophile. He is believed to have sexually abusing at least three boys thought to have been 6 to 10 years old, according to the international police agency.
Corliss is charged with producing child pornography and could face 10 to 20 years in federal prison if convicted, according to the U.S. Attorney's Office in Newark.
At Thursday's hearing, Assistant U.S. Attorney Lee Vartan said Corliss told the Immigration and Customs Enforcement agents who arrested him that he had sex with three boys over three nights in Thailand in 2002. "He described it as 'euphoria' to the agents," Vartan said.
Vartan also said agents found about 1,000 images of child pornography on computer hard drives in the apartment. They also found several pairs of boys' underwear, including one that Corliss told authorities he brought back from Thailand as a souvenir, the prosecutor said.
Corliss, who spoke only twice during the court appearance, said he was a comedy writer and a member of the Screen Actors Guild. He asked for a lawyer to be appointed to him but was not asked to enter a plea. He was being held without bond pending a hearing Monday.
A SAG spokeswoman said the union does not confirm who is or is not a member.
Neighbors and colleagues know Corliss, who acted under the stage name Casey Wayne, as a witty man who liked to write and eschewed 9-to-5 jobs in favor of acting and entertainment gigs - including painting faces and playing Santa Claus at parties.
Judy Stone, a neighbor who worked with him as an entertainer at corporate parties, art fairs and bar mitzvahs said he did a wonderful job.
"He's the best Santa Claus anyone has ever seen," Stone said. "I've never seen him act in a way that was creepy or predatory toward children."
Raven Squire, the superintendent of the apartment building where Corliss has lived for more than two decades, said Corliss was very computer savvy and had a cluttered apartment, but that he never saw anything inappropriate there.
"He's a very amiable man, a great sense of wittiness," Squire said. "He seemed very stable, always paid his rent."
Corliss' arrest came two days after Interpol took the rare step of asking for the public's help. Two years of investigation had failed to determine the identity, whereabouts or even the nationality of a man shown engaged in sex with children in images associated with a Canadian child pornography investigation in 2005.
Interpol's secretary general, Ronald Noble, said 460 leads flooded in within the first 24 hours after the agency launched its public appeal Tuesday. Three of those leads, e-mailed to Interpol from people in the United States who thought they recognized the man but who requested anonymity, were particularly strong, and all referred to the suspect by the name Casey Wayne, Noble said.
The leads also came with photographs of the man and other details about him, including a resume for Corliss that described him "an acclaimed portrayer of Santa Claus every winter holiday season," who played at parties for New York banks and others, Noble said.
"That brought him into contact with children on a regular basis," Noble said.
In one of the e-mails, an informant wrote: "I think I know this man ... He is a good man and I am shocked!" said Noble.
It was only the second time that Interpol had launched such a public manhunt for a suspected pedophile. The first time, in October, led to the quick arrest by police in Thailand of Christopher Paul Neil, a 32-year-old Canadian. Neil went on trial in March, accused of sexually abusing a 9-year-old boy.
Interpol said Wednesday that its appeal this time produced more than 200 leads - potential names, locations and photos of the suspect - in the first 24 hours.
Photos seized by police in Norway in 2006 showed the abuse and appeared to have been taken in Thailand, the international police agency said. The man did not appear to make any effort to hide his identity in the photos seized from the computer of a man later convicted of child sex offenses, officials said.
Photos released by Interpol showed a gray-haired white man wearing glasses or lying on a checkered mattress or blanket in a yellow plaid shirt.
A computerized Interpol database of child abuse images played a part in the manhunt. The first photos seized in Norway and others received in the two years since were run through the database of more than 520,000 images.
In all, the database and police investigations helped turn up a total of around 800 images, including nearly 100 of the man himself and others of his suspected victims or places where he is thought to have committed his alleged crimes, Interpol said.
According to U.S. Immigration and Customs Enforcement, whose agents arrested Corliss, he traveled extensively in Asia, including making apparent trips to Thailand in 2000 and 2002.
"I've worked many children's parties with him. Whatever he did in Thailand, he did in Thailand," said Stone, the woman who has worked with him. "Whatever he did ... he didn't do it here or convey that in his work with children."

Thanks for reading CBS NEWS.
Create your free account or log in
for more features.