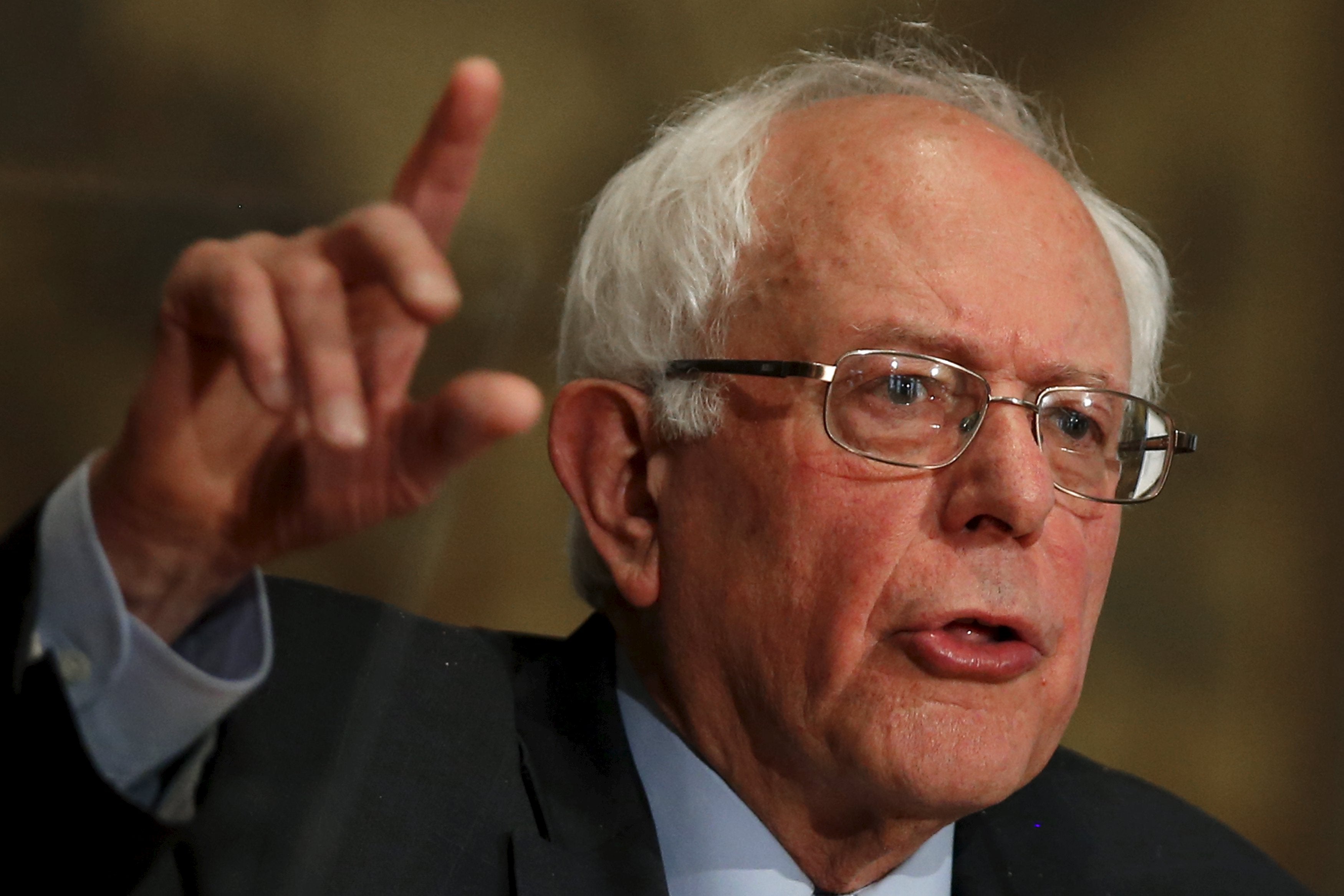 Bernie Sanders details ISIS strategy, defines "Democratic socialism"
In a speech meant to focus largely on his political philosophy as a "Democratic Socialist," presidential candidate Bernie Sanders dove outlined a foreign policy plan calling for a broad coalition to fight against the Islamic State of Iraq and Syria (ISIS).
"A new and strong coalition of Western powers, Muslim nations, and countries like Russia must come together in a strongly coordinated way to combat ISIS, to seal the borders that fighters are currently flowing across, to share counter-terrorism intelligence, to turn off the spigot of terrorist financing, and to end support for exporting radical ideologies," the Vermont senator said Thursday during an address at Georgetown University.
Sanders pointed specifically to counties like Saudi Arabia, Kuwait, Qatar, and the United Arab Emirates -- "countries of enormous wealth and resources" -- to join the coalition.
"Wealthy and powerful Muslim nations in the region can no longer sit on the sidelines and expect the United States to do their work for them," he added. "As we develop a strongly coordinated effort, we need a commitment from these countries that the fight against ISIS takes precedence over the religious and ideological differences that hamper the kind of cooperation that we desperately need."
The use of military force from the United States, according to Sanders, should be left as "a last resort, not a first resort." He reminded his Washington, D.C. audience that "ill-conceived military decisions" like the invasion of Iraq, can cause "far-reaching devastation."
In recent days, several contenders vying to become the nation's next commander-in-chief have put forth ideas about how to defeat the terror network. Billionaire businessman Donald Trump wants to "bomb the sh*t" out of ISIS, former Florida Gov. Jeb Bush wants U.S. ground troops in the Middle East as part of a global coalition, and South Carolina Sen. Lindsey Graham wants Congressional approval on a limitless Authorization for the Use of Military Force. Hillary Clinton, Sanders' Democratic rival, also outlined her strategy to defeat ISIS on Thursday, disavowing the deployment of any ground troops in Syria even if the U.S. suffers a Paris-like attack.
Sanders also said Thursday that economic security is essential to Americans achieving true freedom, a central tenant in his political philosophy of "democratic socialism."
The Vermont senator said the idea has roots in the legacies of President Franklin D. Roosevelt and Dr. Martin Luther King Jr.
"Real freedom must include economic security. That was Roosevelt's vision 70 years ago. It is my vision today," Sanders said in a speech at Georgetown University. "It is a vision that we have not yet achieved and it is time that we did."
Sanders' comments came during a defining speech about his views as he seeks to challenge front-runner Hillary Rodham Clinton for the party's nomination. Clinton in recent days has offered a veiled critique of Sanders for his support of a single-payer health care system, which she says will require middle-class Americans to pay higher taxes.
Sanders said his proposal would save families significant amounts of money."
"Health care should be a right of all people, not a privilege. This is not a radical idea," he said.
Sanders said Roosevelt was responsible for much of the social safety net enjoyed by millions of Americans today, from Social Security, the federal minimum wage, unemployment insurance, the abolition of child labor, the 40 hour work week, collective bargaining and strong banking regulations.
He said at the time, "almost everything he proposed, almost every program, every idea he introduced was called 'socialist.'" But he said the federal government's role in providing economic security for Americans had become "the fabric of our nation and the foundation of the middle class."
Without mentioning Clinton by name, Sanders said his candidacy was based on creating a political revolution of supporters to demand a better deal for the middle class.
He added: "So the next time that you hear me attacked as a socialist - like tomorrow - remember this: I don't believe government should take over the grocery store down the street or own the means of production, but I do believe that the middle class and the working families of this country who produce the wealth of this country deserve a decent standard of living."
Thanks for reading CBS NEWS.
Create your free account or log in
for more features.