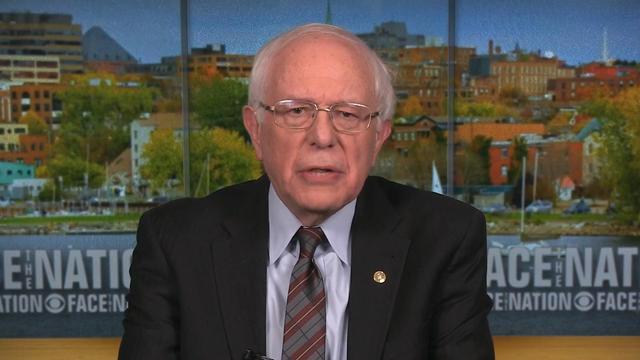 Bernie Sanders confident bill stopping U.S. support of Saudi Arabia in Yemen can pass
Sen. Bernie Sanders, I-Vermont, said Sunday that he was confident the Senate will pass a resolution to pull back any kind of U.S. support for the Saudi-led war in Yemen, given the CIA's conclusion that Saudi Crown Prince Mohammed bin Salman ordered the killing of Washington Post journalist Jamal Khashoggi. "I think we now have a chance to get a majority of the United States Senate," Sanders said on "Face the Nation," referring to the resolution he co-sponsored with Republican Sen. Mike Lee of Utah.
The resolution only garnered a handful of Republican support when the Senate took it up in the spring. Sanders' comments came as a growing list of Republicans and Democrats are disagreeing with President Trump's vow last week to stand by Saudi Arabia.
Many Republicans have denounced Mr. Trump's decision not to levy harsher penalties over the death and dismemberment of Khashoggi inside the Saudi Consulate in Istanbul, Turkey.
Sanders, a member of the Senate Environment and Public Works Committee, also said on "Face the Nation" that Congress needs to do more to "take Trump on, take the fossil fuel industry on, and transform our energy system away from fossil fuel" in light of a dire new government report on the impact of climate change. The Trump administration released the report on Friday.
"This is a very alarming report, and we've got to wake up and address these issues," he said. Sanders also said Democrats in the new Congress should take a cue from the way Newt Gingrich ran the House after the Republicans took over in 1994 and press a bold legislative agenda.
"The question is whether Congress has the guts to stand up to the big money interests who want more tax breaks for the rich," Sanders said. He added that Congress should pass a minimum raise increase, pursue pay equity for women, create a single-payer health care system and push for free tuition at public universities.
"Back in 1994, Newt Gingrich, who I disagree with on everything, really had a bold right-wing agenda, and I think we should learn from that," Sanders said. "This is what the American people want. And we should do it."
Thanks for reading CBS NEWS.
Create your free account or log in
for more features.