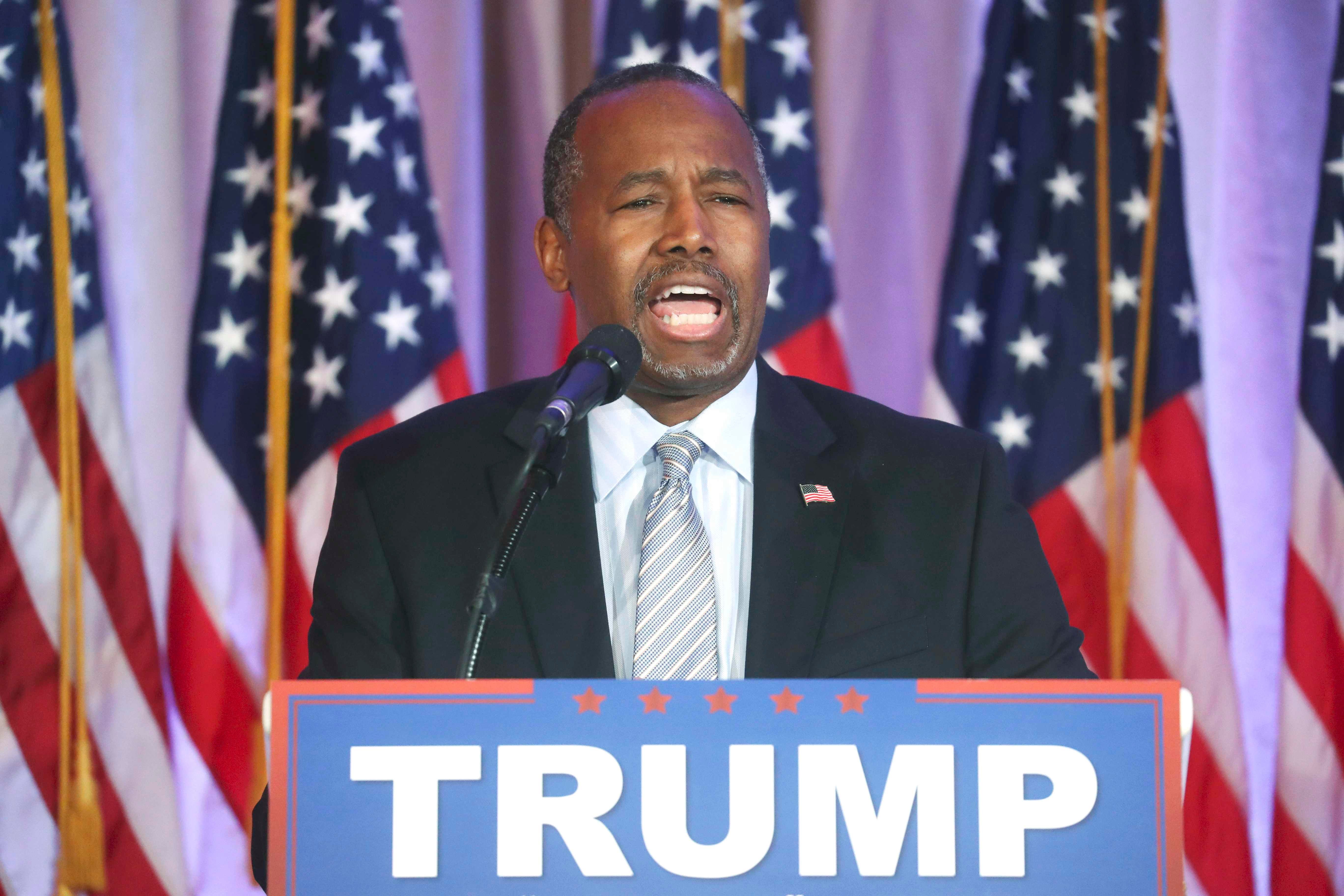 Ben Carson: The worst campaign surrogate ever?
A campaign surrogate's job is to travel across the country and go on TV, saying nice things about the candidate and helping boost his or her chances at the presidency.
What a campaign surrogate is not, however, supposed to do, is suggest their candidate is a bad person, admit he has a Twitter problem and an issue with "humility," defend that candidate by suggesting a TV anchor has been charged with a crime, and reassure skeptics that, even if your candidate is a terrible president, it's only for four years.
Retired neurosurgeon Ben Carson has done all of these things in his barely more than a month as a top public supporter of GOP front-runner Donald Trump--and he's showing no signs of slowing down.
Carson's ineptitude as a surrogate came up again Monday when he suggested in a radio interview with Denver's "The Kelly and Kafer" radio show that he would not be supporting Trump if the stakes weren't so high in this election.
"It was pragmatism, recognizing that John Kasich cannot win without a brokered convention--which would guarantee a Democrat win--and recognizing that Ted Cruz can bring conservatives but will have a very difficult time bringing moderates and Democrats," Carson said, in an interview first noted by Buzzfeed. "I think that will be pretty much a guaranteed loss also. So in terms of who can potentially win, I think that would be Donald Trump. When I look at the consequences of not winning, it's too horrible to even think about."
He said it's for "the children and the grandchildren" that he supports Trump--otherwise he'd be "completely where Krista is," referring to Krista Kafer, the radio show's co-host, who has said she will not support Trump if he wins the nomination.
And earlier in the show, when Kafer said Trump is a bad man, Carson replied: "Who isn't? Who among us isn't?"
This was only the latest in a string of less-than-enthusiastic comments from Carson about the candidate he has endorsed. Though he's only been on the Trump Train for a little more than a month, Carson has slipped up repeatedly.
In a radio interview with New York's John Catsimatidis, Carson said Trump has "some major defects, there's no question about it." In the same interview, he acknowledged that Trump has "a humility issue there that could perhaps use some polishing."
Carson went on to note that Trump will "probably" be able to restore the world's confidence in America.
"Everybody believes that we are weak on the world stage; we are not doing things that make sense economically," he said. "And he's probably the person who is most likely to do that. Are there better people? Probably."
Earlier this month, Carson also acknowledged Trump's colorful Twitter feed is "a problem" for the GOP front-runner.
"He knows that it's a problem," Carson told Florida radio host Joyce Kaufman. "The first part of solving the problem is recognizing that it exists."
The day of the crucial Ohio and Florida contests on March 15, which could have helped shut down Trump's opponents decisively had he won both contests, Carson suggested that even if Trump was a terrible president, America would only have to put up with it for four years.
"Even if Donald Trump turns out not to be such a great president, which I don't think is the case--I think he's going to surround himself with really good people--but even if he didn't, we're only looking at four years," Carson said on "The Steve Malzberg Show," a syndicated program.
Carson even went as far as to suggest a CNN anchor, who asked him about Trump campaign manager Corey Lewandowski, could have been charged with a crime.
"A lot of people have been charged with various things, that doesn't necessarily mean we need to demonize them," Carson said to CNN's John Berman. "You've probably been charged with something too, maybe a misdemeanor or something."
"I actually haven't," Berman replied.
It's not as if Trump doesn't have at least a handful of more effective surrogates than Carson. There's New Jersey Gov. Chris Christie, also a former 2016 hopeful, who was seemingly everywhere with Trump in the lead-up to Super Tuesday, though Christie has kept a much lower profile in recent weeks.
Or Alabama Sen. Jeff Sessions, who's helped introduce Trump to the right people around Washington and campaigned with him ahead of his home state primary on March 1 but otherwise has been largely absent from the trail.
Instead, Trump's got Carson. And as the above quotes show, this may have been more of a hindrance than a help. Carson's verbal slip-ups have become so frequent and pronounced that some in the media and politics have suggested he's working against Trump, either intentionally or unintentionally:
Thanks for reading CBS NEWS.
Create your free account or log in
for more features.