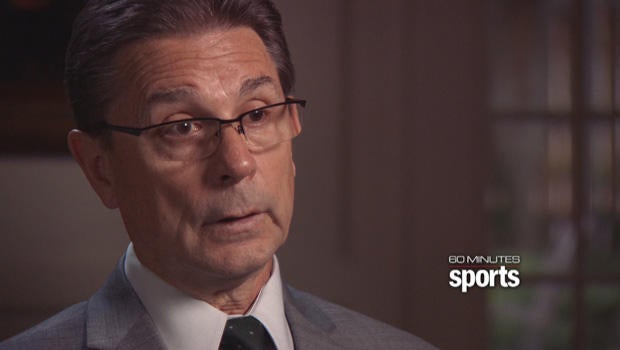 Baylor sex assault scandal far worse than previously disclosed
The sexual assault scandal rocking Baylor University and its powerhouse football team was far worse than previously disclosed.
"60 Minutes Sports" has learned that, since 2011, 17 female students reported sexual or domestic assault charges against 19 Baylor football players. That includes at least four alleged gang rapes. Former Baylor President Ken Starr and celebrated football coach Art Briles lost their jobs.
Baylor prides itself on its Christian values and creating a caring community. But the "60 Minutes Sports" investigation found a culture where victims who came forward found themselves blamed for violating the university's code of conduct, which prohibits drinking and premarital sex.
Correspondent Armen Keteyian has been investigating since May. His investigation revealed the senior vice president in charge of campus safety, Reagan Ramsower, often clashed with Patty Crawford, the university's former Title IX coordinator.
She says she could not get police reports, including one for a Baylor student who claimed she was gang-raped.
The gang rape allegedly involved football players Tre'Von Armstead and Shamychael Chatman in 2013. A Waco police report stated "Baylor University was contacted" about the incident. Criminal charges were never filed against either player.
Ramsower said the Baylor campus police department he oversees had a history of burying sexual assault complaints that came to them.
Keteyian asked Ramsower about the investigation into the incident report. "Nothing ever happened for well over a year. What happened there? Was there an investigation? And if not, why not? You have a police report -- "
"There was a police report; I suppose it stayed with the police department," Ramsower said. "It never came out of the police department. That was a significant failure to respond by our police department, there's no doubt about it."
"Victim blaming would be one answer," said Keteyian. "The other answer is protecting the football team and protecting that brand."
"I don't believe that was at all the reason," Ramsower replied. "I really think that it was probably feeling like -- and whether or not -- I don't know what was said, if they did talk to the victim."
"Well, they did talk to the victim. There's no question. It's a detailed police report."
"Right. There was a Title IX case that was actually opened up," Ramsower said. "We opened that up. And that was when I learned about it. And at that time we took the appropriate actions and eventually he was found responsible."
"Eventually he was. But in 2014 Tre'Von Armstead was all Big 12 tight-end." Keteyian said.
"That would be true," said Ramsower.
Patty Crawford has years of experience investigating sexual assaults. But nothing, she said, prepared her for Baylor.
She was hired by Baylor in 2014 as the university's first full-time Title IX coordinator to investigate women's complaints.
She says a lack of cooperation prevented her from doing her job, from which she resigned in frustration.
Keteyian asked Crawford who was responsible for the failed investigation: "Was it institutional failure right up to the highest levels at Baylor? And I'm including the board of regents."
"Absolutely," she said. "There were a lot of people like me at the university that did not want these things happening and were fighting for it, but they didn't have the power or the authority and they were not heard. That is institutional.
"What drives a culture? It's the top. And that was the hardest thing for me to come to grips with, was after all of this -- this report was released, after all of this, the discrimination became so clear, even against me. That's power and that's control. What is rape about? Power and control."
Armen Keteyian's "60 Minutes Sports" report on the Baylor scandal, which includes interviews with the university's interim president and four members of the school's board of regents -- all of whom provide their accounts for the first time -- will be shown on Showtime (a division of CBS) Tuesday, November 1 at 8:00 p.m. ET.
Thanks for reading CBS NEWS.
Create your free account or log in
for more features.