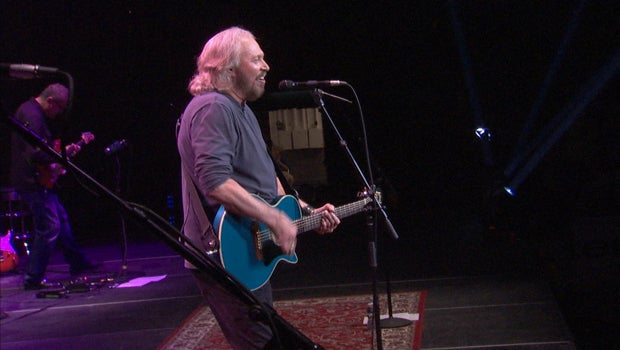 ​Barry Gibb: Back on stage
"Lonely Days" was a huge hit for the three Brothers Gibb, the Bee Gees, in 1970. Today that title could well describe the situation of Barry Gibb, the only one of the brothers still alive. He looks back with Anthony Mason For The Record:
Barry Gibb has never done this before -- never taken the long walk to the stage by himself.
"Is it important for you to do this?" asked Mason.
"Yeah. It's everything to me," Gibb replied. "It's all I've ever known. I don't know how to do anything else. I can't get a job!"
At 67, he is the only surviving member of one of the 20th century's greatest vocal groups. And this night, at the TD Garden in Boston, he's about to begin his first-ever solo tour.
The last of the Bee Gees is going it alone.
Mason said, "I don't think anyone thought at this point in time that there would be one Bee Gee left."
"None of us. I could've never imagined being sort of that last person," said Barry. "We were glued together, those three kids in bare feet, that knew something that nobody else knew, that one day we would make it.
"I remember saying to one of my first girlfriends at 14 years old that if she dumped me she was making a mistake 'cause I was going to be famous. I actually said that!"
"But more importantly you believed it."
"I believed it, yeah," said Barry. "And I don't know why."
Even in the early days in Australia, the three Gibb brothers -- Barry, and younger twins Robin and Maurice -- had their own distinct sound. The Bee Gees went on to perform, write or produce 15 No. 1 hits.
Their "Saturday Night Fever" soundtrack was a pop masterpiece that spent six months at No. 1, and sold some 40 million copies.
That album was recorded in Miami, where Gibb and his wife Linda had moved to in the late seventies.
"We fell in love with the sky," Barry said.
"Reminded you of Australia," added Linda.
It was Linda who recently pushed her husband to get back out on the road: "Well, I was fed up with him sitting on his ass!" she laughed. "He was miserable. I think after Maurice died he kind of went into a bit of a depression and he just moped around."
Maurice Gibb was just 53, when he died suddenly from a tangled intestine in 2003. The Gibbs had already lost their youngest brother, Andy, who died in 15 years earlier after a long battle with drugs.
But Maurice's death would divide the two surviving brothers, Robin and Barry.
In 2009 Robin told Mason that he was afraid of his brother: "I was afraid because I knew where Barry was emotionally. And I knew his way of expressing himself was by not going forward, by not being a Bee Gee."
For his part, Barry said, "I wanted to keep the Bee Gees as the three of us. I wanted that to be the only thing anyone ever saw again."
After a long hiatus, that day in 2009, in Barry's home studio in Miami, he and Robin dusted off some of the Bee Gees' biggest hits for us. "Even I get nostalgic," said Barry. That session would be the last time the two brothers would sing together. In 2012, Robin would die of cancer
"I knew then he wasn't well, because I know Robin," said Barry. "I knew there was just something really holding him down. And everything seemed to be a little bit more of an effort than I'd known it to be.
"I told Robin before he died, 'You know, it came true. It came true and stop worrying about it. Stop thinking you have to do something else again to put the lid on it. And he was always searching for that, 'Well, maybe we can just get one more hit,' you know? And I was like, 'But the dream came true, Rob. It's okay.'"
"Do you feel like the dream came true?" Mason asked.
"For the Bee Gees, absolutely."
"Well, what about for you?"
"Well, that remains to be seen."
The voice is still unmistakable, especially the infamous falsetto he first used on "Nights on Broadway."
It's still there? "It's still there, yes. It's there if I want it," Barry laughed. "But if I want my falsetto to happen, I have to start screaming in the shower. 'What are you doing in there?' 'Wouldn't you like to know?'"
When Gibb began to consider a solo tour, he reached out to his oldest son, Stephen, a heavy metal guitarist.
"Was he at all reticent to go out there on his own?" asked Mason.
"There's a certain almost nakedness that he felt," said Stephen. "And sure there's a risk involved. He's a 67-year-old pop icon. And he's like, 'Do people care still?"
As well as his son, Stephen, Gibb is joined on stage by his niece -- Maurice's daughter, Samantha. Together they sing, "How Can You Mend a Broken Heart?"
"I'll walk off after a moment of doing 'How Can You Mend,' and I'll cry," she said. "But I'm happy. We're looking at each other and we're both, like, healing. And we're also grieving when we sing.
"We both struggled after my Dad died, too," she continued, tearing up. "So it was a great way to connect. Because we hadn't done that."
Mason asked Stephen, "What have you seen in your father as you've toured together that you maybe haven't seen before?"
"Emotional vulnerability," he replied. "He was always a very emotionally in-control person. You know, I never really saw him break. And when he lost Robin, I think he thought it was okay to just feel this is a part of life. I think that he's become a stronger man spiritually as a result of getting more comfortable with that. Now people may not see it, but I see it."
On stage, Barry Gibb says, he has trouble looking over his shoulder when his brothers' pictures are flashed on screen.
"How much do you miss your brothers' voices out there?" Mason asked.
"Well, it's an everyday thing. It's every day and every night. That never goes away," he said. "I don't know why I'm the only one left. I'll never be able to explain that. It'll always hurt. And I'll always have great, joyful memories."
The eldest is now the last. Barry Gibb may have lost his band of brothers, but he;s finding the audience is still with him.
He told Mason it feels "sort of like a rebirth. It's great therapy. You just feel alive. You feel really alive. And it's about seizing that now."
To sample tracks from the "One For All" concert CD, from "The Warner Bros. Years, The Bee Gees: 1987-1991" five-disc box set released April 15, click on the SoundCloud player below. You can also download and purchase the collection via Amazon and iTunes.
For more info:
Thanks for reading CBS NEWS.
Create your free account or log in
for more features.