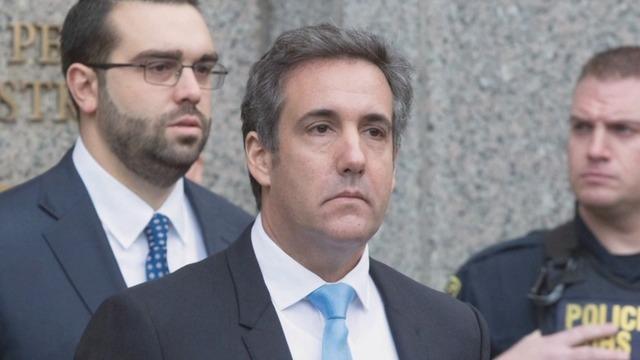 Barbara Jones, former federal judge, appointed as special master in Michael Cohen case
A New York federal judge says she is appointing Barbara Jones, a former Manhattan federal judge, to help determine what materials seized in raids on the home and office of President Donald Trump's private attorney are protected by attorney-client privilege.
Judge Kimba Wood said Thursday at a hearing that Barbara Jones has the right amount of experience to handle the study of materials seized in the April 9 raids that targeted attorney Michael Cohen. As special master, Jones will have access to all the discovery, to the search warrant and its application, and she will discern the question of privilege.
Cohen's lawyer, Stephen Ryan, praised Jones as a "fine choice." The government had hoped its own taint team would be sufficient to discern what materials would be deemed privileged. The materials seized include hard copies of documents, hard drives, cell phones and iPads.
Who is Barbara Jones?
Jones, 71, was a federal judge in New York for 17 years before leaving for private practice five years ago. Nominated to the bench by President Bill Clinton in 1995, she presided over cases including securities fraud, antitrust, corruption, labor racketeering and terrorism. Among her highest profile cases were the trial in 1997 of Autumn Jackson. Jackson was convicted of trying to to extort more than $40 million from Bill Cosby by claiming to be his daughter, born out of wedlock.
Jones has also been an assistant U.S. attorney in the Southern District of New York and chief assistant to the district attorney of New York County. She is now a partner at Texas law firm Bracewell, specializing in white collar defense and internal investigations. Jones has served as an adjunct assistant professor at Fordham Law School and NYU School of Law. She'll begin on the Cohen case as early as next week.
Wood said she hoped that installing Jones as special master would help keep the privileged review process on schedule. She also reserves the right to speak with the special master at any time.
Judge Wood noted that the government and Cohen's lawyers agreed that a so-called "special master" was the best way to determine which materials should be off-limits to federal investigators. Prosecutors have said the raids resulted from an investigation into possible fraud.
Prosecutors say probably not much is protected by attorney-client privilege, given public comments made by President Trump and Fox News personality Sean Hannity, two of Cohen's three clients. They note that Hannity said Cohen never represented him, and the president said Cohen did "a tiny, tiny little fraction" of his legal work.
What is a "Special Master?"
A special master is a judicial position, appointed to ensure that procedure is followed, often in cases which are likely to consume unusual amounts of time or attention for their discovery or investigative stages. The presiding judge has broad authority to delegate duties to this special master, who is in most cases an attorney.
CBS News' Jeff Pegues and Clare Hymes contributed to this report.
Thanks for reading CBS NEWS.
Create your free account or log in
for more features.