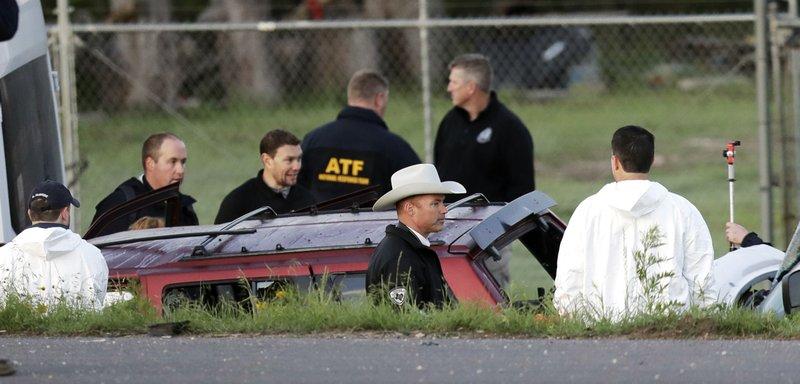 Austin bombings suspect kills himself as police close in
ROUND ROCK, Texas -- The suspect in the deadly bombings that terrorized Austin blew himself up early Wednesday as authorities closed in on him, bringing a grisly end to a three-week manhunt, but his motive remains a mystery. On Wednesday afternoon police announced they were removing homemade explosives from the suspect's home.
Authorities publicly identified the suspect as 23-year-old Mark Conditt of Pflugerville, Texas. It's not clear whether the suspect acted alone in the five bombings in the Texas capital and suburban San Antonio that killed two people this month and wounded four others. Federal, state and local law enforcement agencies issued a news release Wednesday saying a federal criminal complaint and arrest warrant were issued Tuesday night for Conditt on a charge of unlawful possession and transfer of a destructive device.
The Austin Police Department said they were "working to safely remove and dispose of" the explosives at a home on Second Street in Pflugerville, just north of Austin, where Conditt lived with roommates. Authorities evacuated four blocks around the home "in an abundance of caution."
Pflugerville police said Wednesday afternoon the scene would be processed for several hours. An ATF official said the "same components" found in the home were found in the devices that exploded. The components and material removed from the home were not completed devices, officials said.
An official said there was primarily "one room" that had a significant amounts of bomb-making material.
ATF Special Agent in Charge Fred Milanowski says the agency is reasonably certain there are no other devices "out in the public," but he urged caution. FBI agent Chris Combs echoed Milanowski's sentiment, saying "we think we're on top of this, but we just don't know."
On Twitter, Austin police asked the public to "remain vigilant."
After Conditt's death early Wednesday, authorities expressed concern there may be other package bombs circulating in public.
The investigation remains open and the documents remain under seal. A federal law enforcement source tells CBS News that there are about 12 explosives detection K9 teams from the Bureau of Alcohol, Tobacco, Firearms and Explosives doing sweeps at locations connected to the bombings Wednesday.
Austin Police tracked suspect to Round Rock, Texas
Gov. Greg Abbott, speaking to local television station KXAN, said investigators knew who the suspect was for about 24 hours before his arrest and had been following him.
"We knew we were going to be able to apprehend him, we just didn't know when," Abbott said.
He said witnesses spotted a person entering a FedEx store wearing a "crazy" disguise, including a blond wig and gloves, and called police. KEYE obtained pictures from surveillance video taken inside a South Austin FedEx Office store Sunday night, where the person shipped two suspicious packages.
"The disguise was highly unusual, to say the least, and because it was unusual it alerted some witnesses -- this seemed like it wasn't right," Abbott said.
Partially unsealed federal court documents show that agents from the ATF were ready to arrest Conditt on Tuesday on a charge alleging he had received, possessed or transferred destructive devices.
A U.S. Magistrate Judge heard by phone Tuesday an ATF agent's request to issue an arrest warrant for Conditt and signed the warrant electronically.
Many of the court documents remained sealed on Wednesday, including two orders from the magistrate and the cause for the warrant.
No other people are named in the criminal complaint cover sheet, which says Conditt is wanted for offenses between March 2, when the first bomb went off, and Tuesday, when the warrant was signed.
U.S. Rep. Michael McCaul, who is chairman of the House Homeland Security Committee, told KXAN on Wednesday that he thinks the suspect's "fatal mistake was when he walked into a FedEx office to mail the package."
The witnesses there were able to identify the car he was driving, Abbott told KXAN. McCaul said authorities were able to get surveillance video of him in his vehicle and his license plate number, and then identify and track his cellphone.
He said investigators learned the suspect bought bomb-making equipment at a Home Depot in his hometown.
Investigators used sophisticated tracking technology to pick up suspect's cell phone signal enabling them to pinpoint his location at the hotel in Austin suburb of Round Rock Tuesday night, a law enforcement source tells CBS News senior investigative producer Pat Milton.
Officers were waiting for armored vehicles to arrive before moving in for an arrest when his vehicle began to drive away, Austin Police Chief Brian Manley said at a news conference.
Authorities followed the vehicle, which ran into a ditch on the side of the road, he said.
At that point, Manley said, as an Austin police SWAT team closed in, the suspect fired at them, then detonated a device in his vehicle. One SWAT team member was knocked back from the blast as he approached the vehicle and suffered minor injuries, Manley said.
It wasn't clear whether the suspect intended to plant the device he used to kill himself, authorities added.
Abbott said on KXAN preliminary information indicates the suspect acted alone, but investigators have not been able to rule out that he had accomplices.
While the obvious "big break" in the case was the FedEx security video, a federal law enforcement source tells CBS News' Jeff Pegues, there were other common links that led to the suspect. The explosive devices had commonalities in the components - unusual batteries, metal and screws, the source said.
Investigators are trying to figure out how he gained the knowledge to make the devices, the source told Pegues.
President Trump tweeted about the developments:
Suspect's identity revealed
The mayor of Pflugerville, which is not far from the site of the first bombing, said the suspect lived in his city, just two blocks from his house. Pflugerville police Cmdr. Keith Ritchie says the FBI told local police to evacuate the area around the suspect's home late Wednesday morning, and police later announced they were removing homemade explosives found there.
Federal authorities were preparing to deploy an anti-explosives robot.
One of Conditt's roommates was detained, questioned and released, according to Austin Police. The other is currently being questioned. Their names are not being released because they are not under arrest, police said.
The suspect's parents live a few miles away. Austin police, FBI and ATF were there Wednesday checking sheds and trash cans, reports CBS Austin reporter Bettie Cross via Twitter. Neighbors say the 23-year-old was raised at the home and visits his parents and three younger sisters there regularly.
Neighbors told Cross Conditt moved out about three to four years ago.
Conditt was a student at Austin Community College from 2010-2012 but didn't graduate, a school spokesman told CBS News. He has not attended since that time. The school says it is working with the Austin Police Department.
According to the Austin-American Statesman, Conditt was home-schooled as a child and had previously worked as a computer repair technician.
In posts dated from 2012, a blogger who identified himself as Mark Conditt of suburban Pflugerville wrote that gay marriage should be illegal. He also called for the elimination of sex offender registrations and argued in favor of the death penalty. He listed his interests as cycling, tennis and listening to music.
Of gay marriage, Conditt wrote: "Homosexuality is not natural. Just look at the male and female bodies. They are obviously designed to couple."
Speaking on KXAN, Abbott said the suspect wasn't a member of the military, didn't have a criminal history and was unemployed.
Also unclear is where the suspect made the bombs, Abbott said. He said investigators are speaking with the suspect's roommates, who would have had an idea of his "comings and goings," to see what information they can share.
"I think we will be able to piece together the puzzle of who this man was and why it is he did what he did," Abbott told KXAN. "That will be able to resolve a lot of the uncertainty that still exists."
A community on edge
The five connected explosions began on March 2nd and killed two people and injured six others.
Authorities initially believed the bombings may have been hate crimes because the victims of the earliest blasts were black, but they backed off that theory after Hispanic and white victims from different parts of the city were also affected. Authorities noted a "concerning" changes in the tactics of the serial bomber, shifting from package bombs to a tripwire, showing a higher level of sophistication.
That led some experts to speculate the suspect may have been trying to "outsmart" police. Fred Burton, a former counterterrorism agent, told the CBS Evening News the suspect had probably been watching media coverage of the attacks, and when police warned residents to avoid suspicious packages, he or she switched to a different type of bomb.
"I think this person is showing that he's quite good," Burton said. "This person is taunting law enforcement in the city, that he's one step ahead."
Fred Milanowski, an agent with the U.S. Bureau of Alcohol, Tobacco, Firearms and Explosives, said it was "hard to say" if the bombing suspect had acted alone.
"What we do know is we believe the same person built each one of these devices," said Milanowski, the agent in charge of the Houston division of the ATF.
Asked if the suspect built bombs before the Austin attacks, Milanowski said: "We know when he bought some of the components. It's hard to say whether he was building along the way."
The suspect's death followed a day of rapid-fire developments in the case.
Early Tuesday, a bomb inside a package exploded as it passed along a conveyer belt at a FedEx shipping center in Schertz, northeast of San Antonio and about 60 miles southwest of Austin. One worker reported ringing in her ears and was treated at the scene.
Later in the morning, police sent a bomb squad to a FedEx facility outside the Austin airport to check on a suspicious package. Federal agencies and police later said that package had indeed contained an explosive that was successfully intercepted and that it, too, was tied to the other bombings.
The Schertz blast came two days after a bombing wounded two men Sunday night in a quiet Austin neighborhood about three miles from the FedEx store. It was triggered by a nearly invisible tripwire.
A sixth unrelated explosion was reported Tuesday evening in South Austin, but Austin Police said it was from military memorabilia left at a Goodwill drop box.
Austin Mayor Steve Adler thanked law enforcement for their work in bringing down the suspect and urged residents to continue to report anything that appeared suspicious or out of place.
Speaking on KXAN, Abbott said there is a "sense of relief sense of relief knowing the cause of the danger is no longer there," but also urged citizens to remain vigilant.
Victims remembered
The family of 17-year-old Draylen Mason, one of the two victims killed in the explosions, have released a statement thanking law enforcement, reports CBS affiliate KEYE.
"The most recent chain of events have brought some sense of closure that our beloved has received justice and we are prayerful that we can now start to move forward with our lives," the family's statement said.
Mason died March 12, after opening a package that was found outside his East Austin home. It was opened in the kitchen with his mother present, and she was also seriously injured when it exploded.
Moses Williams, a family friend of the Masons, told CBS affiliate KEYE Draylen Mason was multi-level black belt and became a teacher at the martial arts studio in Pflugerville where Moses is grandmaster. He said Draylen was also a talented musician. A spokesperson for the University of Texas at Austin confirmed Draylen had just accepted as a music performance student into the competitive Butler School of Music in UT's College of Fine Arts.
39-year-old Anthony House died in a similar attack in another part of the city on March 2. House's death, which was the first in the series of deadly bombings, was initially thought to be isolated. It was later re-classified as a homicide and linked to the serial bomber.
Thanks for reading CBS NEWS.
Create your free account or log in
for more features.