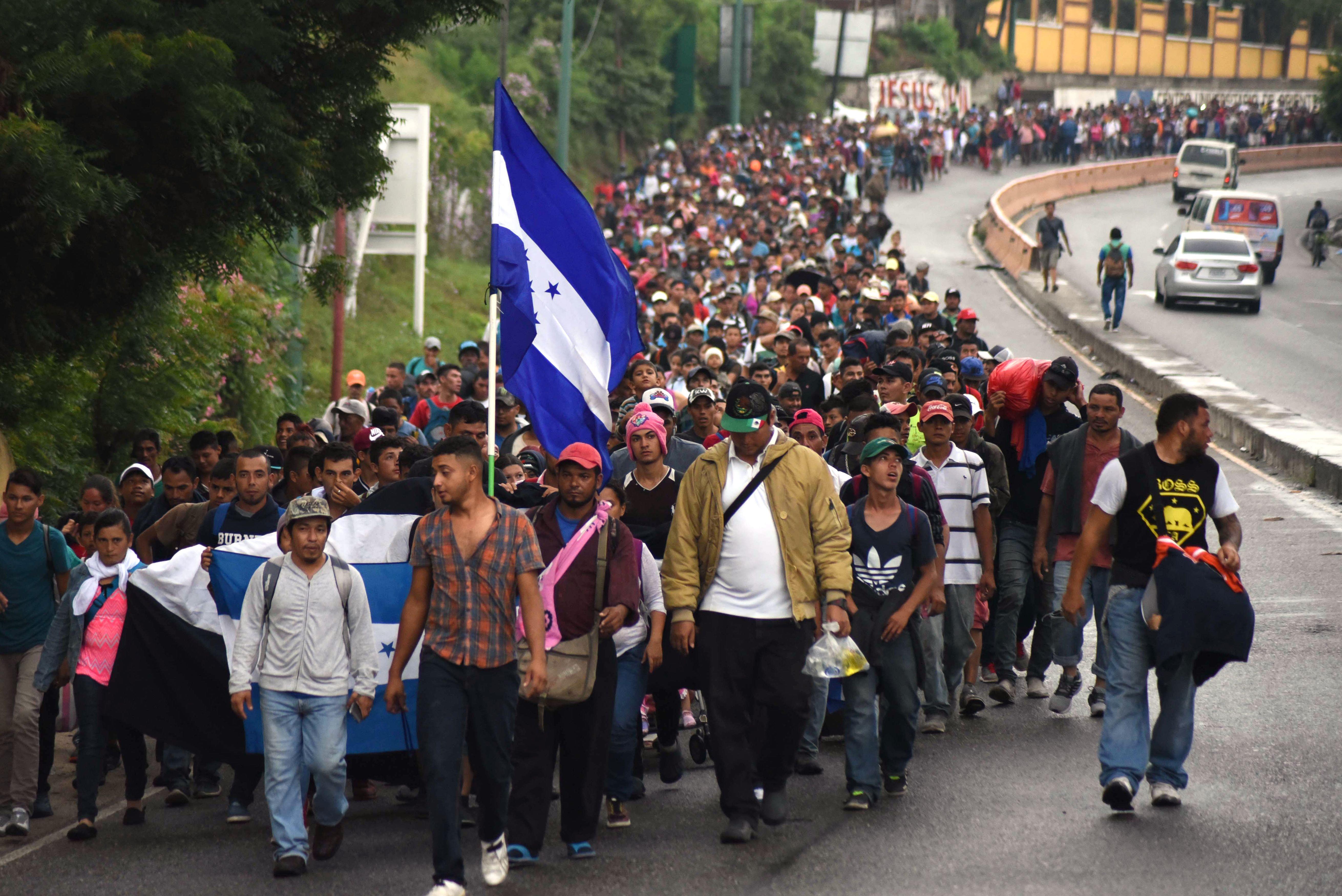 The Department of Justice just took a step to make asylum even more difficult for Central Americans
The Department of Justice took a quiet step earlier this week that could make it even more difficult for some immigrants to seek asylum. One immigration attorney called the decision "deeply troubling" and said it may have sweeping, negative impacts for Central American asylum seekers, a group that's already been targeted by the Trump administration and has disproportionately high denial rates.
In a one-page Department of Justice filing on Monday evening, Acting Attorney General Matthew Whitaker announced with little fanfare that he would "certify" the case called the "Matter of L-E-A-", referring the case to himself for a final decision on its outcome. To aid in his review, Whitaker invited both involved and interested parties to file briefs on the case, particularly "under what circumstances, an alien may establish persecution on account of membership in a 'particular social group'... based on the alien's membership in a family unit."
Here's what that actually means.
In his home country of Mexico in 2011, "Mr. L-E-A-," the name given to the otherwise anonymous asylum seeker, had a problem. After his father rejected cartel requests to use his grocery store as a drug distribution center, members of the La Familia Michoacana gang turned their efforts towards Mr. L-E-A- in hopes of changing his father's mind. Days later, Mr. L-E-A- heard gunshots from a nearby car and believed he was the target of drive-by shooting. He was told his father should reconsider the cartel's offer.
A week later, after a botched kidnapping attempt by the same cartel members, Mr. L-E-A- fled for the United States in hopes of seeking asylum. The man claimed that his family ties — or in immigration law speak, his "membership to a particular social group," in this case his family — put him danger in his home country to the point where he could no longer live in Mexico. The story is recounted in previous Justice Department documents on the case.
Although his asylum claim was rejected in 2013, then dismissed again in 2017 on appeal, courts affirmed that Mr. L-E-A-'s claim that kinship constituted "membership in a particular social group" was legally sound. That decision set a precedent that could apply to future asylum-seekers.
But on Monday, Acting Attorney General Whitaker said, essentially, not so fast.
Stripped of the legalese, in Monday's filing Whitaker raised Mr. L-E-A-'s immigration case as an opportunity to reconsider whether persecution based on family ties is an acceptable reason to be granted asylum in the United States. While a decision won't be issued until at least late January, immigration advocates aren't optimistic.
Given the administration's relentless push to limit immigration and Whitaker's own opinions on the subject, it's likely that Monday's filing will result in a new legal precedent that will significantly, if not completely, impair an asylum seeker's ability to base their claim on kinship, said Camille Mackler, the director of Immigration Legal Policy at the New York Immigration Center, in a telephone interview with CBS News.
Bradley Jenkins, an immigration attorney at the Catholic Legal Immigration Network, agreed. "Given the trend of recent attorney general certifications, this particularly case is deeply troubling," Jenkins told CBS News.
The legal process that Whitaker is using is the same one that former Attorney General Jeff Sessions deployed in June to severely limit asylum seekers' ability to claim domestic violence and gang persecution as eligible reasons to be granted the special refugee status.
Kate Voigt, the associate director of government relations at the American Immigration Lawyers Association, says the process is a way for lawmakers to rewrite immigration laws without having to engage Congress.
"It's a really unique system, and by unique I mean highly, highly problematic," Voigt said in a telephone interview with CBS News Tuesday. "These types of certifications basically allow the AG or acting AG to unilaterally rewrite immigration law with little to no oversight."
Although Monday's filing requested briefs from both involved and interested parties, Voigt says the process isn't as simple as it sounds. In previous certifications, exhibits and courts filings could be next to impossible to find. In another instance, specific case information wasn't made available until days before the filing deadline, making it nearly impossible to construct a well-researched, articulate legal argument, said Voigt.
For the L-E-A- certification, briefs from parties to the case are due on January 4, 2019 and those from other interested groups must be filed on or before January 18.
A call and email to Mr. L-E-A-'s attorney, Mei Chen, were not immediately returned. Calls to the Department of Justice's Office of Public Affairs also were not immediately returned.
Mr. L-E-A-'s plight is a common one in Central America, where gang violence is rampant and gang members often intimidate citizens by targeting other family members to achieve their desired outcomes. Because of that, kinship is an essential criteria for Central Americans seeking asylum in the United States, said Mackler.
Asylum is a specific immigration process for people of any nation who are fleeing persecution. Asylum seekers must establish that they face a "credible fear" of persecution in their home country based on their race, religion, nationality, political views, or membership in a particular social group. In a majority of cases, they are allowed to stay on U.S. soil while a judge determines the validity of their claim. President Trump and other proponents of stricter immigration laws say the system has been abused by migrants, calling the practice "catch and release."
Asylum denials hit a record high this year, according to a recent report published by Syracuse University's Transactional Records Access Clearinghouse (TRAC). Immigration judges rejected 65 percent of asylum cases in the year ending September 30, a 50 percent increase from six years ago, according to TRAC.
Although TRAC pointed out that the increase "largely reflects asylum applicants who had arrived well before President Trump assumed office," 80 percent of last year's asylum decisions were for immigrants from El Salvador, Honduras, Guatemala and Mexico.
Thanks for reading CBS NEWS.
Create your free account or log in
for more features.