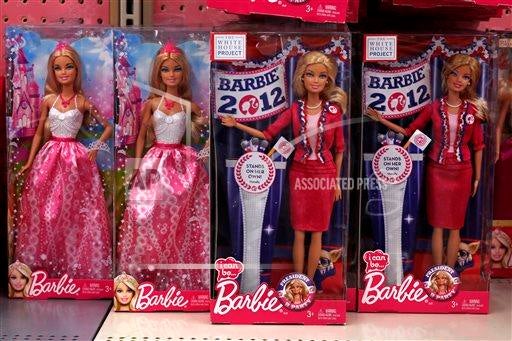 As sales plunge, can Barbie stay relevant?
Barbie is having a mid-life crisis.
The iconic doll is in a prolonged sales slide, and nothing toymaker Mattel (
MAT
) does seems to be working.
For the all-important holiday quarter last year, Barbie sales fell by a jaw-dropping 13 percent. Sales were down about six percent for all of 2013.
Barbie sales have been in decline for some time, but the recent losses are particularly steep. Only a year earlier, Barbie sales were only down four percent worldwide for the fourth quarter and three percent for the year.
One of the most famous toys in American history is clearly losing her appeal. And that's especially painful for Mattel, because the 54-year-old Barbie brand brings in enormous profits. Barbie has very high gross margins, no royalty payouts, and efficient advertising expenditures, one Needham & Co analyst told Reuters last year.
Mattel is trying to stoke interest in Barbie in China, but many parents there see toys as a waste of time that take away from learning. "Joy and learning are like oil and water in China," a Mattel executive
told the Wall Street Journal
.
Mattel responded by making a new Barbie to appeal to that culture of learning with Violin Soloist Barbie and selling her for about $13, far less than the $30 price tag Barbie carries in most international markets. It's unclear if the strategy is working as Mattel isn't disclosing sales figures for Barbie in China.
Luckily for the company, its non-Barbie girls' toys are doing well. Sales of its Disney Princess, American Girl and Monster High all saw increases last year. But those other categories cannot replace the financial behemoth that is Barbie, which has annual sales of about $1.3 billion, a BMO Capital Markets analyst told Reuters last year.
Mattel doesn't give Barbie-specific revenue figures, but the company reported $6.5 billion in net sales last year. If that analyst is correct, then Barbie is an enormous contributor to revenue, possibly more than all of Mattel's other girls' toys combined.
And when a sales giant like that starts to topple, the rest of the company is at risk of coming with it. "The reality is we just didn't sell enough Barbie dolls," CEO Bryan Stockton told analysts last week in the quarterly earnings conference call. Mattel shares plummeted by 12 percent Friday to $37.84.
One analyst pointed out in the call that the hottest toy of the year was the Rainbow Loom, which was high on innovation but low on technology. How can Mattel respond to that?
"As we look particularly at Fisher-Price and Barbie, for example, we need to amp up the innovation," Stockton responded. "What's clear to us is the landscape is changing."
Thanks for reading CBS NEWS.
Create your free account or log in
for more features.