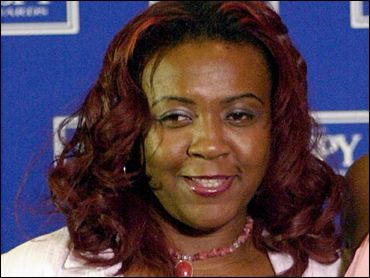 Arrest In Williams' Sister Murder
Sheriff's deputies on Saturday arrested the man who allegedly shot and killed the half-sister of tennis stars Venus and Serena Williams last year, authorities said.
Robert Maxfield, 23, was booked for investigation of first-degree murder in connection with the Sept. 14 shooting of 31-year-old Yetunde Price. He was being held without bail, Deputy Rick Bavouset said.
Maxfield was arrested at 4:30 p.m. but no other information was immediately available.
The sheriff's department earlier in the week issued an arrest warrant for Maxfield and released wanted posters identifying him.
He was one of at least two suspects whom authorities believe shot and killed Price while she was sitting in a car in Compton with her boyfriend, Rolland Wormley, about a mile from the courts where her sisters once played tennis.
An assault rifle and shell casings were found at the scene.
The other man, Aaron Michael Hammer, 24, was charged with murder. He has pleaded innocent and awaits trial.
Investigators believe Price and Wormley got into an argument with residents on a street known for gangs and drugs.
After the shots were fired, Wormley drove to his relative's house in Long Beach and called 911. Price was transported to the hospital, where she died.
Initial reports said that Price was shot in the chest. But a coroner's official testified she was killed by a gunshot to the head.
Hammer, a felon with ties to a street gang, admitted to firing a half-dozen shots from a .22-caliber rifle, a sheriff's detective testified in court.
But prosecutors, agreeing with the defense, said the fatal shot did not come from a .22-caliber weapon and that someone else fired an AK-47 rifle.
Price, a mother of three, was a registered nurse and beauty shop owner. She also was a personal assister to her two famous sisters. She lived in Corona at the time of the shooting.
Messages left for Raymone Bain, publicist for Serena Williams, were not immediately returned.

Thanks for reading CBS NEWS.
Create your free account or log in
for more features.