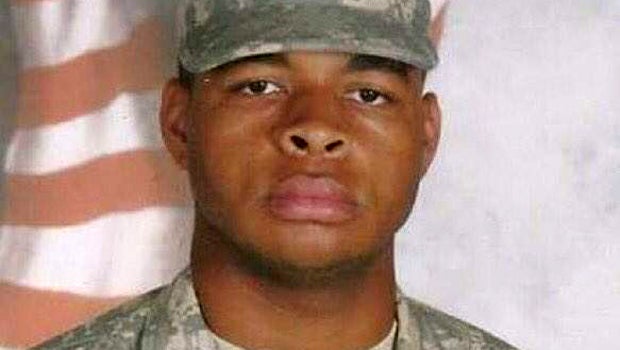 Army sent Dallas sniper home from Afghanistan
MESQUITE, Texas -- The Dallas sniper had been sent home from Afghanistan after being accused of sexually harassing a female, and was described as a loner who followed black militant groups on social media.
Micah Xavier Johnson, who fatally shot five officers and wounded seven more before police killed him with a remote-controlled bomb on Friday, lived with family members in the blue-collar suburb of Mesquite, where he played basketball for hours at a time.
Friends there said the 25-year-old black man didn't seem interested in politics, but his Facebook page suggests otherwise: He "liked" black militant groups including the African American Defense League and the New Black Panther Party, which was founded in Dallas.
His photo showed him wearing a dashiki and raising his fist over the words "Black Power," and his cover shot carried the red, black and green Pan-African flag.
CBS News homeland security correspondent Jeff Pegues reports that on the Facebook page of the Black Panther Party of Mississippi Johnson posted a graphic video of dolphins being slaughtered, and what he wrote suggested a hatred for whites: "Why do so many whites (not all) enjoy killing and participating in the death of innocent beings?"
Law enforcement sources believe Johnson had been planning the attack on police for some time but that it was the police shootings of black men in Baton Rouge, Louisiana, and Minnesota that pushed him over the edge, Pegues reports.
"This was a mobile shooter that had written manifestos on how to shoot and move, shoot and move, and he did that," Mayor Mike Rawlings told reporters. "He did his damage, but we did damage to him as well."
Pegues reports those are skills he may have picked up during a six-year military career.
In September 2013, Johnson was activated to serve in the 420th Engineer Brigade in Afghanistan, Pegues reports. He went through basic training, where he would have had to qualify on an M-16 or M-4, which are basic rifles carried by soldiers.
Starting in 2009, Johnson served in the Army Reserve as a private first class with a specialty in carpentry and masonry, the military said.
In May 2014, six months into his Afghanistan tour, he was accused of sexual harassment by a female soldier. The Army sent him stateside, recommending an "other than honorable discharge," said Bradford Glendening, the military lawyer who represented him.
That recommendation was "highly unusual," Bradford said, since counseling is usually ordered before more drastic steps are taken.
"In his case, it was apparently so egregious, it was not just the act itself," Glendening told The Associated Press. "I'm sure that this guy was the black sheep of his unit."
According to a court filing Glendening read over the phone Friday, the victim said she wanted Johnson to "receive mental help," while also seeking a protective order to keep him away from her and her family, wherever they went. Johnson was ordered to avoid all contact with her.
Glendening said Johnson was set to be removed from the Army in September 2014 because of the incident, but instead got an honorable discharge months later - for reasons he can't understand.
"Someone really screwed up," he said. "But to my client's benefit."
When authorities searched Johnson's home Friday they found bomb-making materials, ballistic vests, rifles, ammunition, and a personal journal of combat tactics.
CBS News has learned that investigators believe Johnson was building his arsenal over the last two years. He was stockpiling guns and gathering the elements to build explosives. Investigators said he had accumulated chemical and electronic precursors to building explosives along with PVC piping.
Dallas Police Chief David O. Brown said Johnson told negotiators before he was killed that he was acting alone and was unaffiliated with any group.
On Saturday, CBS News learned that investigators have found no links between Johnson and violent extremist groups, either foreign or domestic.
The chief said Johnson cited the fatal shootings of black men by police officers in Louisiana and Minnesota, which prompted the protest march in Dallas and many other cities.
"The suspect said he was upset with white people and wanted to kill white people, especially white officers," Brown said.
Activists with Black Lives Matter, whose peaceful march police were guarding as he opened fire, repudiated the shootings, and it wasn't immediately clear if Johnson had any connection to the movement, which has disavowed violence.
But one of the groups Johnson "liked" on Facebook, the African American Defense League, posted a message earlier in the week encouraging violence against police in response to the killing in Louisiana.
"The Pig has shot and killed Alton Sterling in Baton Rouge, Louisiana! You and I know what we must do and I don't mean marching, making a lot of noise, or attending conventions. We must 'Rally The Troops!' It is time to visit Louisiana and hold a barbeque." The message was attributed to Dr. Mauricelm-Lei Millere, a leader in the organization.
Another group Johnson "liked" was the New Black Panther Party, whose leaders have "long expressed virulently anti-white and anti-Semitic opinions," according to the Southern Poverty Law Center.
Johnson also "liked" the Nation of Islam and the Black Riders Liberation Party, which the center described as "hate groups."
Among Johnson's other social media likes were groups that focus on the history and accomplishments of African-Americans, such as Black Love Matters, the Nubian Rootz Cultural Center, and I Love Black Archaeologist, a web series whose main character uses a time machine to visit famous black people.
The Dallas Police Department said Johnson's Facebook account also included information about Richard Griffin, also known as Professor Griff, who "embraces a radical form of Afrocentrism."
On his Facebook page Friday afternoon, Griffin, a member of Public Enemy - an influential hip hop group known for its politically charged lyrics - said he does "not advocate killing Cops."
Johnson had no criminal history, according to authorities. Local court records show his parents were divorced in 1996.
He was believed to have shared a two-story tan brick home in Mesquite with family members. He graduated from John Horn High School in Mesquite, where he was a ROTC member, school district officials said.
Sharon Carter, who works in the district's registrar's office and lives near Johnson's home, said she saw him occasionally wearing military fatigues as he left for Army reservist training, but never saw him armed.
"They say he was standoffish in high school," Carter said. "I never really spoke to him. He kept to himself."
A relative had praised Johnson on his birthday in 2014 as "definitely Army strong" on his Facebook page, calling him an "entertaining, loving, understanding, not to mention handsome friend, brother (and) son."
After Johnson was killed, a relative posted on her Facebook page, "I keep saying its not true...my eyes hurt from crying. Y him-? And why was he downtown." She did not respond to Facebook messages.
Friend Israel Cooper said Johnson went by "Xavier," his middle name, had a "cool vibe," wasn't really political and seemed educated.
Cooper said he and Johnson played basketball at a park near his home. "He would be out there for eight hours. Like it was his job. Just hoopin'," he said.
Cooper said that when he heard the suspect was Johnson, he "was in disbelief because he's just not like a violent or rough dude."
"So I was, 'Nah, it's probably another Xavier somewhere, you know,'" Cooper said. "But then, with pictures on the internet and stuff, I'm like 'OK.'"
Cooper added: "It's the quiet ones that just do the most devastating stuff. You never see it coming. But then it's more expected, like 'I should have known.'"
Thanks for reading CBS NEWS.
Create your free account or log in
for more features.