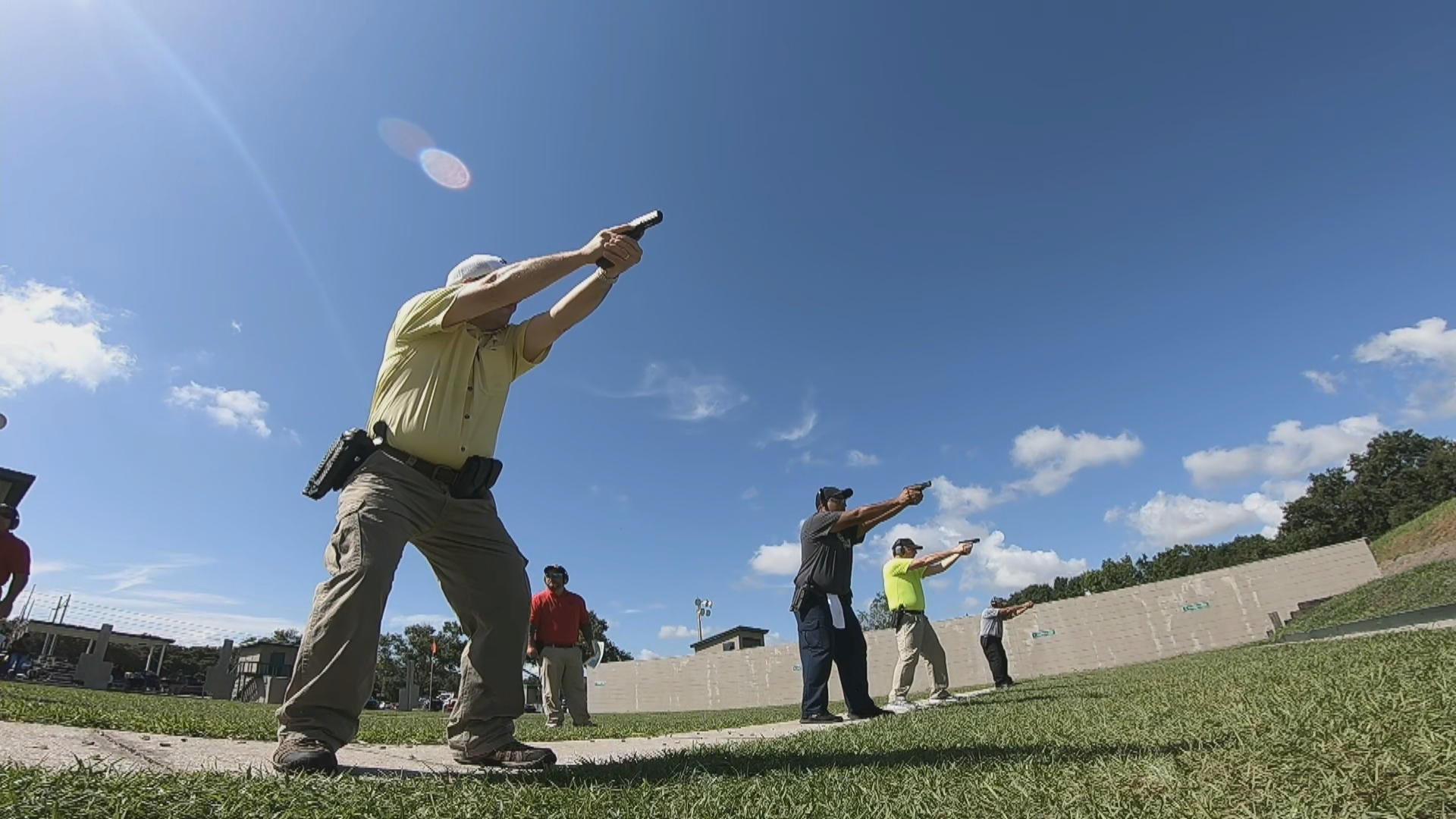 Meet some of the everyday people training to take down school shooters
A new program in Central Florida is training everyday people to stop potential school shooters. School safety guardians have the job of protecting students and teachers on campuses that do not have their own school resource officers or sheriff's deputies. A state law passed after the deadly shooting at Marjory Stoneman Douglas High School gives districts the option to arm teachers, school staff or school safety guardians.

The guardians - who are normal citizens, not officers of the law - train from morning 'til night. Many told CBS News' Adriana Diaz they're doing it because they have kids in the school system, whose safety they worry about. Guardians will earn $30,000 per year, which is less than school resource officers. That difference will allow every school in Polk County to have an armed guard.
Armed with real guns and real bullets, everyday people like a minister, former teacher and a former police officer are training to take down a potential school shooter.
"I'm tired of hearing teachers having to give their lives to protect students. ... We're going to be there to engage. You will not have to. We will run to that threat while you take care of what you need to," Kimberly Hall, a former teacher, said.
Asked why that burden shouldn't fall to law enforcement, former police officer Johnny Thomas said, "We need more people to step up and get into this function of protecting our children."
For minister Stephen Bolden, the calling has to do with his own family.
"I have three small children in the school system. My wife is a teacher….I want to make sure that those children have the safest, best quality education," he said.

Candidates for the guardian program have to pass background and psychological checks before an intensive six-week course that includes firearms training, precision shooting, and both virtual and live active shooter scenarios. Only the candidates who score high enough on tactical and written tests will be placed in one of Polk County's 85 elementary schools this fall.
Andrew Pollack, whose daughter Meadow was killed in the Parkland shooting, has been involved from the start.
"These kids are going to be safer for now, from what I accomplished and hopefully the rest of the country is going to see what we did in Polk County and they're going to lead by example," Pollack said.
Polk County Sheriff Grady Judd and school superintendent Jacqueline Byrd created the program. To the parents who are uncomfortable with having more guns on campus, Judd said, "Those parents need to wake up and understand this is a new normal."
"This is the last, best chance to save your child when all the different layers of security have failed and their job is simply this: to be well-trained, to react within seconds, to find the active shooter and kill him graveyard dead before he can hurt your child with a gun," Judd said. "These folks are starting as civilians but when they finish their training, they're going to be better trained with more hours and a higher proficiency than a state certified police officer."
"When you see what's happening around our nation in our schools, you just wonder is it ever going to be here in Polk County," explained Superintendent Byrd. "I know I have to do something to ensure that as each parent sends me their child I have someone there to make sure they're safe."
But some parents, like Annette Rising, are concerned.
"I come from a time and era where we didn't have to worry about guns," Rising said. "Schools weren't on lockdown. And things I know have evolved."
Rising said she'll probably be a "little anxious" when she drops her daughter off for her first day of school this fall knowing there is someone carrying a gun there.
To critics, former teacher and guardian-in-training Kimberly Hall says, "I kindly remind them that guns are already being brought into school and that's much more dangerous."
Despite his background as a minister, Stephen Bolden believes he'll be ready to do whatever he has to do -- including killing someone -- to stop the threat of a school shooter.
"I'm human. I have to protect my family as anyone does. And I'm gonna protect life the best way that I can," he said.
The program was named after Aaron Feis, the assistant football coach at Marjory Stoneman Douglas High School who died while protecting his students. Feis's wife will meet the men and women working to become guardians in the name of her husband on Wednesday.
Thanks for reading CBS NEWS.
Create your free account or log in
for more features.