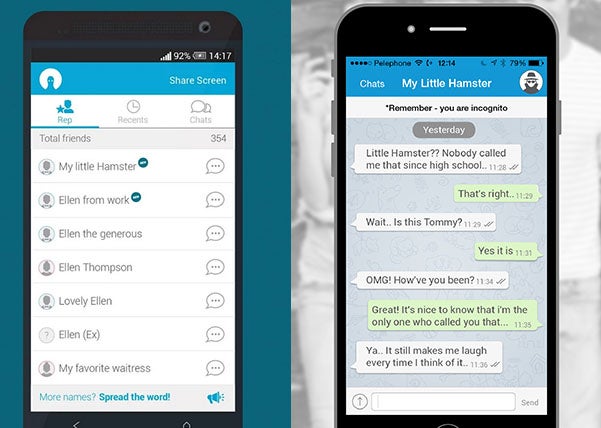 ​App exposes what people call you in their contacts lists
It's an easy trick we've all probably used at least a few times. Adding a descriptive word or two when entering a new contact into your phone can be an easy and effective way to keep track of all those people you don't communicate with very often -- or don't want to communicate with very often.
Maybe you ran into a college buddy and entered his new number with his nickname from your undergrad days. Or perhaps you took contact info from someone under duress and filled in the last name field with "Don't Answer." And maybe that cute girl at the bar got saved as Cute Girl From the Bar.
Once upon a time, this would all be private information. But now there's Noknok.
Developed in Israel, Noknok grabs the names from the contacts lists of its users, exposing how they've labeled people and offering a rare opportunity to see what other people have called you.
"Then you can start a chat with them, but that chat is completely anonymous, and you can ask them for feedback on why they called you a certain name," explained David Sheetrit, one of the founders of the free app for iOS and Android, speaking from Tel Aviv.
The person who has you in his phone as Annoying Lou knows it's you messaging, but you don't know the name-giver's identity -- unless he chooses to tell you.
"The one who's on the other end has all the power," Sheetrit continued. "He can block, not participate in the chat, not tell that person who he is, or he can just tell him, 'I can tell you why I named you like that, but I don't want to tell you who I am.'"
The app only grabs the contact names from other people who have downloaded it. It uses the same basic permissions as apps such as WhatsApp and Snapchat that also request access to contacts to connect you with other users you already know.
Noknok started in May as a caller ID app that would display the names of callers who weren't stored in contacts, but Sheetrit and his two co-founders wanted to come up with something more "sensational." Using information they were already collecting for caller ID, they came up with the "reputation" feature and re-launched on August 7 with that as the sole selling point. A week later they had 60,000 downloads in one day.
Today it boasts 1.3 million users in Israel and is making its first push to build its following in the U.S., which currently stands at about 100,000.
Noknok said that about four percent of its female users were labeled, disturbingly, as "whore." (Slightly fewer earned "gorgeous.") Perhaps not surprisingly, 50 percent of users instantly change contact names on their phones after downloading the app.
People are already finding ways to use the app that go beyond curiosity. Twenty-three-year-old Vanessa from Pittsburg, Kan., told Noknok she found out the man she was dating was "a total player," when she was alerted by the app to her reputation as "Ness booty call 2." She initiated a chat with the booty-caller and figured out who he was.
On the lighter side, one 25 year old from Brooklyn reported that he was given the courage to ask out a girl after discovering that she had him saved as "cutie" in her contacts. "It was the best convo-started ever," he said.
Thanks for reading CBS NEWS.
Create your free account or log in
for more features.