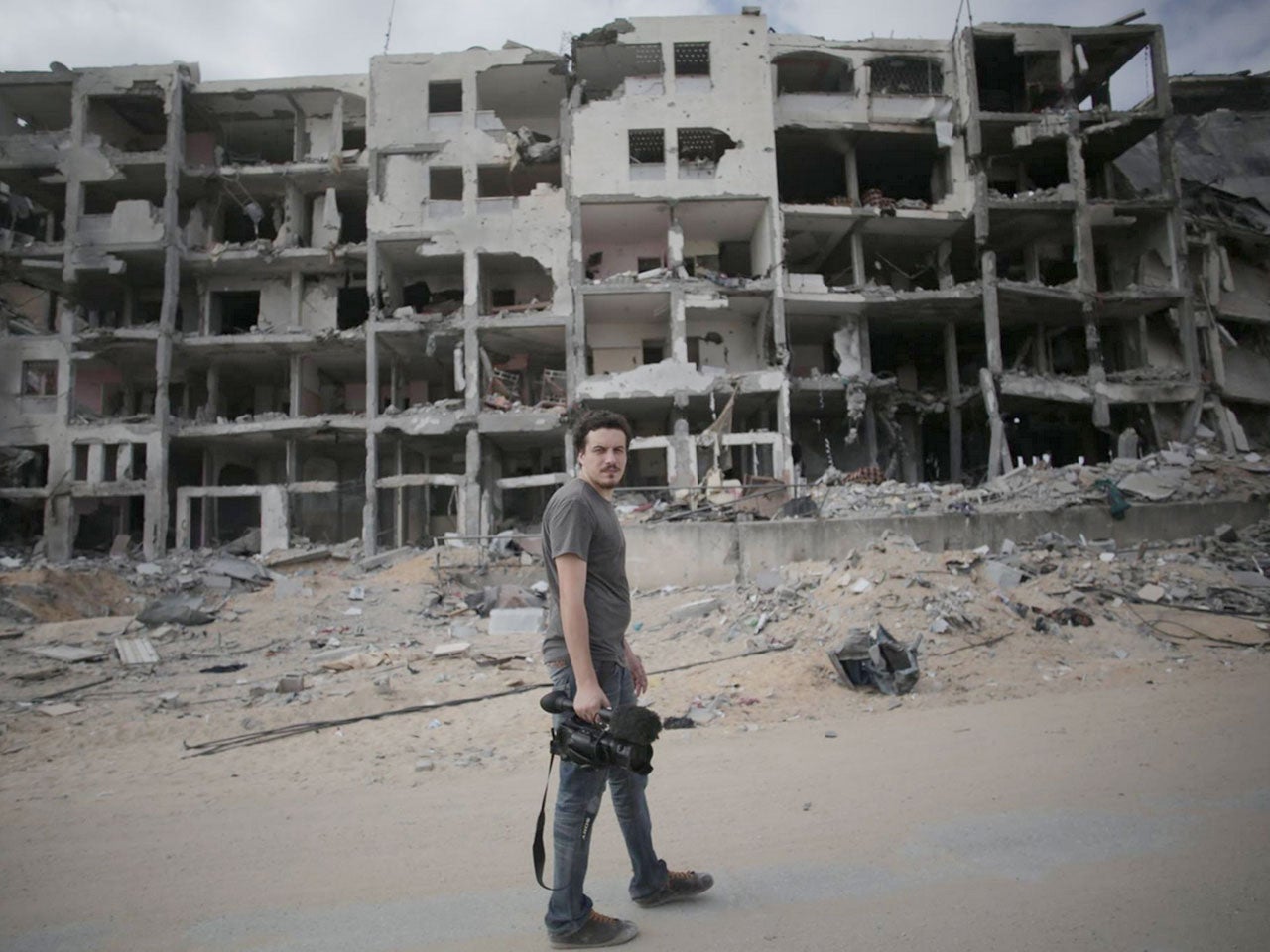 AP journalist, others killed in Gaza by leftover ordinance
BEIT LAHIYA, Gaza Strip - An Associated Press video journalist and a freelance Palestinian translator assisting him were killed in an ordnance explosion Wednesday while working on an assignment about the aftermath about the recent war in the Gaza Strip.
With the latest truce between Israel and Hamas in their monthlong conflict set to expire, the incident highlights the unpredictable and deadly consequences of the conflict.
Simone Camilli and Ali Shehda Abu Afash died when ordnance left over from fighting between Israel and Islamic militants blew up as Gazan police engineers were working to neutralize it in the northern Gaza town of Beit Lahiya.
Police said three police engineers were also killed, while four people, including AP photographer Hatem Moussa, were badly injured.
Camilli, an Italian national, had worked for The Associated Press since being hired as a freelancer in Rome in 2005. He relocated to Jerusalem in 2006, and often covered assignments in Gaza.
Najib Jobain, the AP's chief producer in Gaza, said Camilli was a welcome face in Gaza who loved the story so much that he recently turned down an assignment in Iraq to come to the seaside strip.
"He was my brother. I have known him for almost 10 years. He was so happy to be with me working in Gaza," Jobain said. "He was asked, 'Do you want to go to Erbil or Gaza?' He said, 'I'll go to Gaza.'"
Camilli, 35, is the first foreign journalist killed in the Gaza conflict, which took more than 1,900 Palestinian lives and 67 on the Israeli side. He leaves behind his longtime partner and a 3-year-old daughter.
Abu Afash, a 36-year-old Gaza resident, leaves behind a wife and two daughters, ages 5 and 6. He often worked with the international media as a translator and news assistant.
Meanwhile, Palestinian negotiators in Cairo were mulling over an Egyptian proposal to end the monthlong Israel-Hamas war as the latest 72-hour cease-fire in the Gaza Strip was due to expire on midnight Wednesday.
Since the truce went into effect Sunday, Israel has halted military operations in the coastal territory and Gaza militants have stopped firing rockets.
The cease-fire was meant to give the two sides time to negotiate a more sustainable truce and a roadmap for the coastal territory.
A member of the Palestinian delegation to Egyptian-brokered talks in Cairo said Wednesday that his team was considering an Egyptian proposal, which was tabled on Tuesday. Egyptian mediators have been ferrying between the Palestinians and their Israeli counterparts in an attempt overcome the differences between the sides.
The Egyptian proposal calls for easing parts of the Israeli blockade of Gaza, bringing some relief to the territory, according to Palestinian officials in the talks. But it leaves the key areas of disagreement, including Hamas' demand for a full lifting of the blockade and Israeli calls for Hamas to disarm, to later negotiations.
The Palestinian negotiator said he had some reservations about the proposal and would try to improve it.
"We would like to see more cross-border freedom, and also to have the question of a Gaza seaport and airport discussed," he said.
The Palestinian officials spoke on condition of anonymity because they were not authorized to discuss negotiations with the media. An Israeli government spokesman had no comment on the negotiations.
The war began on July 8 with Israel's air campaign against Gaza's Hamas rulers, whom Israel blamed for the kidnapping and murder in June of three Israeli teenagers in the West Bank. Nine days later, Israel sent in ground troops to destroy Hamas' underground cross-border tunnels constructed for attacks inside Israel.
The latest outbreak of fighting is the third between Israel and Palestinian militants in Gaza since Hamas took over control of the densely-populated territory in 2007. Hamas has been consistently pushing for an end of an Israeli Gaza blockade, which Israel says is necessary to prevent the group from gaining access to weapons and munitions it deploys against Israelis.
Thanks for reading CBS NEWS.
Create your free account or log in
for more features.