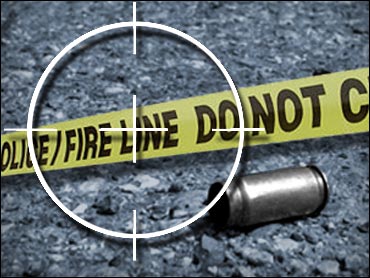 Anger After Botched NY Police Raid
With a Harlem neighborhood still reeling Saturday from the death of a woman after a bungled police raid, a group of black law enforcement officers accused city police of playing "Russian roulette" with its use of no-knock warrants.
"It was only a matter of time before the chamber would stop spinning and an innocent person's life would be taken," said Eric Adams, spokesman for 100 Blacks in Law Enforcement.
Behind Adams, residents of 310 W. 143rd St. had displayed a sign honoring Alberta Spruill, 57, who died of an apparent heart attack early Friday. "We all love you and you will be missed," read the sign hanging on the front entrance of the 20-story red brick apartment house.
A floral arrangement was also placed near the entrance.
"She went to work, she came home, she went to church," said Adaece Okeke, 21, who lived on the same floor as Spruill. "How does anybody make such a bad mistake?"
Ex-NYCLU head Norman Siegel, who joined Adams at a news conference, posed the same question. "Should or could the tragedy be avoided?" asked Siegel, who called for an independent review of the NYPD policy on no-knock warrants.
Adams said the no-knock warrants were often based on information from unreliable informants. Siegel suggested that police place a location under intensive surveillance to verify allegations before executing a warrant.
In the Spruill case, police detonated a flash grenade and handcuffed her during a raid. An informant had identified her sixth-floor apartment as one used by an armed drug dealer to stash cocaine and heroin, police officials said.
After realizing their mistake, police officers apologized to Spruill, who mentioned she had a heart condition, authorities said. An ambulance was summoned after she began to have difficulty breathing, but Spruill went to cardiac arrest on the way to the hospital.
An autopsy was scheduled for Saturday. A spokeswoman for the medical examiner did not immediately return a call for comment on the results.
Police Commissioner Raymond Kelly said Friday that the death was "a tragedy" that should never have occurred. Spruill had worked for the Department of Citywide Administrative Services for the last 29 years.
A lieutenant who supervised the raid was put on administrative duty as police officials investigated how the officers were misled by the informant, Kelly said. He also said he would review how the grenades were used and search warrants carried out.
Adams said his group had asked police officials last year to review their no-knock warrant policy after police burst into the Queens home of a retired housing police officer. The officer thought they were burglars, and was waiting with his gun drawn when the police entered, Adams said.
No one was injured in that incident.
During the news conference, 40-year-old Cynthia Chapman of Harlem appeared to claim she had endured a similar trauma. She hired a lawyer after police burst into her apartment on First Avenue and 114th Street, believing there were guns and drugs inside.
She was alone at home with her 15-year-old son when police forced the door open. "I saw a gun and I ran," she said. "I yelled, `Please don't kill me."'
She and her son were arrested, and police shot up her fish tank, she said.
"Later they apologized and said they got the wrong apartment," said Chapman. "This needs to stop!"

Thanks for reading CBS NEWS.
Create your free account or log in
for more features.