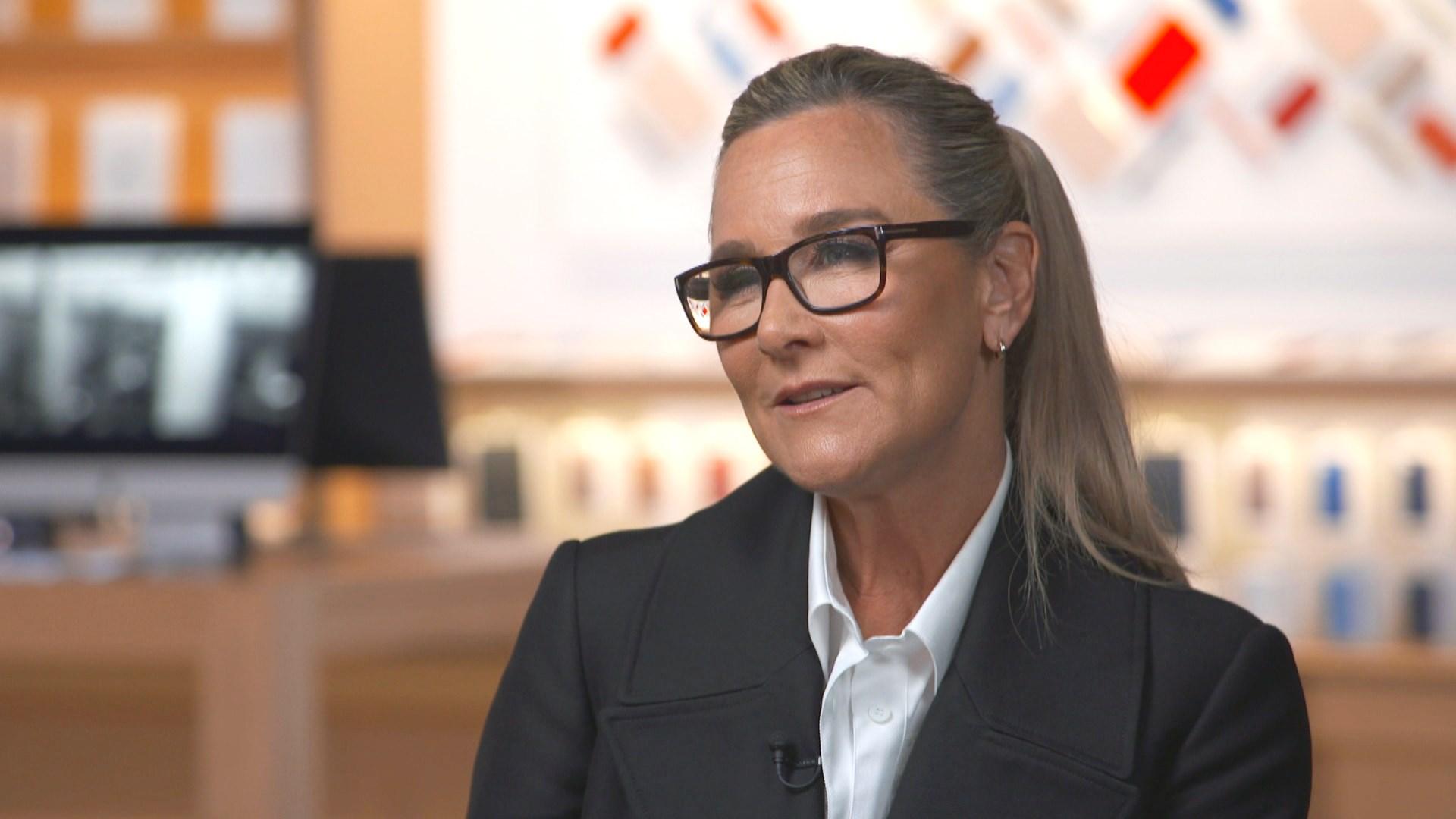 Angela Ahrendts talks Apple store makeover, why Tim Cook hired her
Tech giant Apple is unveiling a redesigned store outside the world's tallest building in Dubai. The company is also announcing new educational sessions that will launch next month in all its stores, called Today at Apple. The updates are the work of a team led by Apple's highest-ranking female executive, Angela Ahrendts.
Ahrendts became Apple's senior vice president of retail in 2014 after working as CEO of Burberry. She has overseen the stores' most significant redesign since they opened around 15 years ago.
"I was thinking about this 'cause this is the first big redesign in 15 years. And it was Steve Jobs and Ron Johnson who did the first design of the Apple stores. Did that weigh on you? Oh my gosh? Following in Steve Jobs' footsteps here?" Norah O'Donnell asked.

"You know, I think that anything you do at Apple… you feel a tremendous onus," Ahrendts said in a rare television interview with "CBS This Morning." "You want to carry on the legacy of what it meant… the main objective – our soul is our people. And our job is to enrich their lives, change the world. And so I think that's the bigger pressure you put on yourself."

It was in 2001 that the world got its first look inside an Apple store, but now the look and the feel of the stores are changing, thanks to the 56-year-old.
"Probably the simplest way to describe it – because everything at Apple has to be simple. The way that – that we kinda talk about it inside… we say, 'This is the largest product that Apple produces,'" Ahrendts said. "So if you think of it, the hardware, which is the architecture of the store. The software is what happens in the store and how we basically turn on Apple music and the app store. … So we started with the hardware."

In 100 of its biggest stores, like the San Francisco flagship, Apple's "hardware" update means new screens and spaces for meetings and classes. The Genius Bar, now lined with trees, becomes the Genius Grove. And there's a more dimensional take on the Genius: new staffers specialized in music and photography called "Creative Pros."
"Is the idea that the store will have all of these listed classes, teachers, experiences that will be publicly posted that will draw more and more people in?" O'Donnell asked.
"Absolutely," Ahrendts said. "So we call the software of the store that we are launching the end of May – we call that Today at Apple."
That "software" will roll out across Apple's nearly 500 stores, many of which will be changed literally overnight. Ahrendts calls it all an effort to create "town squares" where customers engage with their devices and their communities.
"A lot of the big online guys have said they're opening stores. Amazon's investing in stores. Google's investing in stores. ... Starbucks figured it out, you know? Being a gathering place for – right? 'Meet me at Starbucks,"' Ahrendts said. "And you know, I've told the teams, 'I'll know we've done a really, really great job if the next generation, if Gen Z says, "Meet me at Apple. Did you see what's going on at Apple today?"'"
"Does that apply to Android and Samsung users too?" O'Donnell asked.

"Absolutely. Absolutely. And we have an incredible trade up program that—" she said, laughing.


Apple isn't exactly strapped for cash, having set a revenue record of almost $80 billion this fiscal year. But Ahrendts insists the in-store experience isn't cheapened just because there are products for sale.

"This is a little bit of a harder question. But I know you've thought so much about this. Can you foster a sense of community at the same time having a commercial objective?" O'Donnell asked.

"Yeah. I've thought a lot about it. And – and I would argue it's kind of what Apple's always done anyway," Ahrendts said. "I think we've always been this energy hub if you will. We're just empowering the teams to take it so much further."
After a dip in sales of iPhones and Mac computers in 2016, some people have speculated that Apple is at the end of its product line and the store redesign is just window dressing. "How do you respond to that?" O'Donnell asked.

"Yeah. I respond, they probably don't really know the company that well. It's, you know, each of the businesses that Apple has are so big," Ahrendts said. "Tim [Cook] talks a lot during the earnings calls on the service business and how rapidly that's growing and … that's the part really we had never been able to unlock in retail before."

It was at Burberry that Ahrendts first merged retail with online shopping, tripling company stock and prompting Tim Cook to call London from Cupertino.

"I told Tim this as we were interviewing. I said, 'I am not a techie. Like, wrong person.' You know? And he, you know, very politely said, 'I think we have a lot of those,'" Ahrendts said.
"So why did he want you if you're not techie?" O'Donnell asked.

"I think what it came down to honestly because the teams are so big and so global – I think that a lot of it had to do with leadership," Ahrendts said.

"I read that… part of the reason that he hired you was because of your ability to motivate people," O'Donnell said. "How do you motivate people?"

"You don't overthink it, right? Do unto others. I mean, you connect with them and you care and you – and you do what you say you're going to do. I mean, it's not rocket science," Ahrendts said.
Ahrendts said it's her Midwestern upbringing, as one of six children raised in New Palestine, Indiana, that keeps her humble, even as she's become one of the highest-paid executives at Apple – and in the country.
"Steve Jobs was famously empathetic," O'Donnell said. "I've heard you say, 'Empathy is one of the greatest creators of energy.' What role has it played in your success?"

"I mean, again, I think huge," Ahrendts said. "My dad used to always say, 'I can teach you anything. But I can't teach you to feel. I can't teach you to care.' And… I think when you're empathetic, you're putting yourself in somebody else's shoes, right? It's not about you. … There's seven billion people on the planet. It's not about you. … I think that when you're empathetic to someone, they open up to you, right? They don't get defensive. And when they open up, you're both open and then you can dream and you can, you know, come up with incredible things together and –"

"It unlocks a lot of things?" O'Donnell asked.

"Uh-huh," Ahrendts said.
Thanks for reading CBS NEWS.
Create your free account or log in
for more features.