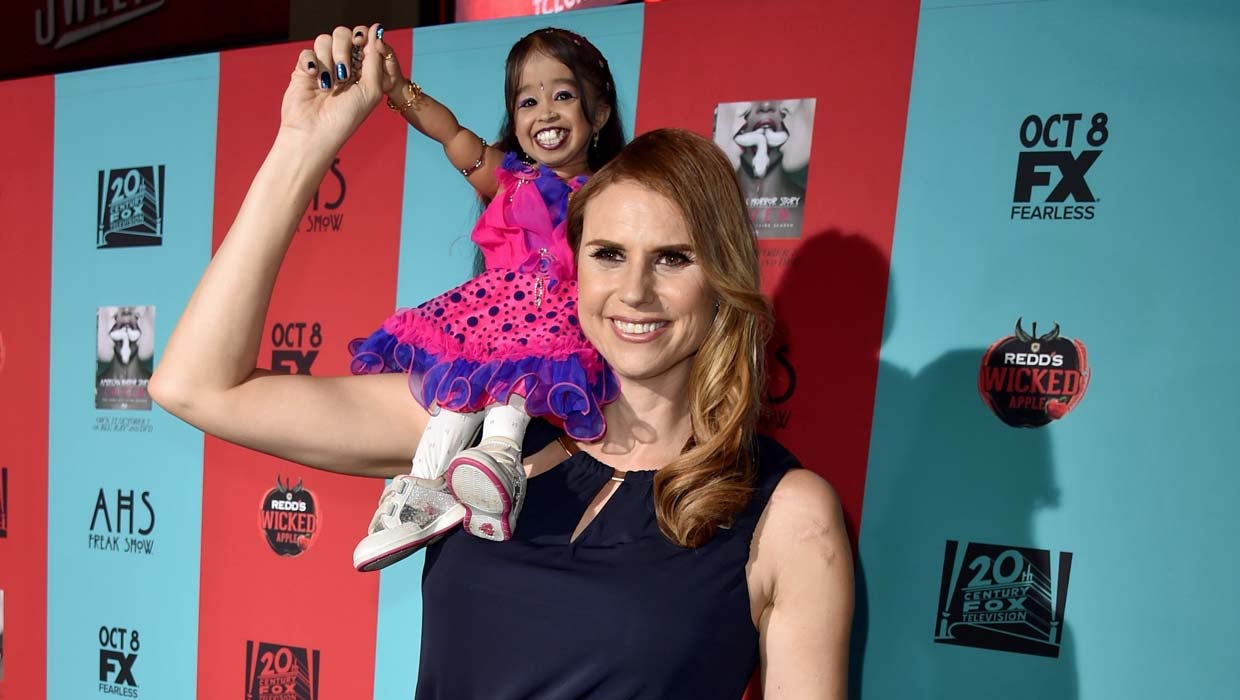 "American Horror Story: Freak Show" cast in spotlight at red carpet premiere
The red carpet was rolled out in Los Angeles on Sunday for the premiere of "Freak Show," the fourth season of the "American Horror Story" anthology series.
Co-creator Ryan Murphy said Lange came up with this season's concept.
"I think back in season one, she said, 'We've got to do carnival, freak shows,' and she kept sending me books," he revealed on the red carpet.
This "AHS" chapter -- set in Jupiter, Florida, in 1952 -- revolves around one of the last touring companies of physically different humans. The attraction includes a bearded lady and a woman with three breasts.
The problem is that business is bad, forcing owner Elsa Mars (portrayed by Lange) to go to great lengths to assure that the show goes on.
With his creative partner Brad Falchuk, Murphy eventually embraced the idea. He wanted this season to imbue a spooky, early 1950s sci-fi feel, and he wanted to give cast member Sarah Paulson an impossible role.
She plays the characters of Bette and Dot Tattler, conjoined twins who may be the star attraction that Elsa's show desperately needs.
Paulson called the roles "the most difficult thing I've ever done in my life."
She said the characters' heads can't turn to look into each other's eyes.
"And that's a hard thing to do, to act with yourself," Paulson explained. "I like to act looking at others' faces, like Kathy Bates'."
The premiere attracted almost all members of the large "AHS" ensemble, including actress Naomi Grossman, who returns to the series to reprise her character Pepper from the second season, "Asylum." It's a rare move for the series, which features a new lineup of characters each season.
Other cast members spotted on the red carpet included 2-foot tall Jyoti Amge, the world's smallest living woman, and Erika Ervin, who, at 6-feet 8-inches, is dubbed "the world's tallest professional model" by Guinness World Records.
And yet there's more to "Freak Show" than physical appearance.
"I have always felt like a freak, from two years of age on," explained the openly gay Murphy. "It really is a story of prejudice. And it is a story about people who are not the norm ... who just want to be appreciated and seen for who they are inside and outside."
Lea Michele further fueled speculation that she would be making a surprise cameo at some point on "Freak Show," as she was also spotted at the premiere. The "Glee" actress is officially slated to make a guest appearance on an upcoming episode of FX's "Sons of Anarchy." Both "AHS" and "Glee" were co-created by Murphy and Falchuck.
"American Horror Story: Freak Show" premieres Wednesday at 9 p.m. ET on FX.
Thanks for reading CBS NEWS.
Create your free account or log in
for more features.