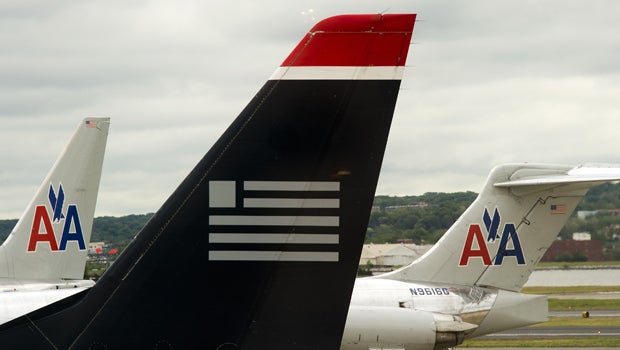 American Airlines, US Airways announce $11B merger
DALLAS American Airlines and US Airways have agreed to merge in an $11 billion deal that would create the world's biggest airline - the seventh merger sine 2005 in an industry that faces rising gas prices and stiffer competition.
The new airline will take the American Airlines name, helping to buoy a company that has been in bankruptcy for more than a year, struggling to compete in recent years as its rivals have grown.
But US Airways CEO Doug Parker will run it, with AMR CEO Tom Horton serving as chairman until its first shareholder meeting, likely in mid-2014.
The boards of both companies approved the deal Wednesday. The companies announced it early Thursday and expect it to close in the third quarter of this year.
"The combined airline will have the scale, breadth and capabilities to compete more effectively and profitably in the global marketplace," Parker said in a statement. "Our combined network will provide a significantly more attractive offering to customers, ensuring that we are always able to take them where they want to go."
Four airlines - the new American, United, Delta and Southwest - would now have control over 70 percent of the U.S. market and some analysts are warning ticket prices could rise as a result.
"Even though people say this particular merger of US Airways and American Airlines isn't going to raise ticket prices, I don't believe that one bit," said Rick Seaney, CEO of FareCompare L.P.
After Delta bought Northwest in 2008, the decreased competition sent ticket prices soaring more than 20 percent between Minneapolis-St. Paul and Atlanta. The United Airlines merger with Continental in 2010 resulted 30 percent price increases between Chicago and Houston, as well as Newark and San Francisco.
But consultant Daryll Jenkins says the battle between the new "big three" may actually lead to a price war benefiting consumers.
"Consumers are gonna have a lot of choice and you're gonna see fares being moderated because of the amount of competition here," he said.
Appearing on "CBS This Morning" Thursday, Parker downplayed concerns over rising fares, saying the two airlines were "highly complementary, not much overlap at all. But we've combined to create an airline that can compete against the other two airlines that happen to be larger than us right now -- United and Delta -- to create an airline that can compete strongly against us. So it's more competition, not less."
The consolidation trend is largely blamed on the price of fuel. Oil now costs so much more per barrel than it did 10 years ago that one analyst says the margin of profit on many flights has shrunk to the value of a single seat. That means an airline can lose money if it flies with one single empty middle seat. The days of elbow room are over.
AMR creditors will own 72 percent of the new company, with the remaining 28 percent will going to US Airways shareholders. The creditors' portion includes a 23.6 percent share for American employees and unions, plus a small stake for existing shareholders of American's parent AMR Corp.
The airlines said they expect $1 billion in combined benefits from the merger. They expect the bigger airline to lure corporate travelers away from competitors, contributing to $900 million in additional revenue. They also anticipate cost savings of roughly $150 million.
They also said they expect to spend $1.2 billion on transition costs over the next three years.
Travelers on American and US Airways won't notice immediate changes. It likely will be months before the frequent-flier programs are combined and years before the two airlines are fully integrated.
The companies had negotiated since August, when creditors pushed AMR to conduct merger talks so they could decide which earned them a better return: a merger or an independent American.
The deal would need approval by AMR's bankruptcy judge and antitrust regulators, who have permitted three other big airline mergers to go ahead since 2008.
The rapid consolidation has allowed the surviving airlines to offer bigger route networks that appeal to high-paying business travelers. And it has allowed them to limit the supply of seats, which helps prop up fares and airline profits.
The new American would have more than 900 planes, 3,200 daily flights and about 95,000 employees, not counting regional affiliates. It will be slightly bigger than United Airlines by passenger traffic, not counting regional affiliate airlines.
The new airline will keep all of American's and US Airways' hubs.
The companies said the new board of directors will have 12 members: Three from American, including Horton; four from US Airways, including Parker; and five appointed by American's creditors.
AMR shareholders are poised to get a 3.5 percent stake in the new airline, the companies said. That's unusual because equity holders typically get wiped out in a Chapter 11 proceeding.
The companies said it's too soon to know where the new airline's operations center, reservations, flight training, maintenance and crew bases will be.
Shares of US Airways rose 17 cents, or 1.2 percent, to $14.66 in premarket trading.
Thanks for reading CBS NEWS.
Create your free account or log in
for more features.