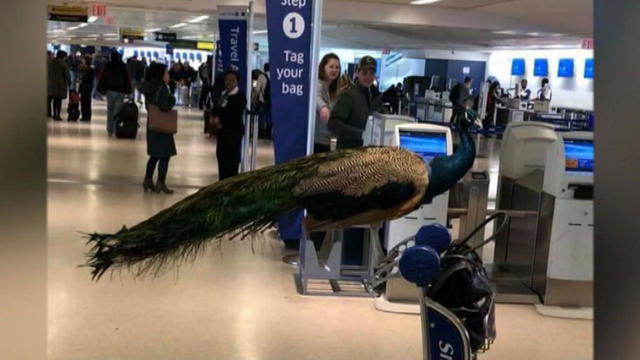 American Airlines bans insects, hedgehogs, goats, ferrets as inflight service animals
Travelers who fly with insects, hedgehogs or goats as service animals or for emotional support will no longer be able to bring the creatures aboard American Airlines flights.
Citing a 40 percent increase in animals traveling in its cabins, the world's biggest air carrier said it would curb the types of creatures allowed. Starting with tickets booked on or after July 1, animals including ferrets, birds of prey, snakes, insects, hedgehogs and goats are banned from American cabins.
American will now enforce the existing 48-hour advanced notice and pre-clearance policy for emotional support animals -- including dogs and cats -- where passengers must submit documents 48 hours ahead of flight time showing that permitted animals are healthy, trained and there at the recommendation of a mental health professional. American will have procedures in place for emergency travel booked within 48 hours of departure, the carrier stated.
The new rules have American joining other carriers, including United, Delta and Alaska airlines, that have added such requirements.
United's policy on comfort animals changed in March after an incident involving an emotional support peacock, which a passenger attempted to take on a cross-country flight in January. The carrier's animal-related troubles continued with the death of a puppy in an overhead compartment on a United flight in March. After reviewing its animal policy, United this month banned more than 20 breeds of dogs and cats from riding in the cargo holds of its planes.
The U.S. Department of Transportation lets passengers fly with emotional support animals but gives airlines the ability to impose restrictions.
Upon toughening its requirements in March, Delta reported an 84 percent hike in animal incidents since 2016, including the mauling of a passenger by a 50-pound dog on a flight from Atlanta to San Diego last year.
Thanks for reading CBS NEWS.
Create your free account or log in
for more features.