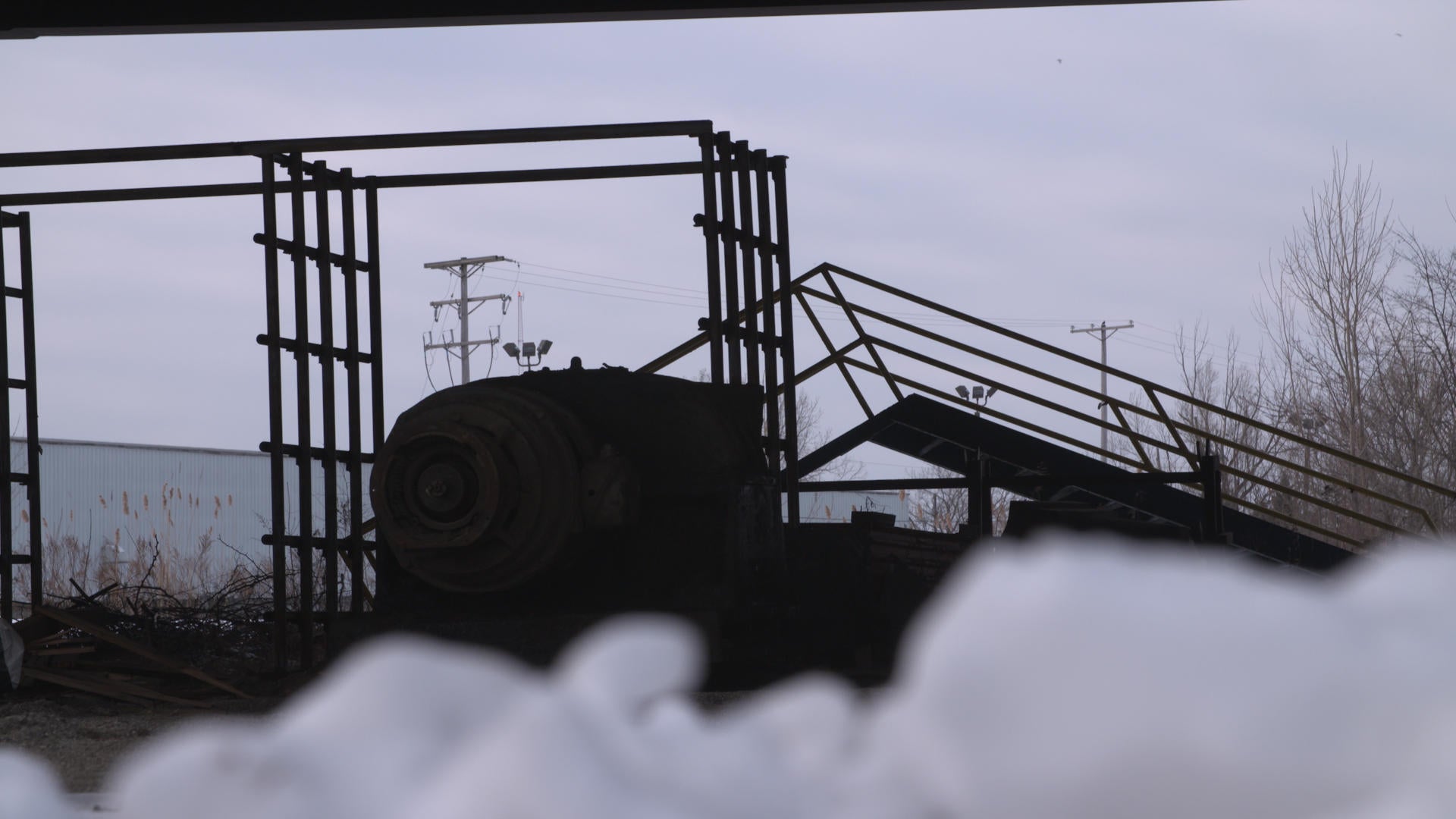 "Erie is definitely a sinking ship, and you'd be crazy not to get off"
In Erie this winter, Scott Slawson drove CBSN anchor Jamie Yuccas through what used to be the beating, productive heart of the town, an industrial area where rows of red-brick factories once proudly turned out American-made goods and employed tens of thousands of local workers. Now almost entirely derelict, Slawson says many remaining locals avoid driving this depressing route, peppered with the what President Trump referred to as "Rusted-out factories, scattered like tombstones," in his bleak inauguration speech.
"It does look like a graveyard, says Slawson, who's president of the Local 506 Union. "That's the story of a lot of Erie. When you strip better than 30,000 jobs out of an area, this is what happens." His union represents around 3,000 workers now, but the calls that come into his office are often from people whose jobs have disappeared.
Decades of decline in American manufacturing have seen a 1950s powerhouse gradually eroded to a shell of its former self in the present day. But this isn't merely a story of economics, this is a story of the human impact, the emotional toll that hits a community which has lost the means to provide for its people.
Todd Bernat drives his pickup to his daughter's volleyball practice down West 12th St, jolted by the large potholes that pockmark the tarmac. Bernat lost his job recently, but remembers a boom time in the 90s when if you lost your job just after sunrise, you'd find a new one before sunset. That's not the case any more, and finding new work has been tough. He has high hopes for his daughter, that she'll find a career insulated from the shocks he felt, perhaps in nursing or radiology. But they're both conscious of the stresses that his unemployment creates. Over dinner, she says of her father: "He always tries his best, he's come through a lot of tough things. It's kind of hard to see your parent struggle when they're just trying to do everything they can for you."
Bernat thinks the result of the election show that there's a belief, even in rust belt towns like Erie, that the American dream is back within reach. But that requires people to commit themselves to the turnaround, and stay in the towns that many feel compelled to leave in order to enjoy the prosperity they desire.
Justin Gallagher is one of those. The youngest in a family that has been part of Erie's fabric for four generations, he may not be part of Erie's fabric for much longer. While he knows he may have to leave, he wants to see his hometown recover, which keeps him bound to home. "I really wouldn't like to leave," he says. I haven't crossed that bridge yet."
Justin things that his generation may be the ones who have to effect change, assuming enough of them stay to replenish the political ranks. "I think that a lot of the local leaders have not been doing their part. At some point, if I have to run for office to see change, then I'll do that."
One man who is packing up to leave is Jim Stewart. A year after losing his job, he has already retrained at the Erie Institute of Technology, in the company of a large group of other middle-aged men, motivated by the need to keep roofs over their families' heads. While Jim now has prospects, and feels that his course has changed his life, those prospects are not in Erie.
"Erie is definitely a sinking ship, and you'd be crazy not to get off a ship that's sinking," he says. "I landed a job in New Mexico where I'll be relocating. You could find a job here, but I'd be making less than people who work at Walmart. It's time to get out of this town."
Even if everything goes Erie's way during the next four years and beyond, restoring its former glory in full won't be easy. In areas of America that have managed to win back manufacturing work, automation has meant that while the jobs that return are higher-paid, they are fewer in number.
Take, for example, the Steel Dynamics plant in Mississippi's Golden Triangle. It's one of the most hi-tech steel mills in the country, and since 2007, it has processed more than 3 million tons of steel a year. In the old days, a mill like this would have needed 4,000 workers. Now it takes only 650.
President Donald Trump visited Erie during his campaign, and promised Erie residents that he would bring back the jobs that had evaporated over the course of decades. Even through the decline, Erie remained a lock for Democratic candidates, consistently voting blue. That changed in November — people wanted change, and his message of hope came at a time when people were eager to hear that message.
"Donald Trump came here and he promised a lot of people that he would restore jobs in the United States," said union boss Scott Slawson. "Desperate times call for desperate measures," he says, "and people will take a desperate position even if it's not in our best interest sometimes."
The rust belt states helped put President Trump in the White House, and the working class voters of those states, in places like Erie County, Pennsylvania, were a big reason they flipped Republican for the first time in decades. The story of Erie is much like that of other industrial counties throughout the region: places where voters hoped for change, and change often specifically meant the return of the kinds of manufacturing jobs that had supported the area so well in years past. Donald Trump won the county by a few thousand votes, but like many other counties in the region, that marked a notable swing from 2012, when President Obama had won the county by double digits.
Pennsylvania, more generally, told the story of how many of these voters made a late break toward Donald Trump in the closing days and weeks of the campaign, hoping he could turn their economic fortunes around. Exit polls showed that late deciders – those who made up their minds close to Election Day – broke heavily for Trump. Overall, white men without college degrees backed Trump by a much larger spread than they had Mitt Romney four years prior. And Trump won a 2-to-1 margin statewide among voters who believed that trade was taking away American jobs.
This documentary is the first in a series of CBSN Originals examining the shifting sands of America's economy, and how that has affected the people and communities in the American heartland.
Thanks for reading CBS NEWS.
Create your free account or log in
for more features.