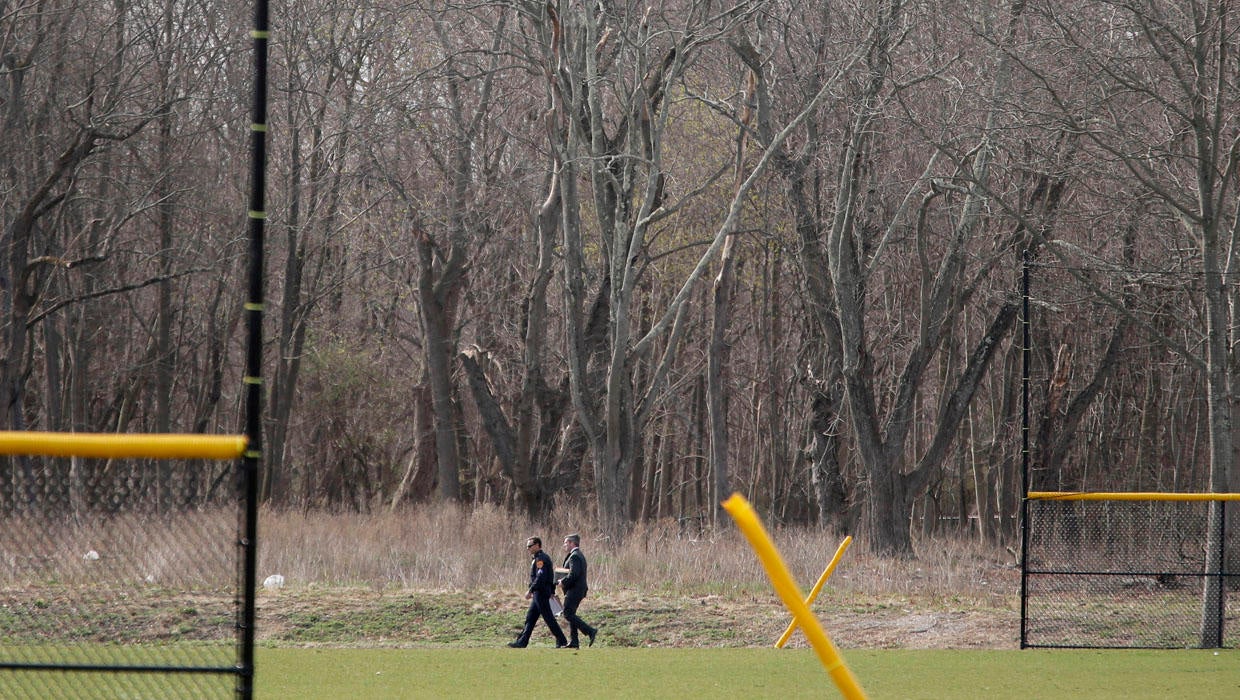 Alleged MS-13 members arrested in slayings of 4 men found in N.Y. park
MINEOLA, N.Y. -- Three alleged members of the MS-13 street gang have been charged in the murders of four young men found hacked to death in a New York park in April, according to an indictment that was quietly unsealed Monday.
The three suspects were arraigned Thursday in U.S. District Court on Long Island, according to the attorney for one of the men. Their next court appearance is likely in September.
The indictment identified the defendants in the Long Island case as Alexis Hernandez, Santis Leonel Ortiz-Flores and Omar Antonio Villalta. Attorneys for Ortiz-Flores and Hernandez declined to comment; the name of Villalta's attorney was not immediately available. All three suspects identified in the indictment are in custody.
The name of a fourth suspect was blacked out in court papers; it was not immediately clear if that person has been arrested.
Although the massacre of the four men focused international attention on MS-13 and prompted Congressional hearings, tweets from the White House and a visit to Long Island from the attorney general, the arrests came with little fanfare. Unlike the announcement last winter of arrests in the killings of two teenagers allegedly by MS-13, there was no high-profile press conference or even a press release issued in the latest case.
A federal prosecutor on Monday declined to comment, saying any information released about the case would jeopardize an ongoing investigation. An FBI spokeswoman also declined to comment.
Four young men between the ages of 16 and 20 were found hacked to death in a brutal massacre that authorities blamed on the MS-13 gang. The four were found with what police described as "significant trauma" wounds that Suffolk County Police Commissioner Timothy Sini said at the time indicated the work of MS-13.
The killings were among 11 that have struck the working-class immigrant communities of Brentwood and Central Islip, on eastern Long Island, since September. In all, 19 killings have been blamed on MS-13 since January 2016.
Bertha Ullaguari, the mother of 18-year-old Jorge Tigre, one of the victims in the killings, said she only learned of the arrests after they became public Monday. She said she did not recognize the names of any of the suspects charged in the indictment.
"I demand justice, what can I say," she told The Associated Press. "This pain is too much for me. This is not easy, every day, every hour, I can't understand why they did it."
The 43-year-old who emigrated from Ecuador said she has no mercy for the accused.
"I want them to be tortured like my son was tortured," she said.
President Donald Trump sent Attorney General Jeff Sessions to Long Island after the April killings to pledge assistance in cracking down on gang violence. Last week, the Republican president said in a Tweet that "MS-13 gangs are being removed."
In March, authorities announced the arrests of more than a dozen gang members, including some charged with killing two high school girls with baseball bats and machetes as they walked near their home.
The charges unsealed Monday were part of a superseding indictment involving those and other killings allegedly inflicted by MS-13 members.
MS-13, also called Mara Salvatrucha, is believed to have been founded as a neighborhood street gang in Los Angeles in the mid-1980s by immigrants fleeing a civil war in El Salvador. It grew after some members were deported to El Salvador, helping turn that country into one of the most violent places in the world.
The gang is now a major international criminal enterprise, with tens of thousands of members in several Central American countries and many U.S. states.
Thanks for reading CBS NEWS.
Create your free account or log in
for more features.