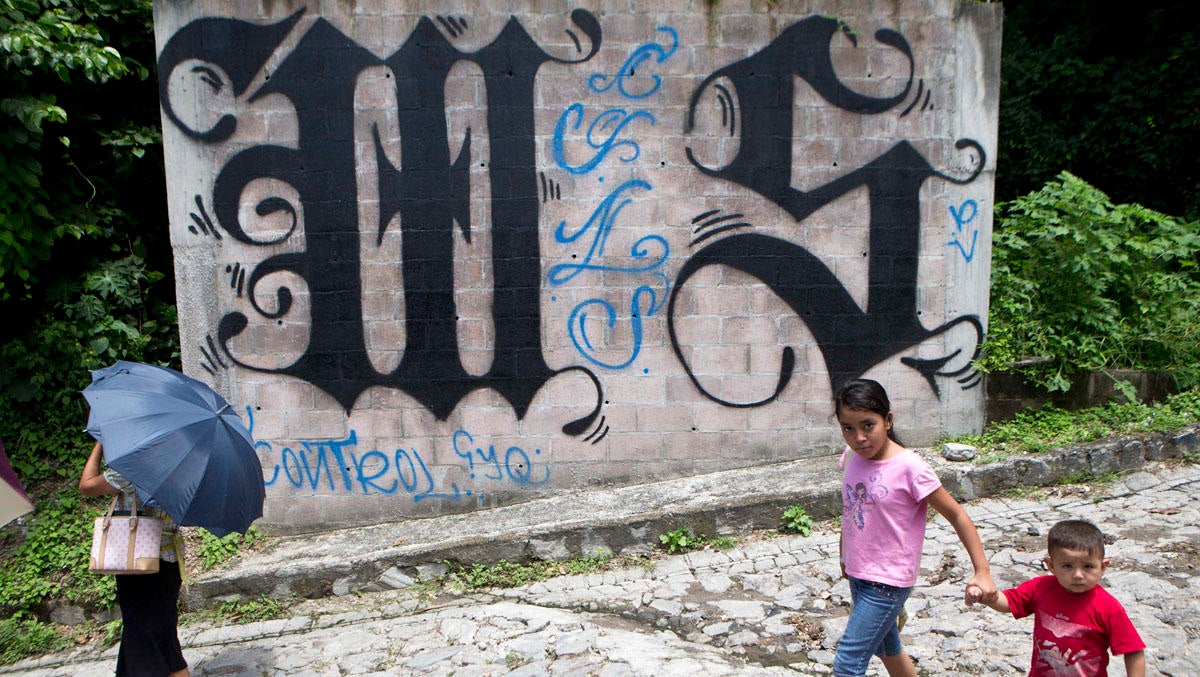 MS-13 gang violence: Mounting alarm as feds respond
BRENTWOOD, New York -- On Sept. 13, the day before her 16th birthday, Nisa Mickens' brutally beaten body was found on a tree-lined street in Brentwood, on New York's Long Island. The next day, the beaten body of her lifelong friend, 16-year-old Kayla Cuevas, was discovered in the wooded backyard of a nearby home.
The Brentwood High School students were walking on a street near their homes when men with baseball bats and a machete jumped out and attacked them, prosecutors said. Suffolk County police Commissioner Tim Sini said the level of brutality demonstrated in the slayings were "close to unmatched." Each was slashed and beaten, and suffered significant injuries to the head and face.
"To cause injuries of this nature, you have to have no regard for human life," Sini said.
The notoriously violent street gang MS-13 was to blame, prosecutors later said as they charged gang members with the crime. Prosecutors said that Cuevas was "marked for death" because she had apparently feuded with some MS-13 gang members over social media, and that Mickens was simply "in the wrong place at the wrong time."
MS-13 has been blamed for a trail of 11 corpses of mostly young people discovered in woods and vacant lots in Brentwood and neighboring Central Islip since the start of the school year. Among them were four young males whose bodies were found in a park this month, beaten and slashed.
Across the country, brutal crimes linked to MS-13 are capturing headlines, and the U.S. Department of Justice has announced a crackdown. Speaking in Central Islip Friday, Attorney General Jeff Sessions said President Trump is "very aware personally of the violence and murders here" and vowed to dismantle MS-13.
"I have a message for any gang that targets our young people: we are targeting you, and we are coming after you," Sessions said.
For MS-13, said FBI supervisory special agent Julian Igualada, violence is "a way of life – a way to maintain order and discipline within their ranks." The gang's motto is "kill, rape and control." Gang members or recruits use weapons like machetes or knives to carry out killings, and victims are often found with repeated slashes that leave them nearly unrecognizable.
"They want to make a statement about just how violent they are -- how bloody they can be," Luis Salinas, a University of Houston sociology professor, told Crimesider.
MS-13, also called Mara Salvatrucha or "gang of Salvadoran guys," is headquartered in El Salvador, according to the FBI. In 2012, MS-13 was designated a transnational criminal organization by the Treasury Department, which said the gang is involved in "serious transnational criminal activities, including drug trafficking, kidnapping, human smuggling, sex trafficking, murder, assassinations, racketeering, blackmail, extortion, and immigration offenses."
Transnational criminal organizations represent "one of the gravest threats to American public safety today," Sessions said on Friday.
"These groups enrich themselves by pedaling poison in our communities, trafficking children for sexual exploitation and inflicting horrific violence in the neighborhoods where they operate and slipping their ill-gotten wealth back to their home countries," Sessions said.
According to the FBI, MS-13 in the U.S. is comprised mostly of Salvadoran nationals or first-generation Salvadoran-Americans, but also Hondurans, Guatemalans, Mexicans, and other Central and South American immigrants. MS-13 hubs in the U.S. tend to center around pockets of immigrants from Central America. The gang has plagued immigrant communities in and around Washington D.C., on New York's Long Island, Newark, N.J., in Boston, Charlotte, Houston and other areas.
MS-13 has about 10,000 members in the U.S. and 30,000 abroad, Sessions said.
While MS-13 maintains close ties to Central America, according to the FBI, local "cliques" operating in the U.S. are largely self-governed. Neighborhood violence is often spurred by petty disputes or ire over perceived slights or disrespect, Salinas said.
For MS-13, loyalty to the gang is expected to replace family -- and any breach of that loyalty is punishable by death, Igualada said. Gang members believed to have shown disloyalty, members of rival gangs or anyone who is perceived to have slighted the gang are potential targets for killings.
The murders are a way to control people in their own ranks, Igualada said -- but they also want to intimidate the community by demonstrating their brutality.
"This is sending a message to their own ranks, that this is what happens to you if you don't follow the rules," said Igualada, who is part of an FBI team that works with authorities in El Salvador to combat the transnational gang threat. "It's also sending a message to the outside, that this is the biggest gang and the most violent gang you're dealing with."
MS-13 has migrated east from Los Angeles where it was founded in the mid-1980s by immigrants fleeing El Salvador's civil war. The gang's true rise began after members were deported from the U.S. back to El Salvador in the 1990s. There, the gang thrived and spread to Honduras. The Associated Press reports that MS-13 and rival groups there now control entire towns, rape girls and young women, massacre students, bus drivers and merchants who refuse to pay extortion, and kill competitors or youths who simply refuse to join.
That violence has prompted a mass migration of people trying to escape, especially children, who have streamed north because of a U.S. policy allowing people under 18 who arrive without parents to stay in the country temporarily with relatives or friends.

Since the fall of 2013, the U.S. has placed 165,000 unaccompanied minors. Long Island has been a frequent landing spot. Suffolk County, which includes Brentwood and Central Islip, has gotten 4,500. Neighboring Nassau County has received 3,800.

All told, nearly 200 suspected MS-13 members have been rounded up there since September. In a recent roundup of 13 suspected MS-13 gang members accused of murder and other charges, seven had entered as unaccompanied minors.

"There's no question that MS-13 is recruiting these unaccompanied children," said Sini, the Suffolk County police commissioner. The youngsters "don't have an established social network, at least many of them don't, and MS-13 is providing that network."
"They're also using coercion," Sini said. "They say, 'If you don't join the gang, we will kill you.'"
Mr. Trump has promised to eradicate the gang in the U.S. through strict enforcement of immigration law. But some residents say it's not about immigration politics but about making a community safer and providing support systems for vulnerable kids. In Long Island, parents say the 4,200-student Brentwood High School lacks the means to help young people who are often left alone after school because their parents work long hours. There are few social workers and guidance counselors, they say, and not enough security guards or cameras.
Children with unstable home lives or who live in poverty are particularly at risk, according to Salinas.
"They're offering these young kids an alternative lifestyle that might look really good to them, given their circumstances," Salinas said.
Investigators say the threat from MS-13 is increasing, and younger and younger children are being targeted for gang recruitment. Sessions said in remarks made this month that MS-13 has more than 10,000 members in at least 40 states in this country -- "up significantly from just a few years ago."
Sessions didn't point to specific numbers to account for the increase he cited, and in 2008 the FBI estimated about 6,000 to 10,000 members nationwide. Experts caution gang membership can be a difficult number to track. However Igualada says the FBI has noted an increase in MS-13 recruitment in the last five or six years based on intelligence they've collected in the country and on reports from state and local law enforcement.
The FBI says MS-13 is increasingly recruiting young children beginning as early as middle school and even elementary school.
The recruitment process can take up to two years, and in order to become a full-fledged gang member, the mostly teenage recruits are expected to commit a murder, Igualada said. These murders are usually ordered by a gang member to be carried out against a rival gang member or a member of the gang thought to have shown disloyalty or disrespect, Igualada said.
Boys are often favored over girls as recruits because the gang perceives girls to be more likely to cooperate with law enforcement, according to Igualada. But even girls with no ties to MS-13 are still at risk for getting caught in the crossfire, Igualada said, especially if they live in a gang-controlled area -- for example, by declining an offer to go out with a gang member.
In Long Island, some teens tell their parents they are afraid to go to school, reports the Associated Press.
"They can't walk the halls without fear," Evelyn Rodriguez, the mother of slain teen Kayla Cuevas, told the AP.
Rodriguez said her daughter had been bullied for two years before her slaying. She said Kayla stood her ground in disputes with MS-13, and wound up dead.

"It could happen to anybody's child, anywhere," Rodriguez said. "We all need to be aware of this, and we need stand together. Because I don't want it to be your child."
Thanks for reading CBS NEWS.
Create your free account or log in
for more features.