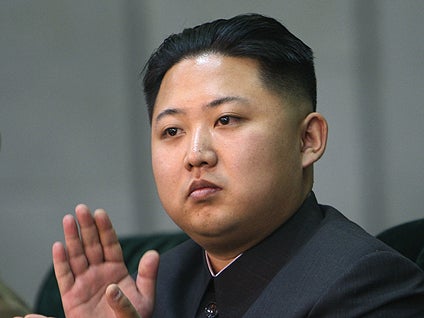 All eyes on Kim's heir-apparent in N. Korea
Last Updated 10:18 a.m. ET

PYONGYANG, North Korea - North Korea's heir apparent Kim Jong Un has swiftly risen to power since being made a four-star general a year ago, but he is even more of an enigma than his late father was during 17 years of absolute power.

Within hours of news breaking Monday of leader Kim Jong Il's death over the weekend, the North's official Korean Central News Agency was reporting that the country, people and military "must faithfully revere respectable comrade Kim Jong Un."

The agency also referred to Jong Un as a "great successor" of the North's guiding philosophy of self reliance and a "distinguished leader of the military and people."

South Korea, meanwhile, put its military on high alert, while people in the streets of Pyongyang broke into tears as they learned the news that Kim had died at the age 69 of heart failure.

So far, Jong Un, Kim Jong Il's third son, has a thin leadership record — much less than the 20 years Kim Jong Il spent being groomed for power before he took over in 1994.

Despite a vigorous political campaign to install Jong Un as the new leader in the people's minds, he remains an enigma, even to those at home. It is unclear what direction he will take the nation of 24 million people, how much power will fall to the military and officials surrounding him, and what China's role will be with its ally.

North Korean leader Kim Jong Il has died
Photos: Kim Jong Il, 1941-2011

The elder Kim unveiled Jong Un as his successor a year ago, putting him in top posts. Over the past year, Jong Un regularly accompanied his father on trips around the country. And Jong Un steadily built his political clout by reportedly becoming involved in domestic and foreign policy and securing a position in the ruling Workers' Party.
North Koreans are told he graduated from Kim Il Sung Military University, speaks several foreign languages, including English, and is a whiz at computing and technology. However, his birth date, his marital status and even the name of his mother — said to be Kim Jong Il's late second wife, Ko Yong Hui — are all secrets.
"There is a rumor that he is married, but officially we don't know," said Yoon Deok-ryong, an expert in North Korean economic reform at the Korea Institute for International Economic Policy in Seoul.
Media in South Korea speculated that the four-star general orchestrated a deadly artillery attack on a front-line South Korean island last year that led to fears of war.
Because of his young age and inexperience, he might end up the figurehead for a government led by powerful, older relatives, Yoon said.
"Even though Kim Jong Un has been appointed as the successor, they may form a committee to rule the country at first," Yoon said. "His power succession is not completed yet."
Jong Un is known to have studied for a few years in Switzerland, and is believed to speak English, German and French, though experts caution against thinking of him as reform-minded just because he lived in the West.
"I wouldn't draw huge conclusions from the fact that he spent a year or two in Europe as a boy," said Delury. "But you know, he's significantly younger, and generational shifts happen no matter wherever you are in the world, including North Korea, so he is going to have a different orientation."
According to the memoir of a man who says he spent 11 years as the family's sushi chef, Jong Un is tough and ambitious like his father.
The chef, who goes by the pen name Kenji Fujimoto, described Jong Un as a competitive, even ruthless, child.
Dressed in a military outfit, the young Jong Un "glared at me with a menacing look when we shook hands" the first time they met, Fujimoto wrote in "Kim Jong Il's Chef." "I can never forget the look in his eyes which seemed to be saying, 'This one is a despicable Japanese.'"
Basketball was his chief passion, especially following the Chicago Bulls, the chef recalled. He also loved movies, just like his dad. In looks, tastes and personality, the youngest son was the "spitting image" of his father, and it was clear even back then he was the leader's favorite, he said.
Apart from these few tantalizing details, much remains unknown about Jong Un or the real breadth of his power.
"There's much uncertainty," Yoon said. "Because we don't know who's really in charge."
Another big question is whether Jong Un will be able to secure the lasting support of Kim Jong Il's younger sister and her powerful husband, Jang Song Thaek.
A technocrat educated in Russia during Soviet times, Jang was a rising star until he was summarily demoted in early 2004 in what analysts believe was a warning from Kim against gathering too much influence. But Kim put Jang back at his side in 2006 and relied heavily on him after reportedly suffering a stroke in 2008.
Complete coverage: The death of North Korea's Kim Jong Il
The South Korean and U.S. militaries have bolstered reconnaissance and are sharing intelligence assets on North Korea, according to Seoul's Defense Ministry. About 28,500 U.S. troops are stationed in South Korea.
The White House said in a statement that it is closely monitoring reports of Kim's death.
"The president has been notified, and we are in close touch with our allies in South Korea and Japan. We remain committed to stability on the Korean peninsula, and to the freedom and security of our allies," the statement said.
On CBS' "The Early Show," former U.S. Ambassador to the U.N. Bill Richardson said he was concerned that succession issues in wake of Kim's death may spark military provocation by the North. "Well, the worry is that this has happened. North Korea did provoke shooting South Korean civilians, an island, a ship. There are factions within the North Korean military that might take those steps to assert themselves.
"The issue is going to be, will there be the succession that Kim Jong Il wanted, his third son? Will the North Korean military commanders accept that? It looks like they will. There are some statements coming out of the Workers Party, which is the official entity of North Korea, saying he is taking over. Nonetheless, there could be power struggles."
CBS News chief White House correspondent Norah O'Donnell reports that an announcement was expected later this week about a deal between Pyongyang and Washington that would have provided a large amount of food aid to millions of starving people in North Korea; in exchange, North Korea would agree to suspend their uranium enrichment program. Now with the death of Kim Jong-Il, O'Donnell said, that deal is in jeopardy and could be delayed.
Will N. Korean military accept succession?
N. Korea threatens South with "sea of fire"
The North said it would place Kim's body in the Kumsusan memorial palace in Pyongyang and would hold a national mourning period until Dec. 29. Kim's funeral will be held on Dec. 28, it said.
In a "special broadcast" Monday from the North Korean capital, state media said Kim died on a train due to a "great mental and physical strain" on Dec. 17 during a "high intensity field inspection." It said an autopsy was done on Dec. 18 and "fully confirmed" the diagnosis.
Kim is believed to have suffered a stroke in 2008, but he had appeared relatively vigorous in photos and video from recent trips to China and Russia and in numerous trips around the country carefully documented by state media.
"It is the biggest loss for the party ... and it is our people and nation's biggest sadness," an anchorwoman clad in black Korean traditional dress said in a voice choked with tears.
Thanks for reading CBS NEWS.
Create your free account or log in
for more features.