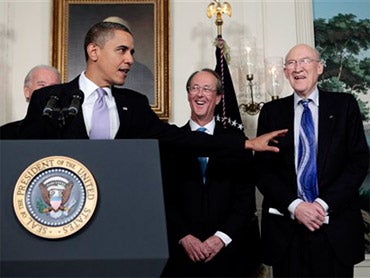 Alan Simpson: Social Security Is Like a "Milk Cow with 310 Million Tits!"
Updated with Simpson's apology and calls for his dismissal from Sen. Bernie Sanders and Rep. Peter DeFazio.
Liberals and groups in favor of preserving Social Security are calling for the co-chair of President Obama's deficit commission to resign after he said in an e-mail that Social Security is "a milk cow with 310 million tits."
In a letter responding to criticisms against him from a group representing older women, former Wyoming Sen. Alan Simpson wrote that he has "spent many years in public life trying to stabilize" Social Security. However, he wrote, "Yes, I've made some plenty smart cracks about people on Social Security who milk it to the last degree. You know 'em too. It's the same with any system in America. We've reached a point now where it's like a milk cow with 310 million tits!"
Simpson and former White House Chief of Staff Erskine Bowles, the co-chairs of Mr. Obama's bipartisan National Commission on Fiscal Responsibility and Reform, have raised the ire of liberals with remarks suggesting they intend to recommend scaling back Social Security as a means of reducing the deficit.
However, groups are saying today that Simpson's latest remarks prove he is unfit to lead the commission and should resign.
"Alan Simpson's comments are offensive and sexist and clearly demonstrate that he is unfit to continue to lead the President's Fiscal Commission," Eric Kingson, Co-Director of Social Security Works, said in a statement. "His comments not only show his true view of women and older Americans but also his disdain for the very program he claims he is trying to protect - Social Security."
If Simpson does not resign, Kingson said, Mr. Obama should fire him. Richard Eskow of the liberal group Campaign for America's Future agreed that Simpson should resign immediately or be fired.
Simpson's letter "demonstrates conclusively that he possesses neither the judgment, the ability, nor the emotional stability to carry out his mission," Eskow wrote.
AARP Senior Vice President Drew Nannis blasted Simpson's "woeful disconnect from or disinterest" in the challenges facing many Americans, but he stopped short of calling for Simpson's resignation.
"Senator Simpson's latest attack on Social Security is offensive for several reasons, particularly for belittling a bedrock program that is the foundation of family security for all generations," he said. "The vast majority of the 310 million Americans he insulted - particularly 156 million women and younger Americans for whom the traditional pension will be a relic of history - don't have access to the type of traditional pension retirement security that Sen. Simpson has from his decades in Congress."
Nannis continued that Simpson's remarks are a "departure from reality" that "undermine the serious work of the commission and give us little confidence the commission can fairly look at important programs such as Social Security."
Simpson's letter was addressed to Ashley Carson, executive director of the National Older Women's League (OWL), a group representing middle-aged and elderly women. It was sent in response to a Huffington Post blog entry in which Carson wrote, "Mr. Simpson continues to paint the picture that everyone receiving Social Security benefits is living the high life - driving luxury cars, dining out and living in gated communities."
In reality, Carson wrote, the average Social Security beneficiary in America receives $13,900 annually -- providing a lifeline for the many older women living in poverty. She cites the Center on Budget and Policy Priorities to show that the Bush tax cuts and the wars in Afghanistan and Iraq are largely responsible for the nation's deficit problems, not Social Security.
OWL is also now calling for Simpson's resignation and has set up a petition to Mr. Obama for his dismissal.
Democrats this year have attacked Republicans for proposals to privatize Social Security, in the hopes that the GOP's views on the entitlement program will boost Democratic candidates and blunt Republican hopes for predicted victories in this fall's midterm elections.
However, liberals have been nearly as wary of Democrats, some of whom have suggested they are open to scaling back benefits. House Majority Leader Steny Hoyer said earlier this year he thinks raising the retirement age could be done with other modifications to ensure that Social Security benefits still support those most in need - such as paying out benefits on a progressive scale. House Democratic Whip James Clyburn has also said he would support raising the retirement age. Additionally, Mr. Obama said this year that "everything has to be on the table" with respect to reducing the deficit.
UPDATE, 3:55 p.m. ET: Simpson this afternoon wrote a letter of apology to Carson for his e-mail.
"I know you care deeply about strengthening Social Security, and so do I, just as deeply," Simpson wrote. "Over the last 40 years, I have had my size 15 feet in my mouth a time or two."
Simpson said that it was not his intention to cause Carson any anguish or to diminish her work for the Older Women's League. He also suggested the two meet in person so he could learn more about her concerns.
Meanwhile, other groups this afternoon condemned Simspon's remarks and called for his resignation, including the Alliance for Retired Americans and the National Organization for Women.
UPDATE, 5 p.m. ET: Sen. Bernie Sanders (I-Vt.) and Rep. Peter DeFazio (D-Ore.) today sent President Obama a letter urging him to dismiss Simpson from the deficit commission.
"Simpson's comments are highly insulting to the tens of millions of senior citizens, persons with disabilities, widows and orphans who have contributed into this highly-successful program and who now utilize it," the letter says. "It is false and demeaning to say that these people, the vast majority of whom have worked their entire lives and contributed into the Social Security system, are somehow 'milking' the system."
Thanks for reading CBS NEWS.
Create your free account or log in
for more features.