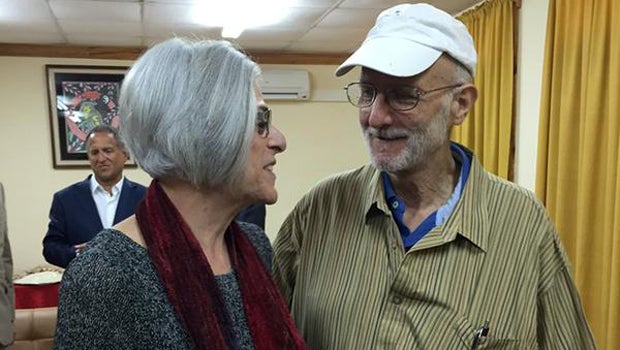 Alan Gross freed from Cuba prison, returns to U.S.
American Alan Gross was released from a Cuban prison after five years and arrived back in the U.S. Wednesday morning.
"I guess so far it's the best Hanukkah that I'll be celebrating," Gross, 65, noting that Wednesday was the first full day of the Jewish holiday, told reporters in the afternoon. "What a blessing it is to be a citizen of this country."
Hours after the release of Gross, a U.S. government subcontractor serving a 15-year prison sentence in Cuba, the Obama administration announced that the U.S. was taking steps to restore full diplomacy with Cuba.
Asked at the end of his press appearance what were his wishes for U.S.-Cuban relations, Gross said, "I support the president."
Also Wednesday, as part of a prisoner swap, the Cuban government released a U.S. intelligence "asset" jailed in Cuba for 20 years, CBS News chief White House correspondent Major Garrett reports.
U.S. officials confirmed that three Cuban intelligence officers were freed after Gross was released, Garrett reports. The officials stress that Gross' release was not part of the prisoner swap from the administration's point of view.
U.S. officials did not name the U.S. intelligence asset but said that he is a man, Garrett reports. He provided vital intelligence in three separate cases surrounding Cuban spying, the officials said.
"His return was particularly important to us," a senior official said.
Officials said Gross was not a spy and therefore would not be traded for Cubans who were spies, Garrett reports.
Cuba had been asking to swap Gross for the spies, who were captured in Miami in 1998. Amnesty International and a United Nations group have both said that they did not receive a fair trial.
Gross was released on humanitarian grounds by the Cuban government at the request of the U.S., a senior U.S. administration official told CBS News.
A U.S. official said the Vatican played a key role in helping with Gross' release, CBS News correspondent Margaret Brennan reports.
Gross was on an American government plane that landed at Joint Base Andrews in Maryland Wednesday morning. Brennan reports that on the plane were Gross' wife Judy Gross, attorney Scott Gilbert, Sens. Jeff Flake, R-Ariz., and Patrick Leahy, D-Vt., and Rep. Chris Van Hollen, D-Md.
Gross family spokeswoman Jill Zuckerman told reporters that Gross found out he would be freed Tuesday morning from a phone call from Gilbert.
According to Zuckerman, there was a long, silent pause on the call, and then Gross said, "I'll believe it when I see it."
At 8:45 a.m. Wednesday, the pilot of the plane carrying Gross announced that it had left Cuban airspace, Zuckerman said. Gross then stood up and took a deep breath, she said.
On the plane, Gross called his two daughters, one in Tel Aviv, another in Oregon, and told them he was free, Zuckerman said. President Obama called him on plane, and Gross thanked him for his release, she said.
At Andrews, Gross watched Mr. Obama's address with Secretary of State John Kerry, who had arrived on a flight shortly after Gross, Zuckerman said.
Gross was arrested in December 2009 for smuggling satellite equipment to Cuba as part of a U.S. government pro-democracy program and was sentenced to 15 years in prison.
He had been in poor mental and physical health, and in a statement marking the fifth anniversary of his imprisonment earlier this month, Judy Gross said she believes, "we are at the end."
"Enough is enough. My husband has paid a terrible price for serving his country and community. Alan is resolved that he will not endure another year imprisoned in Cuba, and I am afraid that we are at the end," Judy Gross said. "After five years of literally wasting away, Alan is done. It is time for President Obama to bring Alan back to the United States now; otherwise it will be too late."
Gross had been planning to end his life in the near future as a result of his imprisonment. Last April he went on a hunger strike that lasted for nine days and only ended at the request of his mother, Evelyn Gross, who died in June.
Thanks for reading CBS NEWS.
Create your free account or log in
for more features.