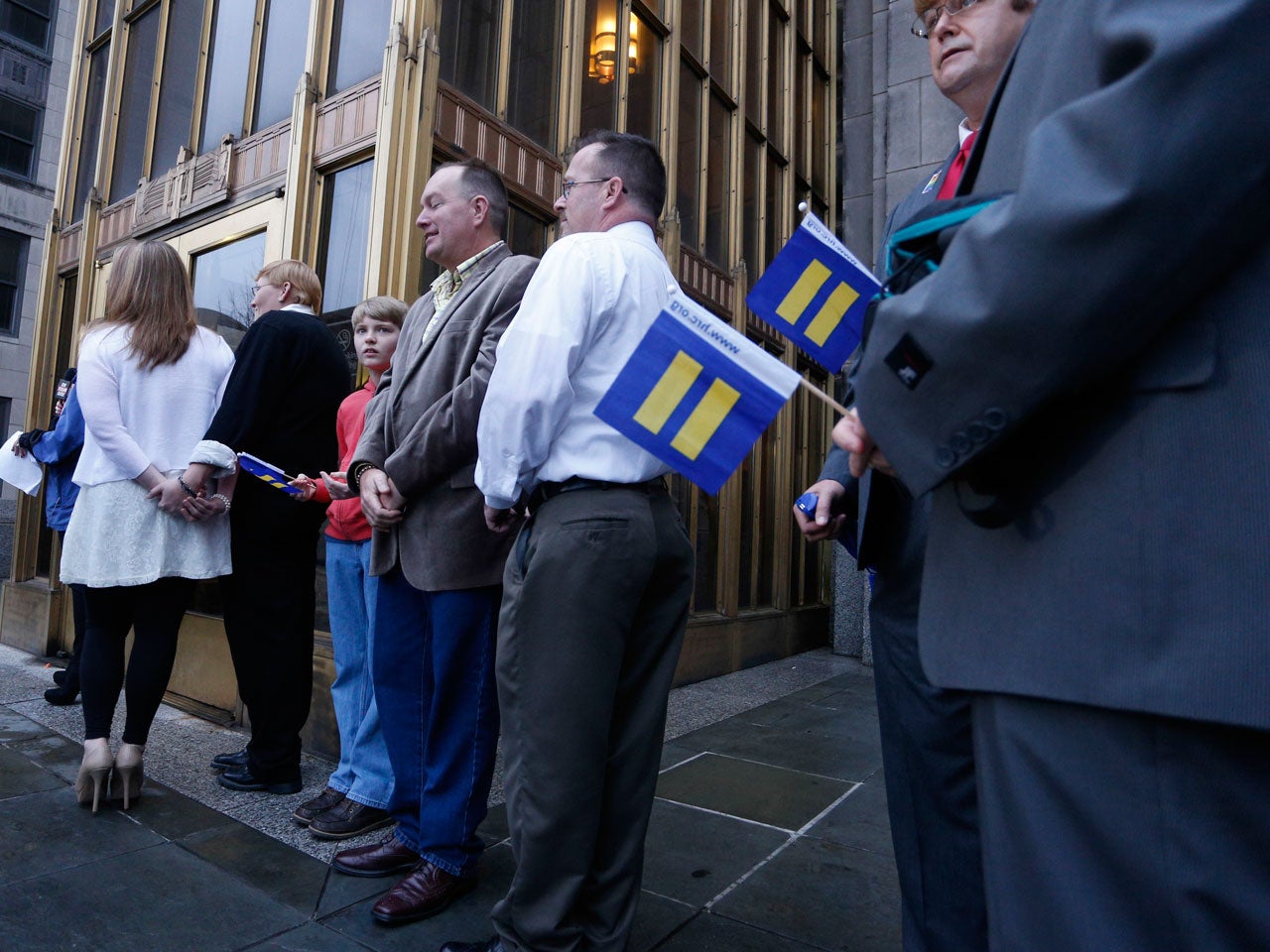 Alabama starts marrying same-sex couples amid showdown
BIRMINGHAM, Ala. - Alabama began issuing marriage licenses to same-sex couples Monday, becoming the 37th state where gays can legally wed.
Jefferson County probate judge Alan King issued a license to two women shortly after the U.S. Supreme Court denied the Alabama attorney general's request to extend a hold on a federal judge's ruling overturning the state's ban on gay marriage.
The Supreme Court said Monday morning that it wouldn't stop the marriages from beginning in the state, and shortly after, probate judges began granting the licenses to couples, some of whom had been lined up for hours.
"It's about time," said Shante Wolfe, 21.
She smiled as she left the courthouse in Montgomery with wife Tori Sisson. They had camped out in a blue and white tent to be the first in the county given a license.
Many judges like King began issuing the license despite Alabama Chief Justice Roy Moore's 11th-hour attempt to keep the weddings on hold, with an order sent to all probate judges Sunday night directing them to refuse to issue the licenses.
King says he was abiding by the federal court order from January that determined Alabama's statutory and constitutional bans on gay marriage were unconstitutional. U.S. District Judge Callie Granade had put her order on hold until Monday to let the state prepare for the change.
The chief justice against the change, Moore, has been one of the state's most outspoken critics of gay marriage. He called homosexuality an "evil" in a 2002 custody ruling and urged judges to reject issuing such licenses in recent days.
A few probate judges have said they would refuse to issue the licenses until they received greater clarity from the courts. Moore, as head of the court system, upped the ante Sunday night by sending the directive, although, it was unclear what enforcement provision he has.
Moore's letter to the probate judges said Alabama Gov. Robert Bentley can take action against elected officials who fail to follow the law.
Jennifer Ardis, a spokeswoman for Bentley, said she did not know about Moore's letter and did not have an immediate comment Sunday evening.
Moore has made headlines previously as "Alabama's Ten Commandments judge," a name given in 1995 when the ACLU sued him to remove a homemade plaque of the Ten Commandments from the lobby of the state judicial building. The Alabama Supreme Court threw out the suit, but the legal battle helped him win the race for chief justice in 2000.
A state court for judges kicked him out of office three years later when he refused to abide by a federal judge's order to remove the monument. He won his job as chief justice back in a 2012 election.
Susan Watson, executive director of the American Civil Liberties Union of Alabama, said she has heard of four counties where judges have refused to issue marriage licenses to same-sex couples. She said the judges face the risk of lawsuits for refusing.
"I would really think long and hard before defying a federal court order," Watson said.
In Birmingham, one of the gay marriage licenses went to Dee and Laura Bush, who have been together for seven years and have five kids between them.
"It is great that we were able to be part of history," said Dee Bush.
After receiving her license, she and Laura walked outside to a park where a minister was performing wedding ceremonies to cheers from crowds.
In January, U.S. District Judge Callie Granade determined that Alabama's statutory and constitutional bans on gay marriage were unconstitutional. She put her order on hold until Monday to let the state prepare for the change.
The state attorney general has requested that the hold be extended, but the U.S. Supreme Court refused to do so, paving the way for the marriages to begin.
State Attorney General Luther Strange said in a statement that the Supreme Court's decision was likely to lead to more confusion. The high court is expected to take up the issue of gay marriage and issue a ruling later this year on whether same-sex couples have a right to marry nationwide.
Supreme Court Justice Clarence Thomas criticized his Supreme Court colleagues for refusing to block same-sex marriage in Alabama until the court resolves the issue nationwide in a few months.
Thomas said in a dissenting opinion Monday that the court's Alabama order could be seen as a signal that the justices already have decided they will declare that gay and lesbian couples have a right to marry under the Constitution.
The court often freezes lawsuits in place when they raise the same issue the court already has agreed to decide.
Since October, the justices have repeatedly turned away state requests to keep same-sex marriages from taking place until appeals are resolved. Alabama's plea is the first since the court stepped into the issue last month.
Justice Antonin Scalia joined Thomas' dissent.
Thanks for reading CBS NEWS.
Create your free account or log in
for more features.