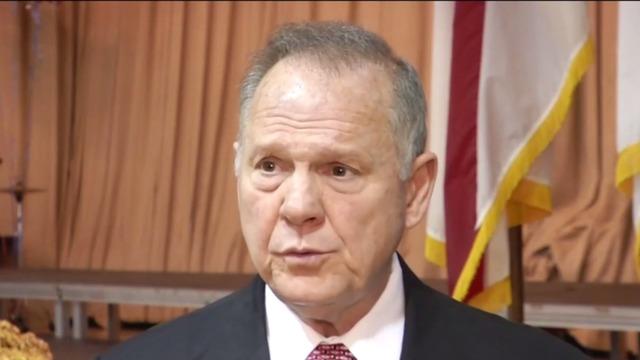 Alabama governor isn't considering changing special election date
Alabama Gov. Kay Ivey is not considering changing the date of the special U.S. Senate election after allegations emerged that Roy Moore pursued relationships with teenage girls in his 30s.
"The governor is not considering and has no plans to move the special election for U.S. Senate," Joshua Pendergrass, communications director in Ivey's office, told CBS News.
That comment comes after The New York Times reported some party members are considering urging Ivey to change the special election date. Ivey has called the allegations against Moore "deeply disturbing." Asked if she believes the women accusing Moore of inappropriate behavior to be trustworthy, Ivey told reporters this week, "Why wouldn't it be? I don't know. Anything can happen. We've just got to get more facts."
The political fallout from The Washington Post story published Thursday, in which Leigh Corfman claims Moore sexually touched her when she was 14 and he was 32, has sent the Republican Party scrambling ahead of the December 12 special election between Moore and Democrat Doug Jones.
But, even as national Republicans rescind their endorsements and call for Moore to step aside if the allegations are true, options remain limited for the Republican Party. Ivey has said she is unaware of any authority she might have to select an interim senator for an extended period of time.
Alabama code forbids any change to names on the ballot within 76 days of any primary or general election, and running a write-in campaign on such short notice could split the ticket and propel Jones to victory. A Jones victory could torpedo Republicans' effectiveness in the Senate, as the GOP has already had difficulty passing major legislation with a 52-48 majority in the upper chamber.
Moore has denied the accusations that he had inappropriate relationships as baseless and politically motivated, although he has also said he would "not generally" have dated teens when he was in his 30s. At a veterans event in Alabama Saturday, Moore again attacked The Washington Post over the story, saying the paper has a "political agenda."
"To be attacked for allegations of sexual misconduct contradicts my entire career in law," he said.
"Every person watching on these cameras should ask themselves is it strange that after 40 years of constant investigation people have waited to four weeks prior to the general election to bring their complaints," he added.
His campaign has used fallout from the accusations to raise funds, claiming "the forces of evil are on the march in our country."
Thanks for reading CBS NEWS.
Create your free account or log in
for more features.