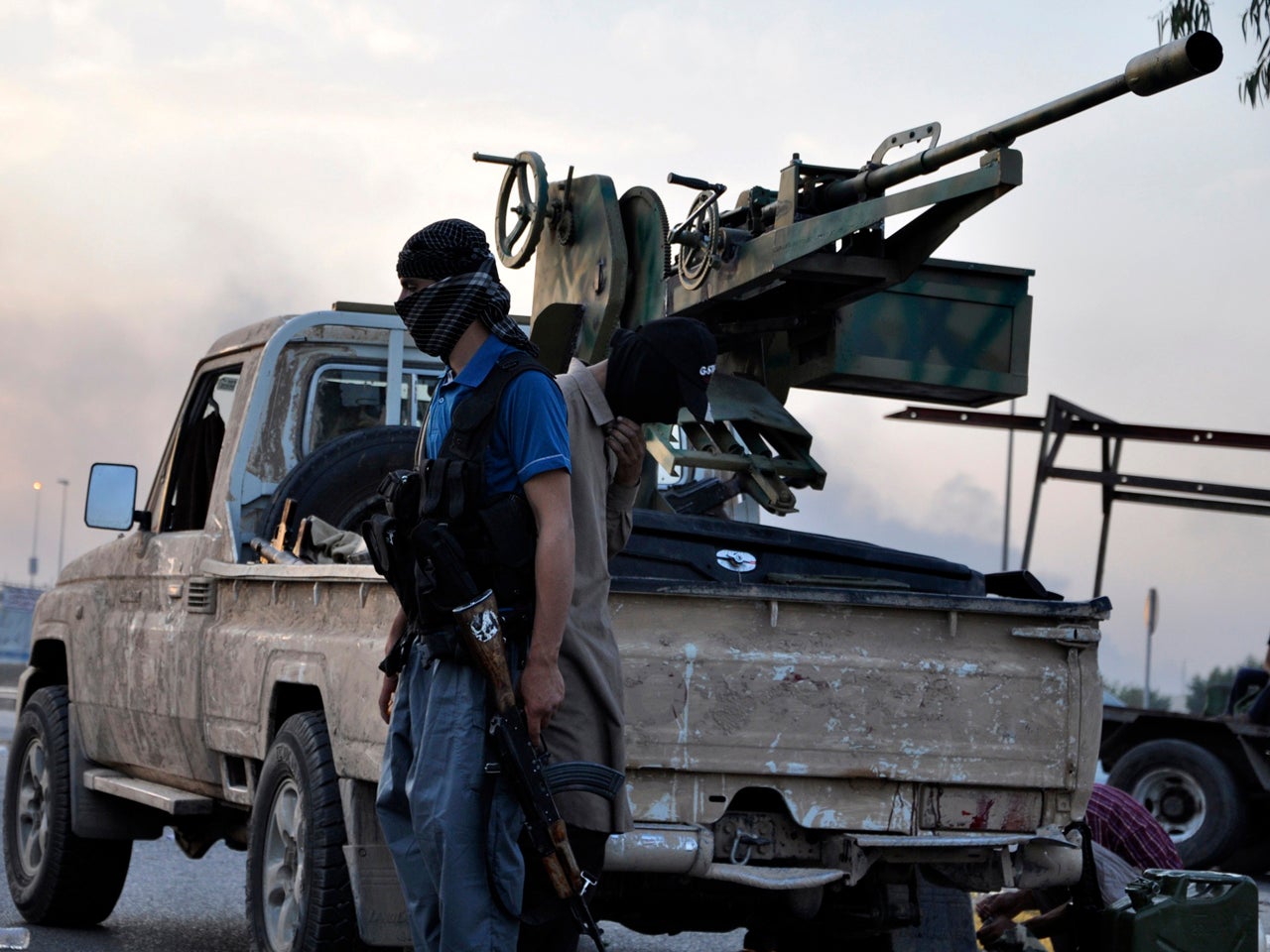 Qaeda-inspired militants parade vehicles captured from military
Militants in Iraq seized two more towns overnight, overrunning Sadiyah and Jalula with virtually no resistance from Iraq's security forces, CBS News' Holly Williams reports from the Kurdish-controlled city of Erbil in northern Iraq.
The United States is debating how to respond to the threat of civil war in Iraq. The White House says President Obama is considering every option except American ground troops.
Hundreds of Americans were being evacuated from an Iraqi air base Friday as the militants get closer. The fighters inspired by al Qaeda already hold the major cities of Mosul and Tikrit.
A cell phone video showed the Islamic militants putting on a show of force in Mosul, parading vehicles captured from Iraq's military through the country's second biggest city.
As the militants sweep through northern Iraq, many government soldiers have dropped their weapons and run - despite billions of dollars in American military aid.
In the city of Tikrit an Iraqi army post now stands abandoned, and amateur video shows militants marching hundreds of captured soldiers through the streets.
Just 80 miles from Tikrit is Iraqi Kurdistan, an autonomous region that's been relatively peaceful since the U.S. invasion in 2003.
So far, its well-disciplined fighters have not got involved directly, but they have taken over positions abandoned by the Iraqi military.
Juaud Mohammed is a Kurdish leader who told CBS News the Iraqi soldiers simply melted away.
"The Iraqi army is useless," he said. "They don't fight for any principles."
Hundreds of thousands of refugees have fled the violence, but very few of them blame the militants.
Like the armed extremists, they're Sunni Muslims and resent the government in Baghdad.
But as the militants push further south, they'll reach areas with mainly Shia Muslim populations as well as Shia militias loyal to Iraq's government.
In an internet post Friday, the militants threatened to destroy shrines considered holy by Shia Muslims. That would almost certainly set off more deadly violence but on a much larger scale.
CBS News will be covering the latest developments extensively tonight on the "CBS Evening News," with Williams in Erbil, Clarissa Ward in Baghdad and Elizabeth Palmer in Damascus, Syria.
Map credit: IBTimes/Long War Journal
Thanks for reading CBS NEWS.
Create your free account or log in
for more features.