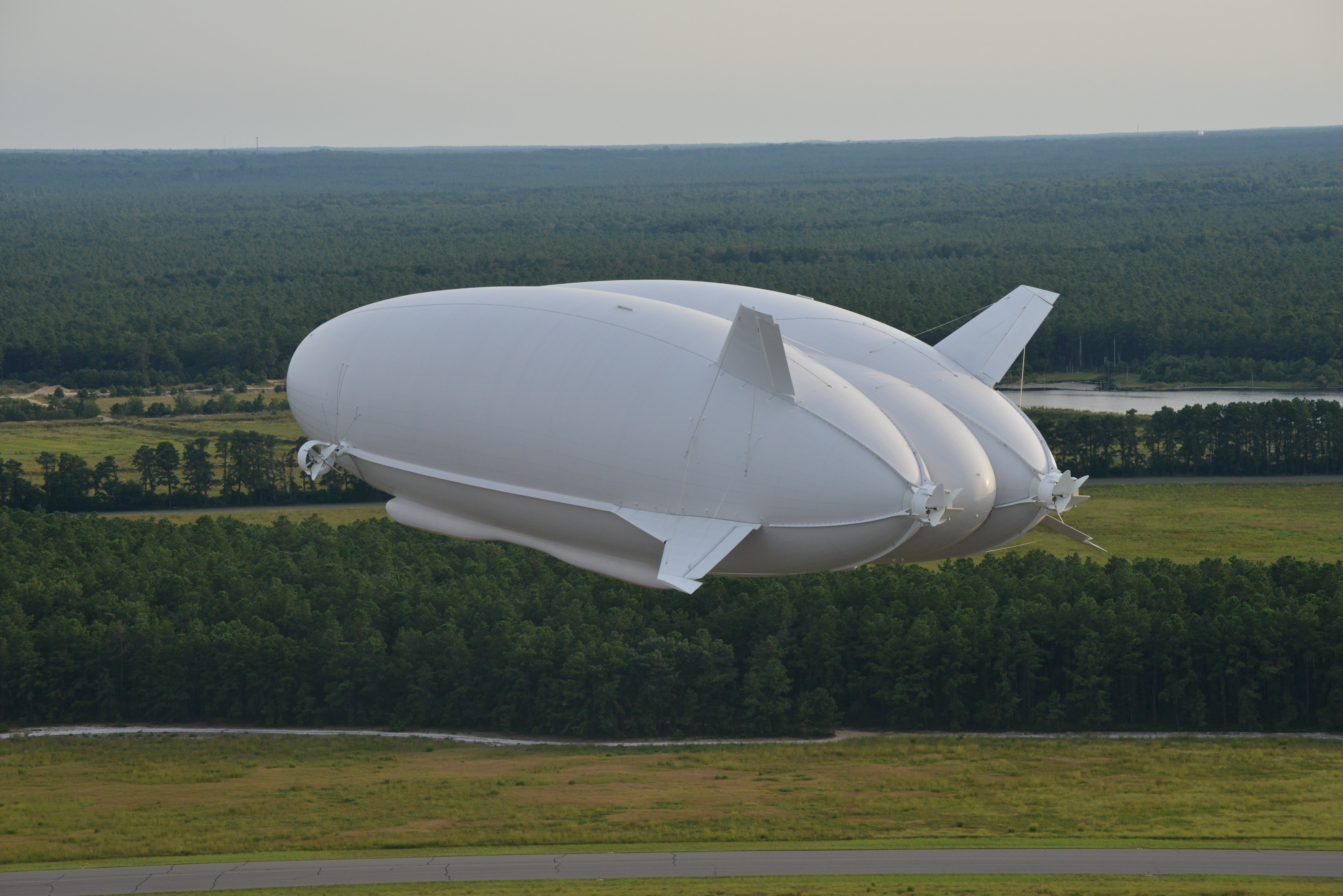 World's largest aircraft gets ready to take to the skies
It looks something like cross between an overgrown blimp and a very large airplane. In a few weeks, the Airlander 10, the world's largest aircraft, will take off for its first full-fledged commercial test flight in the U.K.
The aircraft, designed by Hybrid Air Vehicles, is a 100-yard-long aircraft that was first designed for the U.S. Army in 2009. It can be configured to carry up to 10 tons of cargo or hold up to 48 passengers. The Army eventually passed on it, and it is now being re-conceived for commercial use.
The aircraft can fly nonstop for as long as five days -- even longer if it is unmanned and piloted remotely -- cruising through the skies at a leisurely 92 mph. (Compare that to a Boeing 747, which hits speeds of about 570 mph.)
Hybrid Air Vehicles was established in 2007 and first ran a series of trials with small-scale prototypes. These early tests resulted in the company winning the Army's LEMV (Long Endurance Multi-Intelligence Vehicle) contract in 2010, Chris Daniels, the company's head of partnerships and communications, wrote in an email to CBS News. This paved the way for the development of a full-size version of the aircraft that flew once on Aug. 7, 2012.
The purpose of that test was to offer an "unblinking eye" of "persistent surveillance" in order to protect soldiers from mines and IEDs in Afghanistan, according to Daniels. But as the U.S. reduced its troop presence in Afghanistan, the LEMV project was canceled, and the company dismantled it and brought it back to the U.K. in December 2013.
"We have made some modifications and converted it for civilian as well as military use, so it is a slightly different aircraft -- the Airlander 10," Daniels wrote. "But using the same hull material, cockpit, and engines, so 90 percent the same. We have spent the last two years preparing for returning to flight and have reached the last stages now."
The aircraft, which looks rather blimp-like, will have its first commercial test flight in the next few weeks, but Daniels clarified that no "specific date" has been chosen.
"It depends on many factors and will only be confirmed 24 hours beforehand," he added.
This will be the first commercial and civilian test of the aircraft, which Daniels said is significant in that the company has a civil Permit-to-Fly by EASA (the European-wide Aerospace Safety Agency), which is Europe's equivalent of the FAA.
The "Payload Module" which will be tested is multi-use and has windows, which enables the company to demonstrate passenger use, cargo, and communications and surveillance.
"Note, no fare-paying passengers will be permitted on this first Airlander," Daniels wrote. "The second we make should be certified for paying passengers."
The Airlander 10 uses a combination of helium and aerodynamic lift to stay aloft. The 20-ton aircraft is able to land, untethered, on most surfaces including water. It does not need a runway to take off, but lifts up almost vertically into the sky.
"We produce less noise, less pollution, have a lower carbon footprint than conventional aircraft, and have longer endurance and better cargo-carrying capacity than any other flying vehicle," the company boasts on its website.
Eventually, there are plans for an even larger version of the craft which would weigh in at 5o tons.
So, when can we expect to see the Airlander 10 officially up in the air for commercial travel?
"We have a 200-hour Flight Test Programme ahead of us, then we will run a series of Trials and Demonstrations from late summer 2016 onwards," Daniels wrote. "This should lead to orders and when these run off a production process we will have true commercial travel on Airlanders. Most likely in 2018. But there will be some commercial tasks undertaken by our current Airlander 10 as trials and demonstrations."
Thanks for reading CBS NEWS.
Create your free account or log in
for more features.