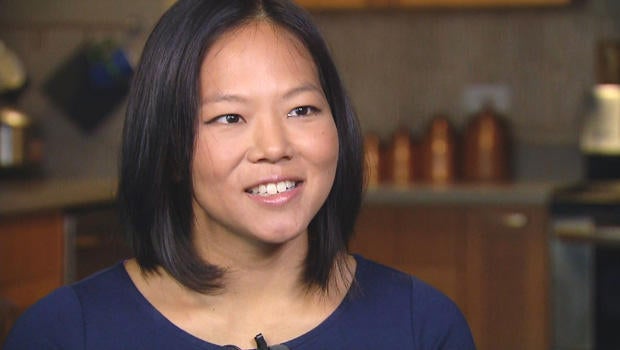 How Airbnb empowers women entrepreneurs
Michelle Lai is getting her spare bedroom ready for her next guest. She rents a room in her San Francisco apartment on Airbnb, taking in about $15,000 a year.
"It's been difficult to get by in San Francisco," she told CBS News correspondent Ben Tracy, "and the additional income has definitely made it more comfortable."
As a female Airbnb host, she's not the exception -- she's the rule. A study commissioned by the company found one million female hosts worldwide; that's 55% of all Airbnb hosts.
"I've gained a lot of confidence from hosting," Lai said. "It's basically like running your own business and having a lot of control."
Airbnb CEO Brian Chesky co-founded the company in 2008 when he was 26 years old. He says Airbnb is inherently more democratic than many male-dominated businesses.
"In 60 seconds, anyone can be an entrepreneur; anyone can be a host," Chesky said. "I think that spirit of 'anybody' has just become a more equalizing notion, than maybe other industries where it requires connections, references, referrals, which I think have been proven to provide some greater barriers."
Airbnb's study found that since 2008, women have earned $10 billion by hosting. Female hosts in the U.S. earn an average of $6,600 per year.
What surprised Chesky most from the report's findings? "Fifty thousand women reported that they used this money to fund businesses or invest in entrepreneurial pursuits, to essentially become entrepreneurs," he said.
Chesky wants to position Airbnb as an economic force for its hosts, with less focus on how it is disrupting the lodging industry and often battling regulators.
This pivot comes as another sharing economy disruptor, Uber, finds itself on a roll for all the wrong reasons -- rocked by allegations of turning a blind eye to sexual harassment, stealing trade secrets, and the behavior of its CEO, 40-year-old Travis Kalanick, who was recently caught on camera arguing with an Uber driver.
Chesky, who counts Kalanick as a friend, was asked if there was a cautionary tale in the allegations facing Uber. "I think every company that I admire has had their ups and downs," he said.
"Do you think he can still effectively lead Uber?" Tracy asked.
"I would assume that only he knows best the answer to that question, and I would take him at his word that he can become the leader he wants to become.
"One of the things I learned is that I needed mentors. And I wouldn't be here if it wasn't for mentors. And I have been pretty shameless about constantly seeking leadership help from people that are smarter than me and more experienced than me."
Chesky has not shied away from taking on the leader of the free world. When President Trump issued a controversial travel ban, Airbnb responded in a Super Bowl ad:
Chesky says he's just standing up for his worldwide host community – one, he says, is still in its infancy.
"The travel industry is almost the size of the oil industry," he said. "It's nearly 10 percent of global GDP. And so I think this is literally Chapter 1. I'd hope that if there was a book written, this interview would be the end of, like, Chapter 1, and the beginning of Chapter 2."

For more info:
Thanks for reading CBS NEWS.
Create your free account or log in
for more features.