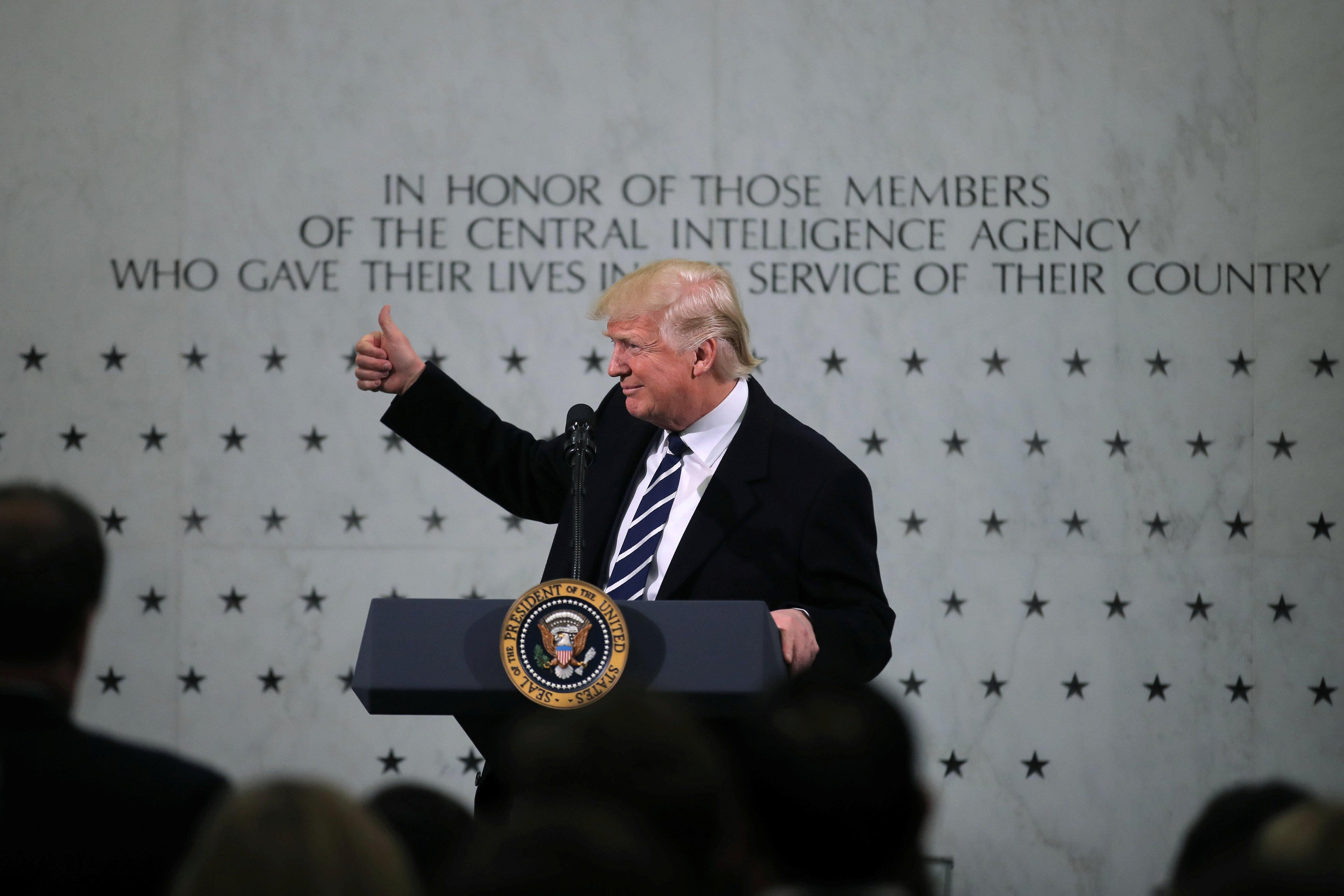 After feud with intel agencies, Trump tells CIA "I am so behind you"
After feuding with intelligence agencies earlier this month, President Trump stood before the CIA's Memorial Wall and told CIA officials and personnel both of his love and respect for the agency's employees and his anger with the media for its coverage of the crowd size at his inauguration.
"We've really appreciated what you've done," Mr. Trump told a small crowd of intelligence officials Saturday afternoon on a visit to the CIA's headquarters in Langley, Virginia. "I am so behind you, and I know maybe sometimes you haven't gotten the backing that you've wanted."
He went on to promise that "you're gonna get so much backing."
Later, he declared: "I love you. I respect you. There's nobody I respect more."
Mr. Trump's effusive praise for the intelligence officers comes after days of criticizing the intelligence community for its investigation into possible ties between his campaign and Russian officials.
In one inflammatory tweet, Mr. Trump blasted the intelligence community's handling of a report examining unverified and possibly compromising information Russia had gathered on the then-president-elect. The Twitter message from just over a week ago likened the "leak" of "fake news" to Nazi Germany.
When Mr. Trump was asked to clarify his tweet in a press conference later that day, the celebrity businessman doubled down on his critiques of the agencies, calling the release of the reports "disgraceful."
"That's something that Nazi Germany would have done and did do," he said, referencing the tweet.
Mr. Trump struck an entirely different tone during Saturday's meeting with the CIA.
He repeatedly told the crowd gathered there that "we're all on the same wavelength" and vowed that "there is nobody that feels stronger about the intelligence community and the CIA than Donald Trump."
Pillorying the press for "making it sound like" he had been feuding with the intelligence agencies, Mr. Trump said it was "exactly the opposite."
The president also took a few shots at the media during his speech, lambasting television networks for showing footage of a sparsely populated National Mall area during his inauguration ceremony.
"It looked like a million, a million-and-a-half people" that attended his inauguration, Mr. Trump said without offering proof. And though crowds were not particularly packed on the National Mall according to reporters, Mr. Trump asserted that the crowd even extended as far back as the Washington Monument from the U.S. Capitol building.
He reiterated his promise to combat "radical Islamic terrorism." And when it came to the Iraq war, the president suggested an openness for further military action in the Middle East.
"We should have kept the oil," Mr. Trump said of the Iraq war. "Maybe we'll have another chance."
The president also lavished plaudits on his pick to lead the CIA, Rep. Mike Pompeo of Kansas.
"I met Mike Pompeo. I didn't want to meet anyone else," Mr. Trump said, just as Pompeo is poised for a confirmation vote in the Senate next week. "He is so good. Everything he's done has been a home run."
Mr. Trump's remarks to CIA employees drew immediate backlash from at least one former official.
Recently departed CIA Director John Brennan issued a blistering statement Saturday, passed on by former top aide Nick Shapiro on Twitter:
The wall Shapiro mentioned -- the one that was the backdrop for Mr. Trump's address to the CIA -- memorializes agency employees who died in the line of duty in particular circumstances. In a CIA publication, then-CIA Director Michael Hayden described those honored this way: "Quiet patriotism was their hallmark. They would advance freedom and build a better world, not for public acclaim, but because it is the right thing to do."
Earlier in the day, Mr. Trump had received an intelligence briefing from senior CIA officials.
According to pool reports, CIA employees directly in front of Mr. Trump showed little positive or negative reactions to his remarks. Those on the side of the audience clapped and laughed during Mr. Trump's speech.
Thanks for reading CBS NEWS.
Create your free account or log in
for more features.