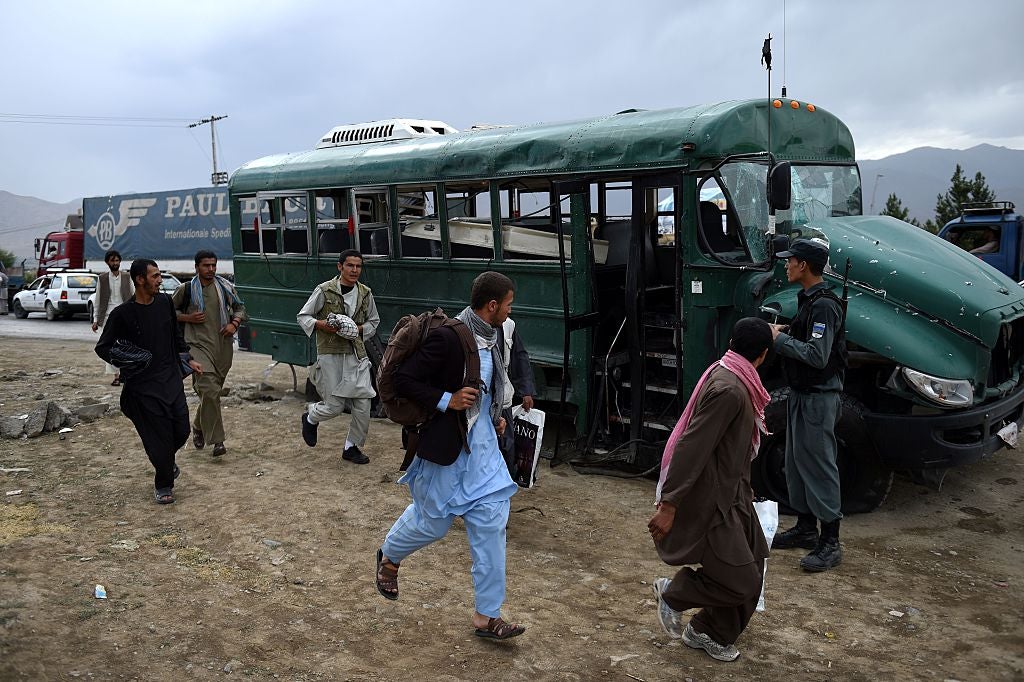 Dozens killed as Taliban bombers hit police convoy
KABUL, Afghanistan -- Taliban militants launched a twin suicide attack on Thursday, targeting a convoy of buses carrying Afghan police cadets outside of the capital and killing 37 people, mostly policemen, and wounding 40, an Afghan official said.
The attack took place in Paghman district, some 12 miles west of Kabul, according to Mousa Rahmati, the district governor of Paghman.
The first suicide attacker struck two buses carrying trainee policemen, and a second attacker targeted those who rushed to the scene to help and also hit a third bus, Rahmati said. He said that four civilians were among those killed.
The cadets were returning from a training center in Wardak province and were heading to the capital on leave, Rahmati said.
In a statement later on Thursday, the Interior Ministry said that 30 police recruits had been killed and 58 others wounded in the attack. It was not immediately possible to reconcile the different casualty figures.
The Taliban claimed responsibility for the attack in an email sent to The Associated Press by spokesman Zabihullah Mujahid.
Mujahid said that the attack was the work of two suicide bombers. The first targeted the bus carrying the trainee policemen and their instructors. A second bomber attacked 20 minutes later, when policemen had arrived at the scene to help, according to Mujahid's account.
Afghan President Ashraf Ghani described the bombing as an "attack on humanity" in a statement and ordered an Interior Ministry investigation into the incident.
In a statement, the U.S. Embassy in Kabul condemned the attack. "This cruel and complete disregard for human life during the holy month of Ramadan is abhorrent," it said.
Later Thursday, and attack on a convoy carrying security forces in eastern Ghazni province killed two and wounded four troops, said Jaweed Salangi, spokesman for the provincial governor.
The attack took place in Andar district as the convoy was en route from Paktika province toward Ghazni, Salangi said, adding that the deputy chief of the Paktika intelligence service was among those killed.
No one immediately claimed responsibility for the attack in Ghazni, though the Taliban are known to be active in the province.
The Taliban have lately stepped up their attacks as part of their summer offensive. The insurgents frequently target convoys of Afghan troops or buses carrying civil servants or those perceived to be working for the Kabul government.
Thanks for reading CBS NEWS.
Create your free account or log in
for more features.