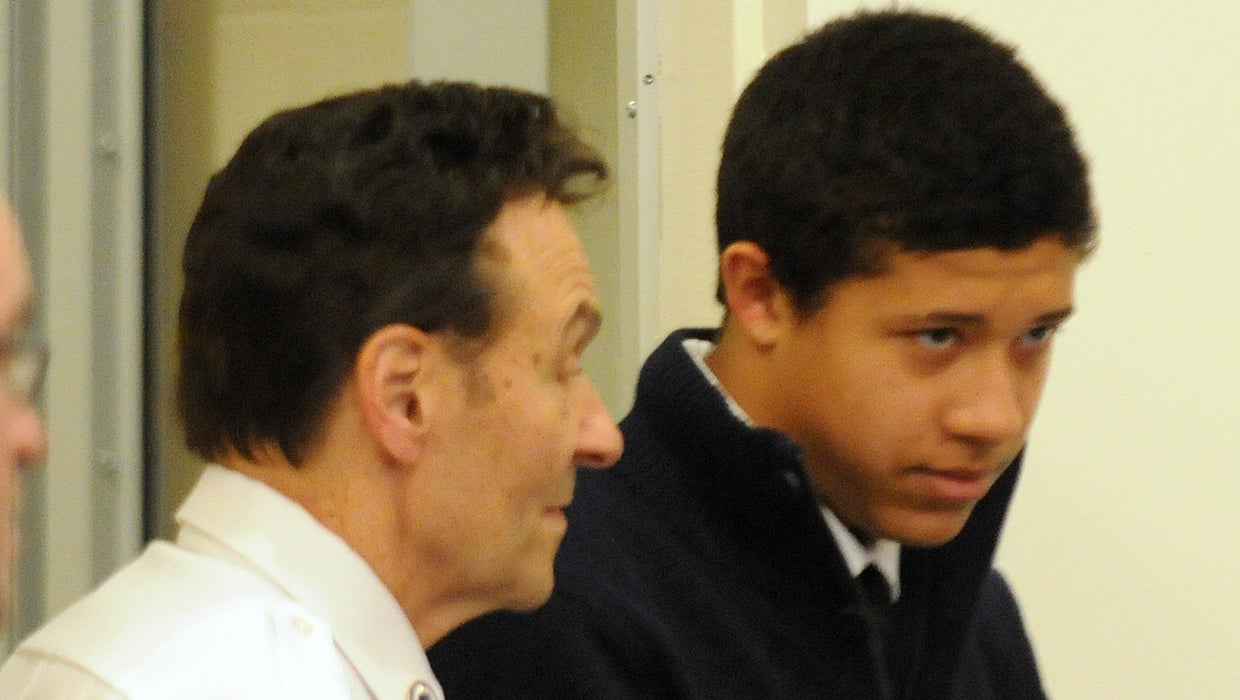 Affidavit: Mass. teen may have videotaped teacher's murder
SALEM, Mass. - A 15-year-old Massachusetts boy accused of raping and killing his math teacher last year was indicted by a grand jury Friday on a second aggravated rape charge and newly released court documents reveal police suspect he may have recorded the crime on his cellphone.

Philip Chism, who was 14 when Danvers High School teacher Colleen Ritzer was killed in October, was already charged with murder, armed robbery, and aggravated rape for allegedly sexually assaulting Ritzer with a stick. The new rape charge alleges he forcibly had sexual intercourse with the 24-year-old teacher, whose body was found in woods near the school with her throat slit and a note that read, "I hate you all."
Chism is expected to be arraigned on the new charge Thursday at a previously scheduled pretrial hearing. He has already pleaded not guilty to the other charges against him.

A newly released search warrant affidavit obtained by CBS News' Crimesider indicates Chism may have recorded the crime on his smartphone before smashing it and discarding it. The warrant seeks to search the shattered phone.
Both Chism's and Ritzer's phones were found destroyed near a Danvers movie theater that Chism allegedly went to by himself to watch Woody Allen's "Blue Jasmine" in the hours after the murder. The teen was later found overnight walking on Route 1 in Topsfield. Police say he was carrying a bloody box-cutter and Ritzer's underwear, IDs and credit cards.
Chism told investigators he destroyed the phones so that authorities wouldn't be able to track him, police say, according to the affidavit.
Massachusetts State Police Detective Steven Buccheri says in the affidavit that he believes the phones may hold evidence of Chism's "planning, motive and memorialization of his crime."
"...It is not unusual for individuals involved in homicides, particularly sexually violent homicides, to memorialize their victims' deaths through photographic, audio or video media for further humiliation of the victim or later viewing, for guilt relief or for enjoyment," Buccheri wrote.

The affidavit says the teen admitted on Oct. 22 to killing his teacher but denied having sexual contact with her. Police say DNA tests show otherwise.
Chism had moved to Massachusetts from Clarksville, Tenn., before the beginning of the school year. Students told police that Chism stayed after school to receive extra help the day Ritzer was killed.
Police say surveillance video shows Chism following Ritzer into a school bathroom, wearing gloves and a hood. He is also allegedly seen pulling a recycling barrel through the school and outside. A recycling barrel was found near Ritzer's body.
Thanks for reading CBS NEWS.
Create your free account or log in
for more features.