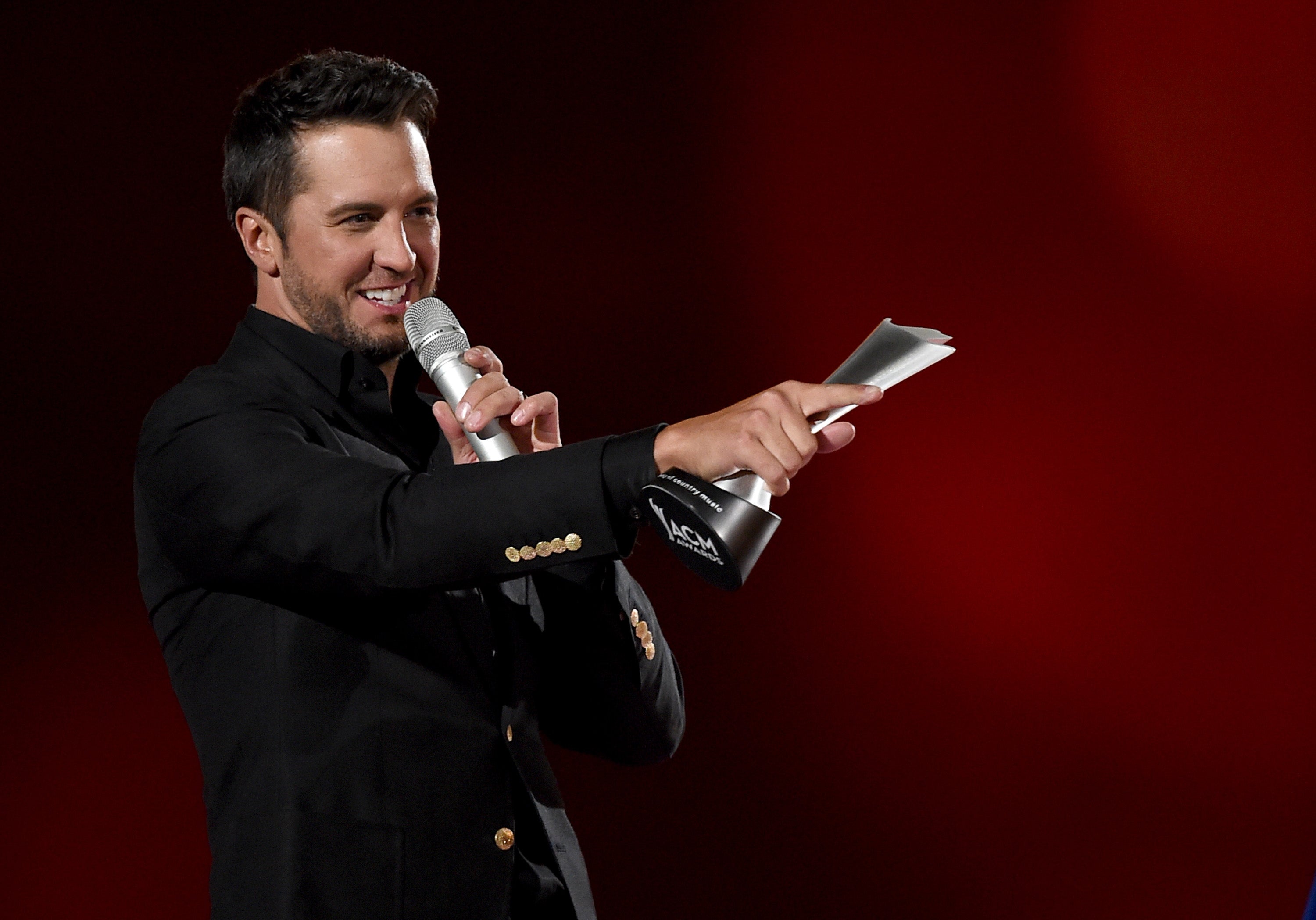 ACM Awards 2015: Miranda Lambert, Luke Bryan among big winners
Luke Bryan and Miranda Lambert won big Sunday night at the 50th Academy of Country Music Awards.
Bryan, this year's fan-voted entertainer of the year winner, beat out Lambert, Garth Brooks, Jason Aldean and Florida Georgia Line for the evening's coveted honor, presented by Aerosmith frontman Steven Tyler.
Looking thrilled about the win, he said, "I'm up here with Steven Tyler, thank you! Thank you my wife, my kids at home...my fans, country radio...."
Lambert turned out to be a very familiar face at this year's ACMs, scoring female vocalist of the year, song of the year for "Automatic" and album of the year for "Platinum." She even seemed surprised by all the wins, at one point saying, "I don't even realize what's happening tonight."
The Academy of Country Music Awards didn't waste any time getting straight to the music on Sunday night, with Eric Church and Keith Urban kicking off the show paying tribute to veteran singer Merle Haggard. The country heavyweights got things underway with a crowd-pleasing performance of "Pledge Allegiance to the Hag" and Raise 'Em Up."
They were among the country artists who flooded AT&T Stadium in Arlington, Texas, for the 50th ACMs, which aired live on CBS.
At the start of the show, Blake Shelton and Luke Bryan, who were back as co-hosts for a third year, took the stage with some big news: This year's ACMs made a Guinness World Record for being the most attended live awards show of all time.
"They say everything is bigger in Texas. And that's why we're here," Shelton said about the awards extravaganza, which moved to outside Dallas -- a change from its typical Las Vegas post.
The first honor of the live broadcast went to George Strait, who accepted a Milestone Award after performing his new single, "Let It Go," and the classic, "All My Ex's Live in Texas."
He was one of seven honorees of the 50th Anniversary Milestone Awards, which also went to Brooks, Lambert, Taylor Swift, Reba McEntire, Brooks & Dunn and Kenny Chesney.
Lambert, who led this year's nominations with eight nods, seemed particularly touched upon receiving one of the night's Milestone Awards, saying, "I don't know why I'm up here receiving this among all these other amazing artists."
Kelly Clarkson presented McEntire with her Milestone honor -- a fitting tribute as the "American Idol" alum is married to Brandon Blackstock, McEntire's stepson. "I have the coolest mother-in-law, and you can all suck it," Clarkson said before introducing one of her music idols.
Swift's mom, Andrea, who was recently diagnosed with cancer, presented her superstar daughter with the Milestone Award. She spoke about being Swift's closest companion while growing up -- when she had only a few friends. Andrea also talked about Swift's tendency to write songs about people she knows.
"To the fans -- I know you love her as I love her. And for that, I thank you eternally," Andrea said before Swift took the stage to accept the award. She took the opportunity to thank the country music community for embracing her new pop album, "1989."
Chesney, another Milestone recipient, told the crowd, "To be up here tonight is beyond any dream that I've ever had."
The Milestone honors weren't the only awards handed out Sunday night. Florida Georgia Line took home the vocal duo of the year award, and Little Big Town won vocal group of the year.
Jason Aldean walked away with male vocalist of the year. "I'm really stunned, I don't know what to say -- three years in a row...I don't know, this is awesome," he told the crowd.
Still, live music remained front and center, making up the majority of the awards show with some 23 performances across two stages.
Florida Georgia Line took the stage to perform "Sippin' on Fire," while Lee Brice sang some of "Forever and Ever, Amen," giving a shout-out to Randy Travis in the audience -- a surprise appearance as Travis has largely stayed out of the spotlight since undergoing brain surgery following a 2013 stroke.
Pop music made its way into ACMs, too. Singer Christina Aguilera showed off her vocal chops when she joined Rascal Flatts onstage to perform "Shotgun." And Nick Jonas brought some pop music to the stadium when he sang with country music duo Dan + Shay.
Brooks -- one of the evening's Milestone winners -- performed "All-American Kid" as a tribute to U.S. military members. "I like to thank all our men and women in the Armed Forces who are here...for protecting our freedom," he said.
Alan Jackson sang "Where Were You (When The World Stopped Turning)," and Brad Paisley got the audience members to their feet with a live version of "Crushin' It."
Other performers included Aldean, Dierks Bentley, Chesney, Martina McBride, Brad Paisley, George Strait, Keith Urban, Brooks & Dunn, Florida Georgia Line, Lady Antebellum, Little Big Town, Sam Hunt, Thomas Rhett and Cole Swindell.
Among the presenters? Beth Behrs, Clint Black, Lee Brice, Kelly Clarkson, Brett Eldredge, Brantley Gilbert, Mickey Guyton, Hunter Hayes, Miss America 2015 Kira Kazantsev, Dr. Phil McGraw, Justin Moore, "Entertainment Tonight" host Nancy O'Dell, Thomas Rhett, Tony Romo, Darius Rucker, Steven Tyler, Keith Urban, Sofia Vergara, Reese Witherspoon, Dallas Cowboys star Jason Witten, Trisha Yearwood, Dwight Yoakam, Alabama and Big & Rich.
"It's not a jokefest up there. This is ceremonial; very, very important award show where we're honoring a lot of people; get up there and be class acts," Bryan told CBS News ahead of the awards show, adding, "That's what the fun part of show business is, just having moments where you are like, 'Ahh! We gotta make this thing happen.' So it will be that way. It will be fun, walking up there and making it happen."
Going into the night, Dierks Bentley had seven nominations, Florida Georgia Line was in the running for five, while Bryan and Kenny Chesney had four nods each.
The evening wrapped just as it started -- with a performance. Jake Owen and Darius Rucker played the upbeat classic, "Let the Good Times Roll."
And for thousands of people at Texas' AT&T Stadium, they did.
Thanks for reading CBS NEWS.
Create your free account or log in
for more features.