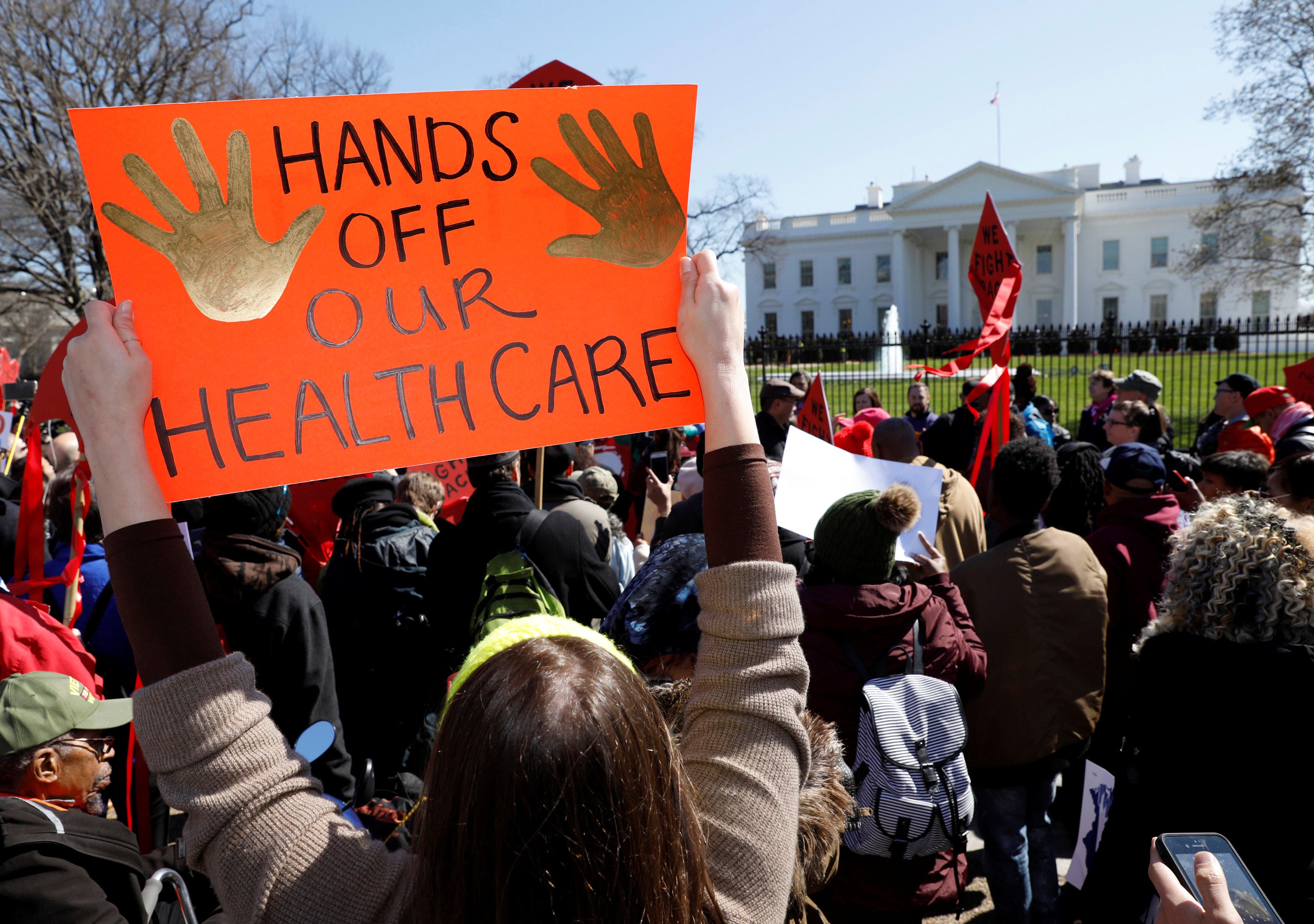 Are pregnancy and rape pre-existing conditions under GOP health bill?
A number of news articles and social media posts claim that pregnancy, sexual assault and domestic violence could be considered "pre-existing conditions" that make it hard to keep insurance coverage under the Republican health care bill. Are those alarming claims really true?
The bill doesn't specifically refer to any of these things, and some of the headlines suggesting that it does are misleading.
But the bill would allow insurers, in limited circumstances, to charge people more if they have a pre-existing condition — a health issue that existed before the patient's coverage starts, if that person has had a lapse in insurance.
Under the current health care law — the Affordable Care Act, also known as Obamacare — insurers are not allowed to charge more or deny coverage for pre-existing conditions. The GOP health plan the passed the House Thursday — called the American Health Care Act (AHCA) — would allow states to seek a waiver from that rule. It would fund a system of "high-risk pools" to offer assistance to patients instead, but many are concerned that won't be enough.
Twitter is overflowing with lists of pre-existing conditions, patient testimonials and personal stories of health struggles with the hashtag #IAmAPreexistingCondition. People living with a host of medical conditions are worried about the future of their coverage if the Republican plan becomes law.
Concern has focused in particular on women's health issues, and especially pregnancy. Claims that rape victims could lose their coverage have also stirred outrage. Here's a fact check:
Claim: Pregnancy is a pre-existing condition
Fact: States are likely to leave it to insurers to define pre-existing conditions, and prior to Obamacare, pregnancy was considered a pre-existing condition.
One of the bigger changes to health care under the Republican plan is that it would allow insurers to consider the health risk of customers applying for new coverage if they had a recent gap in coverage. (This would only be allowed in states that are granted a federal waiver.)
Carrying a baby carries some risk, so insurance companies see pregnant women as risker — and more expensive — customers when they apply for coverage.
Before the Affordable Care Act, insurers frequently denied coverage because of pregnancy. They can no longer do that. But, under the Republican bill, insurers may be able to charge higher prices for a limited time due to a person's recent medical history.
Claim: Sexual assault is a pre-existing condition
Fact: The House bill does not specifically designate sexual assault as pre-existing condition, but it could allow insurers to charge more for people with health issues such as PTSD or a sexually transmitted infection resulting from rape.
When they look at pre-existing conditions, insurance companies consider people's medical diagnoses, not how they got injured or sick. For example, if someone sees a therapist to deal with trauma or anxiety after an assault, the condition that the therapist treats might be considered pre-existing but the rape itself would not.
Similarly, as PolitiFact points out, if someone were pricked with a used needle or had consensual sex with someone they later learned had HIV, that person might take HIV preventative medications — just as a victim of sexual assault might. Regardless of the circumstances, because the person took that medication, they might have trouble purchasing health insurance on the open market.
"This is not something specific about sexual assault," Urban Institute senior fellow Linda Blumberg told PolitiFact. "But to the extent victims of sexual assault are needing to take this (HIV) medication, they're very vulnerable in terms of getting insurance coverage in the future."
Insurers have generally considered conditions treated within three months of the start of coverage to be pre-existing, health care industry consultant Robert Laszewski said.
What's next?
The American Health Care Act was narrowly approved in the House of Representatives on Thursday; no Democrats voted in favor and 20 Republicans voted against it.
The White House says it expects the Senate to embrace the main provisions of the bill, but senators have indicated that they will craft their own version, potentially including substantial changes.
"We expect there to be some changes, but we expect the principles and the main pillars of the health care bill as it exists now to remain the same," deputy White House press secretary Sarah Huckabee Sanders told reporters at the daily briefing Friday.
Sanders said there is currently no deadline for the Senate to vote on its version bill.
Thanks for reading CBS NEWS.
Create your free account or log in
for more features.