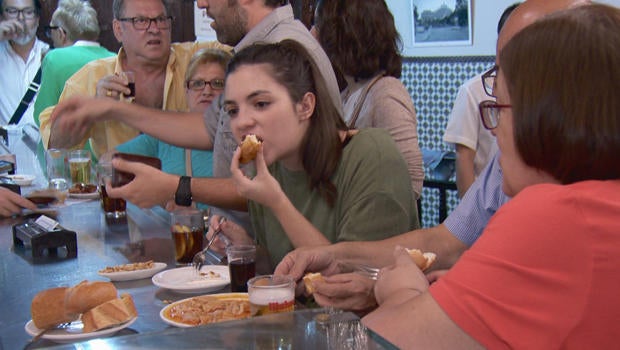 A moveable feast: Taking a tapas bar crawl through Madrid
Hope you're hungry: We're off on a moveable feast with Seth Doane, sturdy walking shoes and a hearty appetite recommended:
Quick: think "Spain" and "food," and chances are tapas comes to mind.
Doane thought he'd had tapas … it turns out, he had no idea.
"Tapas is not a plate of food; it's an activity," said James Blick. "It's something you have to do to understand. And that is really the key to it -- to doing it."
Blick is surprisingly trim for a man who offers food tours for a living. Maybe that's because in Madrid, tapas are a kind of strolling meal.
Our first stop: salt cod fritters.
At Casa Revuelta, Santi calls their bacalao fritto the "king" of this place. Some of the most popular tapas bars here specialize in one dish.
Blick, a transplanted New Zealander, runs the aptly-named Devour Tours, which shows visitors how to eat like a local.
At Bar Cerveriz, Carlos is known for his tortilla Espanola, or Spanish omelet.
He invited Doane into the kitchen, where he beat the eggs. In go the potatoes. A flip, then another … a toast (vermouth), then a taste. Perfect!
And it was time to move on.
"You can eat tapas in New York. But you can only do tapas in Spain," said Blick.
That's because there are a lot of options.
Julia Perez and Jose Carlos Capel are both food writers for major Madrid newspapers. Sitting down with Doane at Restaurante Álbora, they explained how deeply-rooted tapas are here:
"Normally we go out for tapas and we go to the bar -- I don't know how many thousand bars in Spain," Perez said.
"It's not a meal; it's a philosophy," said Capel.
"It's a lifestyle," Perez said. "The way of sharing, the way to be happy with friends and to cheer with the wine -- these are tapas really."
Defining tapas is as difficult as determining how they came to be.
Capal suggested one possible origin of the word tapa -- which means "cover" or "lid" in Spanish -- is that "in the taverns of Andalucia, they would place something solid on top of the wine, a cover" -- perhaps used back then to keep out flies.
Capel told us when it comes to a tapas crawl, there's a lucky number: "Seven tapas, seven wine. That's perfecto!"
"That's a lot!" Doane laughed.
With James Blick we were bringing up the count at the House of Mushrooms, for -- you guessed it -- mushrooms topped with a little chorizo sausage, parsley and, as Paco explained, "sal, oil, and agua bendita (salt, oil and holy water)."
"Muy bueno."
Blick said, "I have this theory that Spanish tapas bars are like a fast-flowing river. Like, if you just jump in and you don't know what you're doing, you're going to drown. But, if you know what you're doing, it's an exhilarating experience. You just go with the flow, and you let it take you."
Exhilarating is one way to describe what chef Javi Estevez does with his re-interpretation of tapas at La Tasqueria.
"We start to play, okay?" Estevez said with a smile. He is all about offal, or organ meat.
"I can't believe I'm eating, and liking, rabbit kidney," Doane laughed.
Estevez then served a dish with dueling baby pig tails.
He says tapas are about variety. "And then you can try a lot of things, and your meal is not boring," said Estevez.
"Not when you're eating baby pigtail tapas!" Doane laughed.
Back on that tapas crawl, it was back to the traditional: Shrimp.
La Casa del Abuelo used to be a sandwich place, until a bread shortage during the Spanish Civil War forced them to embrace the one thing they could find: shrimp.
Blick said, "Food is a wonderful launching pad to really understand a country and explain it, help people understand a place."
Tapas, we found, mix history, tradition, conversation and, yes, food. That's a lot on a little plate.

For more info:
Thanks for reading CBS NEWS.
Create your free account or log in
for more features.