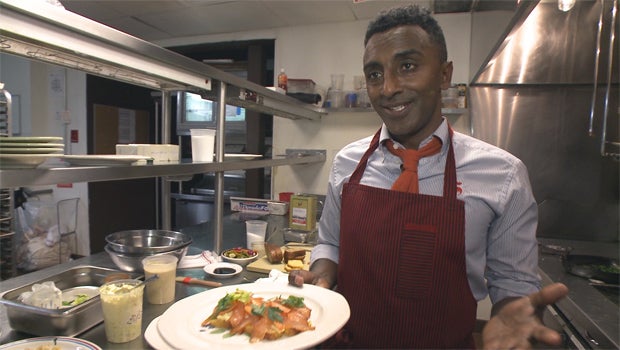 A meal to remember: Chef Marcus Samuelsson
Asked what meals they love the most, three renowned chefs -- each known for their sophisticated cuisine -- all pick the food their mothers and grandmothers used to make for them. Charles Osgood reports:
Success came early and often to chef Marcus Samuelsson. He was just 23 when his food earned three stars at New York's Scandinavian stalwart Aquavit in 1995.

His Red Rooster Harlem opened to raves in 2010. Even President Obama enjoys his cooking -- not only at the White House, but at the restaurant.

Still, when Samuelsson thinks about the food that gives him eternal joy, it has little to do with his achievements.

"I'm here because of the legacy of my family, and I don't take that for granted," he said.

Samuelsson believes angels have been watching. As a baby in Ethiopia, he, his toddler sister, and their mother all contracted tuberculosis in their village. Their mother carried them to the city hospital so they could live. But she died there.

Marcus and his sister were saved again a year later, when Ann Marie and Lennart Samuelsson of Sweden, with their daughter Anna, adopted the siblings together. Soon, Marcus warmed to cooking at his grandmother Helga's side.

Samuelsson, who lives in Harlem, said, "I represent my grandmother, I represent my Swedish family, my Ethiopian family."

Today, his food represents his life story.

"So this is not just delicious food. This food makes sense to me starting with cornbread. It's something we celebrate here in Harlem. To just a simple egg salad, to the gravlax -- that is, cured Swedish fish -- with the berbere, the Ethiopian spice blend on top."
Samuelsson's "meal to die for" features treasures of the sea. "I grew up with a lot of seafood and I want to share that."

There are dainty lobster rolls with caviar, and an enormous seafood chowder.

But center stage will always be reserved for the most unassuming dish of them all: Swedish meatballs.

"I started cooking meatballs when I was six years old with my grandmother," he said. "It's the ultimate comfort food dish, and I started cooking based on this dish."

Though his grandmother died some 20 years ago, to Marcus Samuelsson, that home cook is still teaching the chef all day long.

"My grandmother's meatballs are always the one that rules -- she told me to tell you!" he laughed.




For more info:
Thanks for reading CBS NEWS.
Create your free account or log in
for more features.