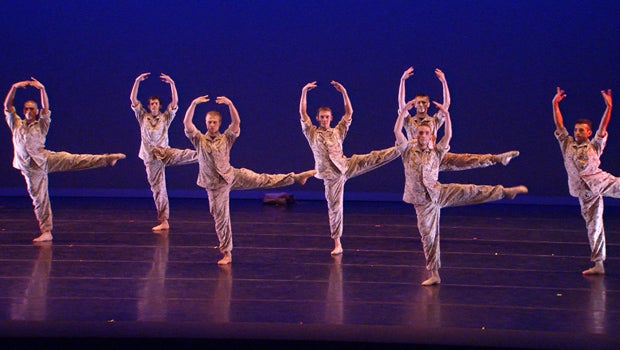 ​A Marine's story told through ballet
The parents of fallen warriors do whatever they can to keep the memory of their children alive. Which is why one mother is taking such extraordinary steps for her son. David Martin has her story:
Ballet dancers -- with all their grace and fluidity -- would seem to inhabit a different universe than Marines. You can call Marines a lot of things, but graceful would not be one of them.
"Hard to imagine, for most people I think, two more different worlds," Martin said.
"Exactly," said Amy Wolfe, the director of the Manassas Ballet in Virginia.
She has lived in both worlds, and says they're not really that different: "You can even take the word 'corps.' Marine Corps and corps de ballet. Same word: Body. Marine Corps, they are all together as one body fighting together. Ballet corps, we are all dancing together as one body."
Amy's son, Colin, grew up dancing, which -- combined with his slight stature -- earned him more than his fair share of teasing as a teenager.
But then he joined the Marines -- right out of high school, at age 18.
"That doesn't exactly sound like a logical progression -- 15-year-old ballet dancer, 18-year-old Marine," said Martin. "How'd that happen?"
"September 11, 2001," replied Wolfe. "That was his crystalizing moment."
Turns out ballet dancers make good Marines -- a least this one did.
"He definitely had what it took to be a good Marine," said Steven Hill. "He was determined, and he would always ask me what else he could do to, to better himself."
Hill and the other Marines in Colin's unit didn't know he had been a ballet dancer -- and didn't find out after he was killed. His vehicle hit a roadside bomb in Iraq in 2006.
Hill ran up to the vehicle and tried to help get him out. He wasn't able to.
"There was a huge fire on his side, where he was at," said Hill. "I tried as hard as I could to get the fire out with the fire extinguisher until it ran out.
Now, eight years later, Hill is an unlikely presence in the rehearsal studio.
"I'm using ballet as a metaphor," Wolfe said to Hill. "There's no way to mimic exactly what you did."
Colin's mother has put to dance the short life and violent death of her son, from basic training at Parris Island, S.C., to his burial at Arlington National Cemetery.
It was a chance encounter at his gravesite that brought Hill into the world of ballet.

"I went to visit him at his grave," Hill said, "so I was, you know, taking my time and just talking to him. And I saw a car pull up and then they got out and started walking in my direction. I was like, 'Oh man, please, please don't come over here.'"
"You were afraid it would be his parents?" Martin asked.
"I was very afraid, 'cause I wasn't ready to face them, 'cause I still felt guilty."
"Did you tell them you were there when he was killed?"
"I'm pretty sure I told them that I was right behind him when it happened."
"Did they want to know any more at the time?"
"They didn't ask," Hill said, "and if they had, I wouldn't -- I wasn't ready to tell."
But later, Amy Wolfe contacted Hill. "Did I want to know exactly how he died? Absolutely. 'Cause that is in the ballet."
"Doesn't doing something like that guarantee that you're going to be a prisoner of these painful memories?" asked Martin.
"Colin became alive again," she replied, "and therefore, for me, Colin died again. This full-length ballet has been torture."
The role of Colin is danced by Joshua Burnham, who is 27 years old -- exactly the age Colin would be today if he had lived. He is the perfect fit for Colin (except for the hair, which would require a Marine buzz cut).
"She brought in one of his dress uniforms for me to put on," said Burnham. "It fit me like a glove, like it had literally been tailor-made for me."
Amy Wolfe was the obvious perfect fit for the role of Colin's mother, but would she have the heart?
"I think she needs to dance the part," said Burnham.
"Right now I am rehearsing, I am doing my role," she said, "but I have not decided if I am the one who will perform it."
"We had a talk," said Burnham. "And I told her, you know, there's no one that can embody those emotions the way she can."
The ballet opens with the worst night of her life -- the night she learned Colin had been killed.
"My husband and I were in bed," she said. "I had not slept at all that night. People say, mother's intuition.
It was 4:30 in the morning and the doorbell rang."
Her husband went to the window and said, "Amy, it's two Marines."
Two real Marines would play the part.
In rehearsals, Wolfe instructed: "Now when this really happened, Aug. 31, 2006, for whatever reason I grabbed the hand of the Marine closest to me. And you will pretend to say, 'We are so sorry, but yesterday, you know, Colin was killed in action.'"
And for the preview performance, more real Marines would be in the audience, including Colin's commanding officer.
Martin asked Wolfe, "What do you hope his fellow Marines get from this ballet?"
"I hope they will stop wishing that they had been the one who had died," replied Wolfe. "I hope that they will say, 'I need to make the most of my life, because I was spared and I am meant to do good things.'"
Hill told Martin, "You know, that's taken me all this -- that's taken me these past eight years to figure that out."
And then there was Amy Wolfe -- dancing the role of her lifetime, heartbreak and love in every step.
"Every death helps those of us who are left behind to come together, to reach out to each other, to love each other better," she said. "It is sad that sometimes we have to grieve in order to love better, but it is true."

For more info:
Thanks for reading CBS NEWS.
Create your free account or log in
for more features.