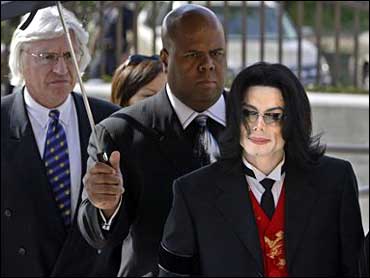 In Los Angeles, the famous and the infamous turned out for Johnnie Cochran's funeral. Among the 5,000 people who came to pay their respects Wednesday were Cochran's former clients O.J. Simpson and Sean "P. Diddy" Combs. Michael Jackson also took time out of his own trial to attend.
Also in attendance was attorney Rikki Klieman, a friend of Cochran's who also was co-host of "Cochran and Company" on Court TV from 1997-98. (Klieman is married to LAPD Chief William J. Bratton, who is also a former Boston and New York City police commissioner.)
Klieman tells The Early Show co-anchor Rene Syler that most people know Cochran best by his public persona.
"Johnnie was so much more," says Klieman. "Johnnie was a man of God, a man of soul who was very close to the spirit. And if you couldn't rejoice in that church, then you had lost your connection. It was a day of celebration of life.
"I think that Johnnie would have loved it if he was looking down," she continues. "He would have loved the fact that people actually walked that paparazzi line. It was like walking a red carpet at the Oscars. And that what people felt inside that hall was the goodness of his life, his commitment to the poor and the theme, of course, as the program showed, of his journey for justice."
Syler wanted to know if it was odd to see O.J. Simpson and Michael Jackson together at the funeral.
"I don't think it was odd, because I expected it," explains Klieman. "O.J. Simpson owes Johnnie Cochran a life! Michael Jackson owes Johnnie Cochran a life back from that 1993 case that was settled. And I think that they should have paid their respects there."
In his eulogy, the Rev. Al Sharpton said, "With all due respect to you, brother Simpson, we didn't clap when the acquittal of Simpson came for O.J. We were clapping for Johnnie. We were clapping because for decades our brothers, our cousins, our uncles had to stand in the well with no one to stand up for them. And finally a black man came and said, 'If it don't fit, you must acquit.' "
On The Early Show, Klieman told Syler, "O.J. Simpson walked in there proud, smiling with that big head of his and he laughed at Rev. Sharpton's joke… Michael Jackson was very subdued. Michael Jackson came in, as he always does, with his handlers under the umbrella. He was very quiet and withdrawn, sitting with his lawyer, Tom Mesereau, who was very pleased that Michael was there."
In 1997, Cochran won freedom for former Black Panther Geronimo Pratt, who had been wrongly imprisoned for 27 years. At the time, Cochran said it was the happiest day of his life. Why was that so important to him?
"He had a passion for Geronimo Pratt," says Klieman. "Had he worked, as you say, for 27 years to get the freedom for someone who he believed was wrongly convicted, and the idea of the emotion that welled up inside of him for all those years to be able to say to this man, 'You are free to leave.' for a lawyer who really works for justice, there is nothing better than that."
Thanks for reading CBS NEWS.
Create your free account or log in
for more features.