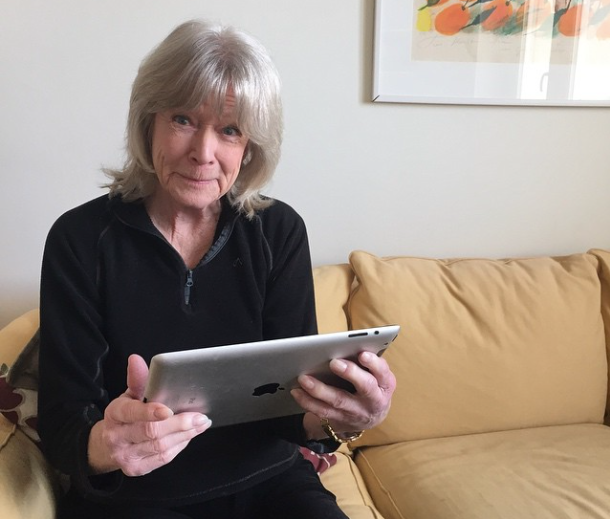 82-year-old uses Internet for the first time -- and it blows her mind
In her 82 years of life, Kerstin Wolgers never once used a computer or surfed the web -- until now.
Last week, the Sweden resident Googled, Skyped, Instagrammed, tweeted and even swiped right on dating app Tinder. It was an experience -- or experiment, rather -- that she will never forget.
Wolgers, agreeing to wear a camera strapped on her chest, participated in a five-day digital experiment conducted by public relations firm MyNewsDesk.
Here in the U.S., around 41 percent of seniors report they don't go online, according to a 2012 Pew Research study. In Sweden, 10 percent of the entire population doesn't use the Internet because they don't understand it, MyNewsDesk said.
Wolgers admitted she used to be one of those people. But she isn't anymore.
More than 100 tweets, 39 Instagram posts and one "Gangnam Style" YouTube view later, Wolgers realized she was missing out.
"To be honest, I don't think I was ever interested of the Internet before I realized that it was something I could benefit from," Wolgers explained in a Reddit AMA. "Everything has been very pleasant, but at the same time very difficult."
In total, Wolgers fielded over 2,400 questions from Reddit users curious about her first Internet experience.
One important question the 82 year old was asked: Will you continue using Tinder?
"I'm not sure," Wolgers answered, highlighting that she hasn't met anyone on Tinder yet. "I dont know if anybody would find me interesting."
"Just keep swiping," one user encouraged.
A short film posted on YouTube by MyNewsDesk after the experiment showed Wolger's hilarious reactions while using a computer, cell phone and going online for the first time.
"You could look at this for hours!" Wolgers said with an iPad in hand.
"I wish I had waited 82 years to completely ruin my life," one YouTube user commented on the video.
Wolgers countered that, actually, "the world is better with access to Internet. It opens up so many possibilities!"
In the end, Wolgers said she's planning to continue learning more about technology. She may give up on Tinder, but when it comes to navigating the Web, she's "up for the challenge."
Thanks for reading CBS NEWS.
Create your free account or log in
for more features.