Produced by Chuck Stevenson and Judy Rybak
It was a crime that shocked the rich, quiet, wealthy community of San Juan Capistrano. A wealthy businesswoman, Andra Sachs, 54, and her ex-husband, Brad, 57, were asleep in their hillside mansion when a killer armed with an assault-type rifle crept in to a family's multimillion dollar hillside mansion and opened fire with a barrage of bullets.
Meghann Cuniff, a reporter for the Orange County Register, was one of the first reporters on the scene.
"What happened up there was shocking. It was eerie," she told "48 Hours."
"This is what the Sachs' 17-year-old daughter told authorities about that night," Cuniff continued, reading from a grand jury transcript. "'I heard somebody slamming open my door and then I heard a gunshot."
Jack Leonard is a Los Angeles Times reporter and a CBS News consultant.
"A shooter snuck into the house, went up to the top floor where Andra and Brad were in bed and opened fire," he explained.
"This is what the first cop on the scene reports," Leonard continued, reading the grand jury testimony of Deputy Sheriff Leith Chacon of the Orange County Sheriff's Department. "'Myself and my partner fanned out across the room... we saw multiple gunshot casings on the floor ...as well as a male and female lying in the master bed...there was blood all over the master bed."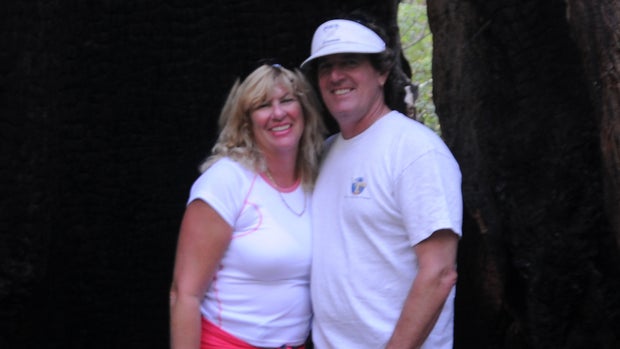 It was a home invasion of the most nightmarish kind. Nothing was stolen. It was just killing for the sake of killing.
"Alexis says she hid in her bed until she heard her little brother crying," Cuniff said. "'He was crying for help. He was bleeding. He couldn't feel his legs.'"
Who would attack a family, crippling an 8-year-old child and unleashing hell on his sleeping parents?
"'I went into my parent's bedroom,'" Cuniff read aloud. "The D.A. says, 'Were you able to talk to them?' She says, 'no.'"
"They'd been shot multiple times in the face," Leonard said. "The shooter had left no room for these people not to be killed ... the scene was a mess."
Monte Burghardt is a realtor in Orange County who did business with Andra Sachs.
"I was just stunned," he told "48 Hours" correspondent Troy Roberts. "... this is unbelievable. It stunned the whole community."
"This is the OC; this is the Orange County Riviera as it's called. The finest beaches, the finest lifestyle of the rich and famous. We're living and loving the American dream on the edge of the USA, and that's in South Orange County. It's beautiful all year round," he told Roberts.
Burghardt and Andra made some money together, but she was in charge.
"She worked out, she was buxom ... she was very feminine. But she was like Xena princess warrior. She was like an Amazon," he said.
Nina Lifshultz was one of Andra's closest friends.
"Andra was bigger than life... she was driven to succeed and wanted the same for her friends and family," Lifshultz said at the funeral.
She also told everyone just how humble Andra's beginnings were. She started out as a potato chip salesperson.
"I don't know if you guys all knew this, stocking shelves as a retail Frito Lay, Brocks, salesperson," Lifshultz told the congregation.
From there, Andra built her fortune -- moving from potato chips to computer chips.
And when it came to business, Andra was aggressive. Like the time she dropped everything to chase a deal on surplus computer electronics.
"Everyone in the United States was after this deal. What Andra did is she flew across the country to the CEO's house and introduced herself on his doorstep. I'm not kidding," Lifshultz continued.
Andra had a hunch she could make some money if she managed to convince the CEO to give her his stock of surplus memory chips and let her turn around and sell them. It worked.
"She got the inventory, made the sale and she never looked back," Lifshultz told those at the gathering.
"She was living the American dream like I'd never seen in my 35 years as a real estate professional," Burghardt said. "...she did not come from a wealthy family."
From there, Andra started amassing other businesses -- real estate mostly, in California, Nevada, Washington and Florida.
"How would you describe her business savvy?" Roberts asked Burghardt.
"She had an uncanny sense of timing about investments," he replied.
"She was aggressive?"
"Aggressive, yes," Burghardt affirmed.
Asked if she was a "shark," Burghardt described Andra as a "piranha."
The other victim in this story was Andra's ex husband, Brad Sachs, a popular and handsome surfer who came from money and helped her in her business.
"I liked Brad. He was only a year younger than me ... we were rivals. I played football against him, ran track," Burghardt said. "And he surfed ... his father was a world-renowned surfer."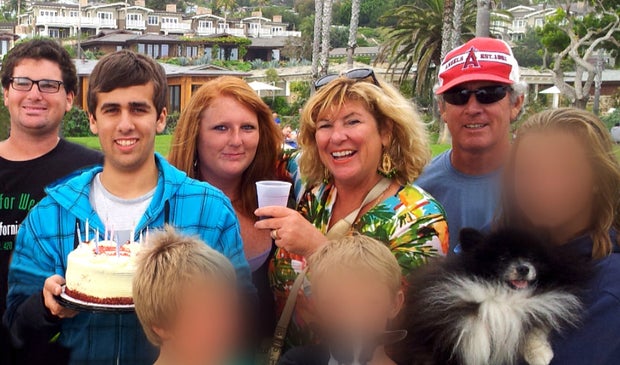 But Brad and Andra's relationship was complicated. They'd been divorced since 1999, but had reconciled and were living together raising their children.
By most accounts, they cared deeply about their kids -- all five of them. They had two girls, Lana, 15, and Alexis, 17; and three boys, Landon, 8, Myles, 21, and Ashton, 19.
Myles and Ashton were both living in Washington State at the time of the shootings.
At the funeral, Ashton spoke lovingly of his father and of his mother.
"He did everything so well, he was so well rounded," Ashton said in tears. "He was the only person I've ever met who could do as much as my mom. They were just absolutely perfect for each other. They were the perfect team."
"She was just an incredible person ... and she did more in her 54 years than most people can do in 10 lifetimes," Ashton continued in tears.
In spite of Andra's successes and the family's lavish lifestyles, they suffered tragedy. First it was a pool accident 15 years before the murders. With Brad and Andra away at work, their daughter Sabrina fell in.
The one-and-half-year-old toddler, who had been in the care of a housekeeper, drowned. After that tragedy, Brad and Andra's marriage apparently shattered.
Lesley Summers and Stephanie Garber are Andra Sachs' sisters.
"It was a really contentious divorce," said Garber.
"They battled for custody ... the holdings ... the business," Summers explained. "They even had a knock-down, drag-out fight and filed a police report."
As quickly as it started, the battle ended; the fighting was over and the divorce was finalized.
But surprisingly, Andra and Brad reconciled. They moved back in together, but never remarried. And according to relatives, Andra cut Brad out of the money.
For a time things were peaceful ... then came that terrible night in February 2014.
"When the details came out about what happened in that house ... and it became clear that this was an incredibly brutal scene. I mean they were shot multiple times ... little boy was targeted ... a girl was targeted ... parents killed in their bed,"said Cuniff.
The couple's son, Ashton, pointed cops in the direction of disgruntled business associates.
"Ashton said that when the detectives came and asked him who they thought that might kill Andra ... they gave the detectives a list of enemies ... two pages full," said Summers.
And Ashton may have had good reason for his suspicions. He may have seen comments on a website criticizing Andra's business practices: "Frankly, Andra and Brad are exactly where they belong. Six feet below the surface being cannibalized by the same insects who they had their tenants live with in their rentals."
A "SAVAGE" SCENE
Early on in the investigation, just about everyone was convinced the killing must have been linked to one of Andra Sachs' business enemies.
"We thought it was a bad business deal. She had a lot of enemies, she had a lot of people that she owed money to and she was worried about them," said Stephanie Garber.
"Here are some examples of complaints that people posted online about Brad and Andra," Jack Leonard said, reading aloud. "'I have peace of mind while you hide behind your gated home with a dog patrolling the yard cause you have screwed so many people over ... you will have to answer to god for the evil black hearted witch that you are ... karma is a bitch.'"
The crime scene looked angry, too, the bedroom shot to pieces.
At a gun range in Los Angeles, "48 Hours" constructed a mockup of part of the Sachs' bedroom to demonstrate how close the shooter was to the victims and the number of rounds of gunfire.
"How close was the shooter to the victims?" Roberts asked weapons expert Nabil Khattar.
"My understanding he was at very close range," he replied.
The shooter apparently stood just feet from his victims, right in the bedroom doorway.
He used a semi automatic rifle like that looks like an assault weapon.
"This is a Ruger SR22 rifle ... more like a military style type weapon," Khattar demonstrated. "The retractable stock ... it allows you to be able to enter rooms and not have such a long barrel."
"He came ready to do some serious damage," Roberts commented.
"Correct," said Khattar.
The shooter fired 24 of the 25 bullets, devastating firepower in the bedrooms of Brad and Andra, and their 8-year-old son, Landon.
"This gunshot, when it came through, came through the liver and went through the diaphragm," Dr. Enrique Ginzburg, a well-known trauma surgeon said of Landon's wounds.
"The mother," Dr. Ginzburg continued, "the main fatal gunshot wounds were to the head. ...She also had multiple gunshot wounds to the arm."
"How did the father, Brad, die?" Roberts asked.
"He was shot 13 times according to the pathologist ... one of the gunshot wounds went from one side of the nose and came out where this little hole is right under the right eye," Dr. Ginzburg said, demonstrating with a skeleton. "But his major injury were two gunshot wounds that started on the left side of his abdomen ... so he exsanguinated into this chest cavity."
"Is that the same thing as saying someone 'bled out?'" Roberts asked.
"Yes, he just bled out."
"This is lethal," said Roberts.
"This is savage," said Dr. Ginzburg.
It was a savage scene, and for detectives, a long list of possible suspects.
"As usual, the detectives looked at the family, the people closest to the victims," Jack Leonard explained.
Along with the parents, there were the three children in the house during the attack: Alexis, 17, who dodged a bullet, Landon, 8, who was hit and seriously wounded, and Lana, 15, who was in her bedroom on another floor.
"They also looked at the older boys, Ashton and Myles. But both of them had solid alibis," said Leonard.
Those boys were living away from home in Washington State. Andra had sent them away to go to college and learn how to manage some properties she owned there.
"Andra, I've never met anyone like you. Even though you're my mother, I can't help but feel that we had a relationship with one another which I never knew had even existed," Myles Sachs said at the funeral.
Myles, 21, was the big brother, but everyone said Andra and Brad's second son, Ashton, was the brightest.
"... the most important thing to them was just the family, all of us and they just loved all of us so much," Ashton said at the funeral.
"What were his aspirations, what did he want to do?" Roberts asked Stephanie Garber.
"He told me before he left for Seattle that he was gonna major in computer science," she replied.
Since the boys were both living out of state in Washington, detectives moved on to what they considered stronger suspects.
"He said to me, 'before we go any further, I have to ask you questions -- it's a formality. Is there any reason you'd want to hurt Andra and Brad Sachs?' I said, 'Are you kidding?' They were my life ... and my income, too, at the time, and I said, 'No way,'" said Monte Burghardt.
Detectives spent nearly three weeks in Southern California hunting through leads, but nothing really seemed to be panning out.
It was slow going until they got a break -- a big one. It was a clue discovered 1,200 miles north of the crime scene, in Seattle, Washington.
"Detectives started running down the phone records for the family ... and what they found was curious. There was a call from Southern California on the day of the killings to a company in Washington that moved cars, so the cops called Seattle police," Leonard explained.
Seattle detectives went out to a location just south of the city where they discovered a white Toyota Prius. It had been recently moved from Southern California. And when they opened the trunk, they discovered a gold mine.
"We feel confident that he is our suspect on this murder," Orange County Sheriff's investigator Justin Montano announced at a press conference.
The murder suspect was the Sachs' 19-year-old son, Ashton. That white Prius in Seattle was his car. And it was Ashton who just days before was shedding tears while he eulogized his mother and father.
A SHOCKING SUSPECT
"When they announced Ashton as the suspect, it was almost like, 'Well, of course ... of course it was somebody related to them,'" Orange County Register reporter Meghann Cuniff said. "The family had so many ... financial obligations and so many financial fights and lawsuits that you kind of got wrapped up in thinking about that, but I mean, in the end, most murders are committed by somebody who knows the victims and is connected to the family."
It was March 6, 2014, and the shocker is that Andra and Brad Sachs' son, 19-year-old Ashton, was arrested and charged with the premeditated murder.
Inside his car, police had discovered the semi automatic rifle used to shoot the Sachs and paralyze 8-year-old Landon. It was devastating.
"I said, 'No, it can't be, Ashton is special,'" said Stephanie Garber.
"We were horrified and in shock over the death, but we became even more horrified when we found out it was him," said Lesley Summers.
It was also painful to realize that less than a month before his arrest, Ashton spoke at his parent's funeral.
"I really do believe that both of their energy is alive, and they will continue to guide me throughout life," he said in his eulogy.
"Are you angry with him?" Roberts asked Garber.
"I'm not angry at him, no. I want to understand what happened," she replied.
"But he killed your sister," said Roberts.
"I think there's more to the story," said Garber.
"As a kid I really just always thought I have pretty awesome parents," Ashton said at the funeral. "I don't know how to sum up how or why they were so amazing and just perfect parents other than everything they did was always for their children."
"I feel a lot of sadness about what he did," Garber continued. "That he threw his life away."
Ashton's arrest begs the question about his personality and character. If he was truly responsible for these crimes, was there something in his past that might have driven him to this?
The problem is people"48 Hours" spoke with had widely differing opinions.
"I met him in sixth grade," Connor Ward, a childhood friend said. "We started hanging out a lot at school, eating lunch together with a couple other kids and he had a good sense of humor."
Ward says Ashton was a bit of a nerd and often had a difficult time in school.
"... just really rambunctious ... because he got picked on a little more than, I would say, most kids in middle school, " he said.
But other people wouldn't agree. For example, his aunts didn't think he had problems in school. They called him "charming" and successful.
"He was funny and he was social and he was cute and happy," said Lesley Summers.
"I thought he was very caring. ...and I never saw him get angry. I never saw him lose his temper," Garber added. "He had the most potential out of all of the children -- all of Andra's children. He was the brightest. He was the sweetest. He's good looking. And he took a wrong turn."
Andra's business associate, Monte Burghardt, had a different view. He thought Ashton had an edge.
"I had interacted with him over the years and he was just kind of different," he told Roberts. "He was young, he was 14, 15 years old. But he had a sadistic, warped sense of humor... he liked playing practical jokes on people ... and he kind of terrorized people because they didn't know where it was gonna come from. His brothers and sisters would always complain about that to their mom. ...They were practical jokes but they always had a slant of torment to them."
And Connor Ward, the middle school friend, said things in the Sachs home didn't seem right.
"I went over there once, but I didn't go back," he explained. "Something just seemed off. ... I didn't get a good vibe from the house. It was a mess. I mean, there wasn't really anybody watching us or anything like that. ...people were left to fend for themselves in there."
Ali Mattu, Ph.D., is a highly respected child psychologist at Columbia University Medical Center. At the request of "48 Hours," Dr. Mattu studied the Sachs case.
"We have a kid who grew up ... in a home where there was marital conflict coming from the tragic death of ... Ashton's younger sister," said Dr. Mattu.
"From what you can glean from the grand jury report, what are your overall impressions?" Roberts asked.
"I think what we have is an individual where there were a lot of warning signs of something that could happen," Mattu replied.
Doctor Mattu says one of the most obvious signs was Ashton's obsessive behavior: spending hours and hours a day smoking pot and playing the video game "League of Legends."
"He logged some 1,800 hours playing video games -- how violent is this game?" Roberts asked.
"It's not as violent as other video games, such as Mortal Kombat or Grand Theft Auto, but there is a lot of killing involved," said Mattu.
"Do you know if these kinds of video games desensitize a teen from his feelings?" Roberts asked.
"You gotta look at what function this game is serving that individual. ...It's OK to play these games. What becomes a problem is when we see young people that are -- primarily only engaged in the video game. They're becoming isolated. ...That's when it raises a lot of red flags," Dr. Mattu explained. "And -- it sounds like that's a little bit of what was beginning to happen in this case."
But Ashton's isolation into a world of avatars wasn't the biggest red flag.
"Andra told me that Ashton tried to commit suicide," Garner told Roberts. "She said he broke up with his girlfriend, took a bunch of pills, Oxycontin, and then called her up and said, 'How many pills do I need to take to kill myself?'"
According to his aunts, Ashton was hospitalized for 72 hours. But that was it. They say he never got any other counseling. Then, about five months later, Ashton went away to that community college in Seattle.
"Do you think it was a wise decision to send an emotionally vulnerable young man out of state to attend school?" Roberts asked Dr. Mattu.
"Was it a wise decision? It's hard for me to judge," he replied. "Ashton ... really struggled to do a lot of those daily activities on his own. Maybe he had a lot of support from his family, and moving to Seattle without that support could have been that major stressor that resulted in -- in some of the problems we see in this case."
"...they left behind just one of the strongest and tightest families-- the closest families they could have ever wished for," Ashton said in his eulogy.
Dr. Mattu says there seem to be a lot of missing links in Ashton's story.
"We don't see -- the story of a child and adolescent who was engaging in a lot of violent activity. We see a story of a kid who is becoming more isolated, using substances -- failing to meet some of the academic demands of college. Do we see a kid with a history of violence that might ... fit the profile of someone who'd go on to -- to commit murder? Not necessarily," he said.
A SON CONFESSES
"This is from the grand jury hearing when the prosecutor is asking the lead detective about his interrogation of Ashton," Jack Leonard said, reading aloud: "'Did you specifically ask him, on the day of the murder, if he was in California or in Seattle?' 'He said that he was in Seattle.'"
Nearly a month after his parents were murdered, and with his 8-year old brother lying in a hospital bed paralyzed for life, Ashton Sachs was still lying to investigators about where he was the night they were all gunned down.
"He stated on the Friday before the murder, he went to school, came home, played video games, and stayed in his condo for the rest of the day," Leonard said, reading from the grand jury report.
But detectives had evidence that showed Ashton was lying. They had discovered that during that same time, Ashton drove his Prius 18 hours to Orange County, and then flew back to Seattle just hours after the shooting.
Police also had evidence that Ashton had hired that transport company to get his car back to Seattle with his rifle and ammunition still in the trunk.
What might that level of alleged premeditation tell us about Ashton's state of mind that night?
"It appears that he was on a mission," Roberts commented to Dr. Mattu.
"We see those ... types of behaviors with some of the more - the more severe mental illness," Dr. Mattu explained. "When an individual is manic, they're very much focused on one goal and have an intense energy and focus and motivation to accomplish that goal. Was Ashton experiencing some of that? Potentially."
"How did he go from being a loving son to a killer in such a short period of time?" Roberts asked Garber.
"There may be mental illness," she replied.
Whatever the motive, on the day of his arrest -- during a second interview with detectives -- Ashton apparently came clean.
Detectives say he confessed to everything: driving from Seattle to Southern California. And armed with a rifle, prowling the halls and hunting down his own family.
"Ashton said once he was inside the house, he wandered upstairs for approximately 10 to 15 minutes, thinking about what to do, whether to go through with it, go home, or kill himself right there," Leonard said, reading from the grand jury testimony of lead investigator Justin Montano:
Prosecutor: What did he tell you he did? Where did he tell you he went first?

Investigator Montano: First, he went into his parent's bedroom and shot them as they lay in their bed.

Prosecutor: Did you ask him what was going through his mind as he was shooting his parents?

Investigator Montano: I did.

Prosecutor: What did he say?

Investigator Montano: He stated something to the effect that he was going through a rush... and it was something twisted.
Ashton's explanation of his feelings at the moment of the shooting may have seemed confused, but his alleged reasoning was clear.
"He blamed his parents," Leonard read aloud. "He said he felt like his parents didn't trust him and that he was the least favorite child out of the family."
And he seemed to be jealous of his brother, Myles.
"'Myles gets to do whatever he wants, he refers to Myles as "her little pet,"'" Leonard continued reading. "'Did you ask him how that made him feel?' 'He said, "horrible ... he felt that Brad didn't like him or love him."'"
Ashton also allegedly told detectives that he'd been feeling weird and hadn't slept for four or five days before the shootings.
Detectives were also interested in the apparent murder weapon.
According to his aunts, a month before the murders, Ashton told his aunt he was out buying a rifle.
"And I go, 'What?' I go, 'What do you need a gun for?' He goes, 'For protection,'" Summers recalled. "And then Andra called me later and I said ... ' Why is Ashton shopping for a gun? ' ... And she goes, 'What?' She goes, 'Oh, that's not good.'"
Ashton admitted to detectives that he had been to a gun range with that rifle.
And this case had one more extraordinary twist -- an apparent connection to a sensational murder case from the late 1980s. A case where wealthy teenagers in Southern California murdered their parents for money.
The year was 1989; the place, Beverly Hills, California.
Lyle Menendez, 21, placed a frantic call to 911 saying that he and his younger brother, Erik, had just come home to find their millionaire parents shot dead.
What's surprising is that Ashton was apparently fascinated with the Menendez case. According to his aunts, he even wrote a college paper about it and then bragged about it to his parents.
"He said he called his parents and told them he got an A on it," Garber explained. "He gets A's all the time. So why that particular paper? He was notifying them that he was particularly interested in the Menendez story."
There appear to be several shocking similarities between the Sachs murders and the case Ashton wrote about for school.
First, like Ashton, the Menendez boys eulogized their parents at memorials, weeping over their losses.
And again, like Ashton, the Menendez boys suggested to detectives that their father's business enemies may have committed the crimes.
"They suggested to the police that their father, a movie executive, had business associates who might've wanted to have done it," Leonard explained of the Menendez case. "Police started investigating and the boys ... were spending money on Rolex watches and fancy cars. And finally, authorities charged them with the killings."
The Menendez trial was an international sensation. Both brothers took the stand and accused their parents of abusing them psychologically and sexually:
Erik Menendez on stand: I hated it, I hated it, I hated it.

Erik Menendez on stand: I just wanted it to stop ... [cries] ... my dad had been molesting me.
The prosecution argued that the real motive was the fortune they stood to inherit from their wealthy parents.
"In the first trial, jurors couldn't decide whether it was murder," Leonard said. "But a second trial ended in both brothers being convicted."
Could Ashton's research of the Menendez case be connected with his alleged crimes?
Mary Fulginiti, a highly-regarded former federal prosecutor and criminal defense attorney, took a look at what is publicly known about the Sachs case for "48 Hours."
"What do you make of his fascination with that case?" Roberts asked
"I mean, a prosecutor might ... use that to support premeditation," Fulginiti replied.
"If this case landed on your desk, what would be the first order of business?" Roberts asked.
"I would do everything I could to try to keep the death penalty off the table and save the client's life," Fulginiti replied.
"How do you even begin to do that?"
"You evaluate the circumstances of the crime. I mean here's a 19-year-old kid -- I know he was just about to turn 20, but he's still a teenager, just into adulthood. You're gonna look in his background. He's got no criminal history....he doesn't appear to have any violence in his background ... and you're gonna look at his mental stability. What was going on in his life? What was going on in his mind? Was he on drugs?" she explained.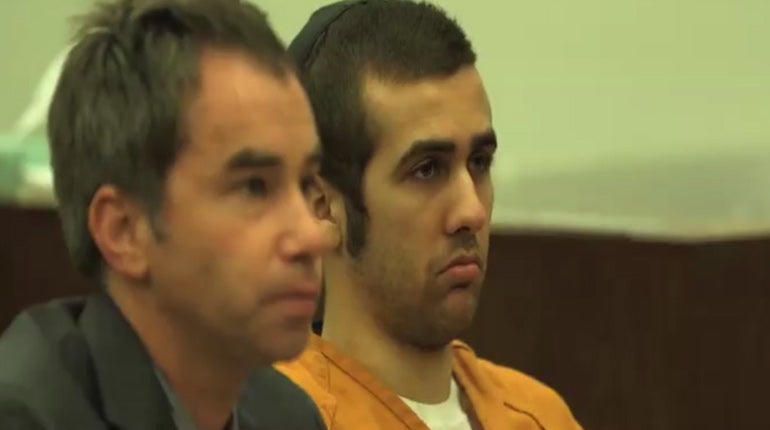 But any defense attorney has a tough road ahead, because on Ashton's phone, detectives say they found evidence that he had been doing research on criminal charges and penalties.
He looked up the consequences of attempted murder and felony murder, the insanity defense and the terms of parole --- all suspicious-looking behaviors, which may be fuel for the prosecution.
"They're gonna paint a picture of this kid, like you said ... plotting days in advance ... purchasing the rifle in advance, purchasing the gloves in advance, charting his path down to Orange County, walking into the house, knowing exactly where to go... and then walking through the halls ... and blowing away his family," said Fulginiti.
But Fulginiti says the defense may have a better shot than it appears.
"It's gonna be very interesting, because I think jurors are very interested in mistakes," she told Roberts. "We don't know about the crime scene. Was it contaminated? Was it not?"
FACING MURDER CHARGES
"I remember in fifth grade ... we had to do a report on who our hero was to us ... but even as a 13-year-old boy, I knew right away my hero was my mom. I did my report on her," Ashton spoke of his mother.
"You know what I found chilling is after his parents were killed, there's Ashton delivering a eulogy at his parent's funeral," Troy Roberts commented to Mary Fulginiti.
"For somebody to deliver a eulogy, and to be so detached from the crimes that occurred and the severity ... and the consequences of the crimes that occurred ... I'm not a psychologist, but, I think many people would view that and say, 'That's not normal,'" she replied.
"What was your immediate takeaway?" Roberts asked.
"Well, you know ... when you're reading grand jury testimony, it's like, 'Oh my gosh, the evidence appears to be overwhelming.' But you have to understand that the grand jury is a very one-sided presentation of the evidence, and there is no cross-examination," Fulginiti explained. "There's no challenging of the evidence ... so at first blush it obviously paints a very damning picture of the defendant. But when you step back from that, you think, 'Uh, there are some holes here.'"
"So this isn't a slam dunk for the prosecutors?"
"It appears to be one, right? ...but we certainly don't have all the evidence right now. ...We don't know about the crime scene. Was it contaminated? Was it not?" Fulginiti said. "One of the grand jurors even asked a question pointing out an inconsistency in the testimony of where some of the ammunition was found in the car. Those inconsistencies are going to be scrutinized by the defense ... to see if they ... get this case to a place other than first-degree murder.
Already, Ashton has gotten one break. The District Attorney's office announced that they would not be seeking the death penalty. Still, he faces a very difficult trial.
"An insanity defense is his best option," Roberts noted to Fulginiti.
"Best and hardest," she replied. "Depending on the results from the psychological evaluation, it could be an option. ...I mean, here's a kid that says in his ... alleged statement... that he was crazy. That he didn't feel normal. ...Is it to the point of insanity, where he doesn't know right from wrong? Where he didn't comprehend his actions? "
Trial is set to begin in March 2016. Until then, all anyone can do is speculate as to his motive or his defense.
"At trial, how do you humanize a client like this, who's killed his parents and crippled his younger brother? How do you humanize someone like this?" Roberts asked.
"I mean, this was a gangster-style murder ... if anything, I think what they're gonna have to do is try to understand what was going on at the time. Was he depressed? Did he slip into a world ... of fantasy?" Fulginiti asked. "Did he have any problems with his parents? I mean, were there any indiscretions that occurred? What was his upbringing like? ...did his parents abuse him? Did his parents hurt him? You know, did he feel loved? Did he feel abandoned?"
And there's one more thing: the family is torn by a nasty legal dispute.
The fight is between the aunts on one side, and on the other, the eldest son, Myles, and a close friend of Andra's--Nina Lifshultz--who eulogized the Sachs at their funeral.
The issue is control over some of the money.
Nina and Myles Sachs are now in control of the millions that Andra left behind.
But Lesley Summers says that she is supposed to be running the trust that may be worth millions of dollars for the Sachs children. In court filings, she has accused Lifshultz of using a forged document, to take control of that trust.
"They must've removed my name as the trustee within the first couple of days," Summers said.
"Lesley did not sign a resignation--" said Stephanie Garber.
"They showed us a photocopy of my resignation that looked like a forgery," said Summers.
"So what do your attorneys say?" Roberts asked.
"Well, we're in litigation right now," Summers replied. "We really can't even talk about it."
Nina Lifshultz' attorneys say she didn't forge anything, and in a letter to the court, they say it was Andra Sachs who faxed a copy of Summers' resignation to their office, just a few days after the trust was created in 2010.
Whoever wins could get a payout of as much as a $1 million a year just to administer the trust.
Lifshultz and Myles declined "48 Hours"' requests for interviews, but Myles sent a letter praising Nina, and calling the allegations against her "baseless and malicious." He also claims that his mother was "estranged" from her sisters. But Leslie Summers says Andra was her "best friend."
"My sister was my-- my only friend. I lived very close to her," she said.
In the end, Myles Sachs, 23, now has custody of his three siblings, including Landon, who is confined to a wheelchair.
As for Ashton, he remains in a Southern California jail. According to his aunts, they are the only family members who still talk with him.
"I told him to his face, 'I hate what you did. It was a terrible thing, but we love you, you know? And we always will,'" said Summers.
"We always loved Ashton. I mean ..." Garber added.
"How could you not have pity for somebody that's locked up in a cell like that," Summers continued.
Lesley Summers says she's been to visit him every other weekend and he seems to be responding. In this letter to his Aunt Stephanie, Ashton wrote:
"Thank you once again for all of the love and support you have given me over this past year. It means the world to me."
"Do you think Andra would support what the two of you are doing?" Roberts asked.
"Yeah, I think Andra loved her kids unconditionally, every single one of 'em. And she would definitely support us," Summers replied. "She wouldn't want us to do nothing."
Asked if Ashton ever expressed remorse or regret," his aunts replied "yes."
"...and he cries ... he cries about it, and he wishes he could take it back," said Garber.
---
Ashton Sachs is being held in solitary confinement.
Authorities will not confirm reports he has tried again to take his own life.
Thanks for reading CBS NEWS.
Create your free account or log in
for more features.