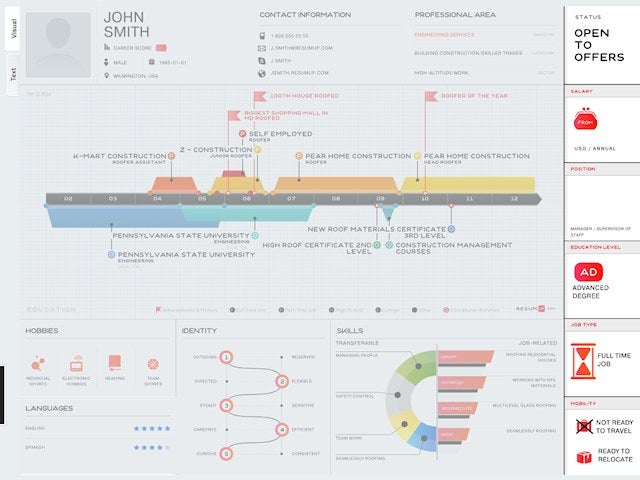 3 ways to make stunning visual resumes
(MoneyWatch) COMMENTARY Making an impression is all about standing out in a crowd -- as long as you stand out in a professional and respectful way. So while I don't endorse sending singing telegrams to your hiring manager, printing your cover letter on bright pink paper, or spelling your resume in holiday lights on the shirt you wear to your interview, I do think it's a good idea to make your resume stand out in more tasteful ways.
One approach is to supplement your traditional resume with a visual resume -- a document that maps your career and accomplishments in a timeline or infographic. There are several sites that do this sort of thing for you, and they're all free. Here's a roundup of places that will help you refashion your resume:
Vizualize.Me: This site creates attractive timeline graphics that illustrate your job history. To use Vizualize.me, you'll need to sign up for a free account. Next, you'll have the option of connecting the service to your LinkedIn account. You'll definitely want to do this -- without LinkedIn, you need to build a resume line-by-line in Visualize.me.
You have a lot of options for customizing the look of your infographic, and you can then take a screen-shot and do what you want with it, or share it via Twitter, LinkedIn, Facebook, and other social media. My favorite part -- I know it's silly, but you really can put your resume timeline on a t-shirt (just don't wear it to the interview).
Re.Vu: This site is similar to Vizualize.Me, but in some ways it creates even prettier and more useful infographics. Create a free account and either enter the details of your job history, or link the site to your LinkedIn account and let it vacuum up all the information automatically.
You get a page that displays a timeline of your career, with callouts for each key position, as well as any other details you care to include. For example, there's a cool infographic that you can populate with data about key achievements from your career. There are other widgets for skills, job duties, and even languages and interests. You can include your education, work examples, and more. There are several different themes to choose from, so your visual resume won't look exactly the same as others landing on a hiring manager's desk.
ResumUP: This service offers the most visually rich experience. In fact, when you first create your ResumUP account and see the sample data that's standing in for your personal profile, it looks kind of like the controls to the space shuttle. The page is packed with modules -- timeline, skills, languages, hobbies, something called "identity (a Myers-Briggs-like personality profile) -- and more. There's even a section for employers in which you can indicate if you are currently job-hunting, what your salary range is, and other details. ResumUP is certainly the most unique of the visual resume sites, and might presage how we'll sell ourselves in the new online millennium.
Thanks for reading CBS NEWS.
Create your free account or log in
for more features.