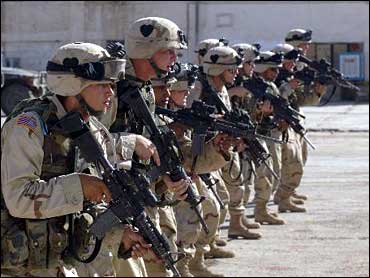 3 U.S. Soldiers Killed In Iraq
Three American soldiers were killed and 13 injured in a pair of incidents in the volatile region of central Iraq, the U.S. military reported Sunday. The latest deaths followed an assassination attempt against a prominent member of Iraq's U.S.-appointed Governing Council.
Despite the ongoing violence, Iraq's finance minister says the interim government will open all sectors of its economy except oil to foreign investors.
Former U.S. President Bill Clinton said Sunday the United Nations should play a greater role in establishing peace and security in Iraq.
Clinton, speaking at the American University of Dubai, also urged all countries to participate in Iraq's reconstruction efforts.
"We should internationalize efforts in Iraq. We should get the United Nations to supervise peace and security," Clinton said during his one-day visit to the Emirates, where he launched an international scholarship program for American students to study here.
Two military police officers died in a mortar attack about 10 p.m. Saturday on a U.S. base near the Abu Ghraib prison on the western outskirts of Baghdad. Thirteen MPs were injured in the attack. No prisoners were injured.
Shortly before the Abu Ghraib shelling, a soldier from the 3rd Armored Cavalry Regiment was killed when his Humvee was hit by a roadside bomb near Ramadi, about 60 miles west of the capital, the military said.
The deaths brought to 165 the number of American soldiers killed in Iraq since May 1 when U.S. President George W. Bush declared major fighting was over. During the heavy fighting before then 138 soldiers died. The latest deaths brought to 302 the number of U.S. soldiers who have died in Iraq.
Pentagon sources said that in one 24-hour period last week there were more than forty combat incidents, all but one of them initiated by the other side, reports CBS News Correspondent Allen Pizzey.
The latest American deaths followed an assassination attempt Saturday against Aquila al-Hashimi, one of three women on the 25-member Governing Council and strong candidate to become Iraq's representative at the United Nations. Al-Hashimi, a Shiite Muslim and career diplomat, was seriously wounded by six gunmen in a pickup truck who chased her in her car on Saturday. The assailants escaped.
Al-Hashimi underwent a second operation and was in stable condition at a military hospital on the grounds of one of Saddam Hussein's former palaces where the Coalition Provisional Authority has its headquarters, an official with the U.S.-led civilian administration said on Sunday.
She had been preparing to leave for a key U.N. General Assembly meeting in New York on Tuesday. Major U.S. allies are pressing for Washington to give the United Nations a greater role in bringing stability to this fractured country.
The Governing Council president, Ahmad Chalabi, blamed Saddam loyalists for the shooting.
On Sunday, Douglas Brand, a British adviser to the Iraqi police, said the coalition officials were helping Iraqi police with the investigation and appealed to the public to come forward with any information.
"This was a cowardly attack," Brand told reporters. "She has undergone two operations. She remains in critical but stable condition at the hospital."
U.S.-led forces have been struggling to put down a guerrilla-style insurgency that has targeted Americans and their Iraqi allies. The police chief of the central town of Khaldiyah, who was working with U.S. forces, was assassinated by gunmen last week, and other attacks have killed police recruits trained by the Americans.
Last month, Ayatollah Mohammed Baqir al-Hakim, a top Shiite cleric who leads a movement with a seat on the Governing Council, was killed in a car bombing that left at least 85 people dead. Al-Hakim's brother, Abdel-Aziz, is a council member.
Iraqi Finance Minister Kamil Mubdir al-Gailani announced Sunday it will open all sectors of its economy except oil to foreign investors in an attempt to quickly rebuild markets battered by war, sanctions and mismanagement.
He made the announcement in Dubai, where the International Monetary Fund and World Bank are holding their annual meetings.
The reforms will allow foreign banks to enter Iraq, with some restrictions, in the new policies that mark a sharp departure from the tight economic controls that were in place for years under Saddam's one-party rule that lasted for three decades until he was toppled in April.
Al-Gailani announced a 15 percent maximum tax rate for individuals and corporations starting Jan. 1 and a 5 percent reconstruction surcharge on all imports except for humanitarian goods.
Under the reforms, foreigners will not be allowed to own property, but they will be permitted to lease it for up to 40 years, he added.
"The reforms will significantly advance efforts to build a free and open market economy in Iraq, promote Iraq's future economic growth, accelerate Iraq's re-entry into the international economy and reintegration with other countries, and the development of domestic Iraqi institutions," al-Gailani said in a statement.
U.S. Treasury Secretary John Snow applauded the blueprint for a new Iraq economy as "policies that make sense ... that offer real promise" but cautioned that security in a nation still facing daily violence would be a prerequisite for any substantial economic recovery.
"It's awfully important that we see Iraq move forward well and become a place of peace and security," Snow said in Dubai, where the International Monetary Fund and World Bank hold their annual meetings this week.

Thanks for reading CBS NEWS.
Create your free account or log in
for more features.