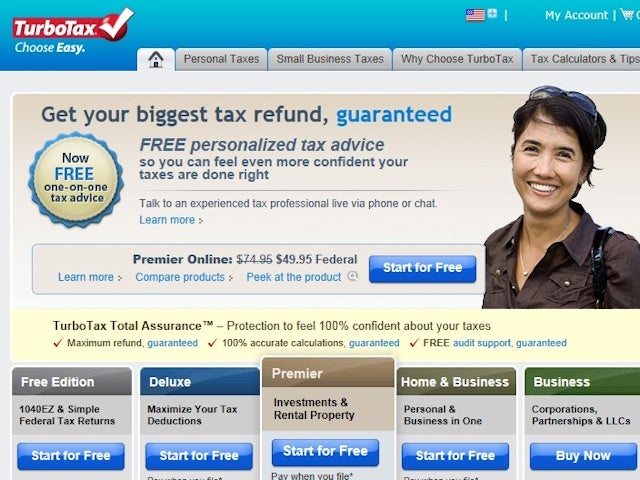 3 best tax prep and filing programs
Welcome to February -- have you started working on your taxes yet? If you're expecting a refund, the sooner you complete your taxes the better. And even if you're going to have to write a check to the IRS, getting done sooner works in your favor, because it gives you more time to budget for whatever balance you owe. Assuming that you're planning to do your own taxes this year, here's a trio of programs that you should consider when it comes time to complete your returns:
TurboTax has the best pedigree of any tax prep software available. It's one of the oldest programs and has a great reputation among both consumers and professional tax preparers. TurboTax offers a help line that goes to real human advisors to help you complete particularly confusing tax forms when the software's built-in assistance isn't enough. There are several versions of TurboTax to choose among, from a free basic edition to a $30 Deluxe version to Home & Business for $75. There's even a full Business license for $130. Check out the various features of each edition at the TurboTax website.
H&R Block at Home has almost as many editions as TurboTax -- basic for $20, Deluxe for $45, all the way up to Premium & Business for $80. It lacks only the full-powered business edition which tops TurboTax's product line. The software boasts about the same level of difficulty as TurboTax when it comes to following the wizard and completing your tax forms. That said, H&R Block powers their offerings with somewhat more powerful support. In addition to helping you complete tax forms, they also offer actual tax advice and will supply real legal representation if you're audited.
TaxAct has been around for a long time but doesn't have the same name recognition as veterans like TurboTax. That said, it's got a lot to offer folks with straightforward tax situations, including the promise to pay penalties and fees for errors that result from using their software. There are only a couple of versions to choose from -- the completely free basic edition and $10 for the Deluxe. You can also throw in your state taxes for $18 in total.
Thanks for reading CBS NEWS.
Create your free account or log in
for more features.